Education
How Android MDM Solutions Can Help Schools and Universities

Observing the emerging needs in recent years, especially after COVID-19, it is felt that educational methods must also change immediately to cope with the modern world. Schools and universities providing e-learning facilities using smart devices like tablets, laptops and projectors are growing more, ensuring efficient teacher-student communication and personalized learning.
Integration of digital devices in the education system has also raised some serious issues due to the need for more efficient device management. Security, privacy and unnecessary usage of devices by students is the top most concern of management. Hence, effective device management is necessary to ensure secure browsing, lower costs, effective teaching, instant information delivery and maximizing the results.
Android MDM solutions are the tools that enable institutes to remotely monitor and control devices to implement high security and limitations for staff and students on device usage and comply with standard regulations. They provide efficient device enrollment, app management, web filtering, customization of security policies, reports and analytics to manage all Android devices remotely.
Why are Android devices preferred by schools? 
Schools and universities prefer Android devices because they are available in a wide variety with varying price ranges.
Android tablets and smartphones are available in different sizes, with touchscreen interfaces helping students enhance their learning experience. Various Android apps and games are available for the students to enjoy and keep them engaged in learning new things.
Digital Textbooks and E-Books
Traditional printing materials and books are hard to carry and costly, too. Android offers many E-books and apps that provide excessive knowledge about different subjects. Android also provides a greater reading experience by allowing changes in font size, adding notes, highlighters, and instant page access with direct searches.
Android devices are also available in large sizes and are used in universities and schools for presentations. Teachers use these devices to deliver lectures using PowerPoint slides or displaying notes. Students can display interactive presentations with relevant images and videos to present their views.
Android devices streamline file sharing and communication between students and children to get support anytime. Cloud services, messaging apps, and group chats enable students to communicate and complete group assignments easily.
Google Play Store provides thousands of educational apps to Android users. Educational institutes download necessary apps for different departments and ages. These apps provide e-books, games, quizzes, language tools, and general knowledge studies. Most of these apps are free to use.
How to manage Android devices in school with AirDroid Business 
AirDroid Business is an Android device management solution to support businesses in managing an unlimited number of Android devices operational in an organization. It provides full visibility of each device activity to the university administrators to remotely manage and control devices on official devices. AirDroid Business is preferred due to its multiple device deployment options for easy enrollments, saving precious time for other business operations. It offers a 14-day free trial and flexible pricing for remote management afterward.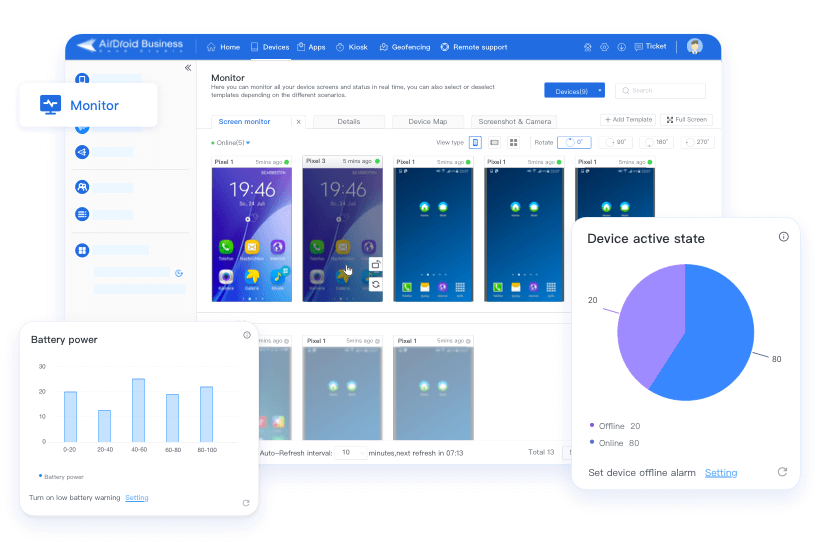 Main Features 
Website and App Limitation
AirDroid Business helps educational institutes use web filtering to allow access to only educational websites and block all malicious and unnecessary websites. It also helps them to use the app allowlist or blocklist feature for restricting app usage. Admins can easily block apps on the enrolled devices and can also use kiosk mode to restrict students to a single app only.
Remote support for student and staff devices
IT team is allowed to monitor the device activities of individual staff and students remotely. They can remotely diagnose issues on devices from a central location and troubleshoot issues without touching these devices physically, reducing downtime and improving productivity. Admins can also remotely monitor device activities and usage and perform operations to close any irrelevant program or app running on the devices.
Teaching document sharing
The file management feature of AirDroid Business MDM enables admins to share files from one device to another remotely. You can easily share bulk files, copy, paste, or delete any file from a system. Data TLS encryption ensures secure data sharing, and the force reading function ensures that the end users read the shared messages.
Security against theft/loss
AirDroid Business allows admins to lock down the devices remotely when lost. It prevents unauthorized access to the devices. Remote wipe or factory reset allows admins to permanently delete the data from the devices if they cannot recover. They can also use a location tracking feature to track the real-time location of lost devices.
Admins can easily decide on apps to allow on the students' devices using the app allowlist feature and block some apps using the app blocklist feature. Businesses can also create their customized Play Store to upload their company apps. The test release feature enables admins to verify the working of apps before they are officially configured.
Educational institutes can use kiosk mode to run a single app on the devices while blocking all other operations. Multi-app kiosk mode allows multiple apps to run on students' and staff devices. AirDroid Business also supports a kiosk browser with incognito mode for the safest web browsing.
Benefits of Android MDM Solutions for schools and universities 
Here are the incredible benefits of implementing Android MDM for educational institutes:
Simplified Device Provisioning and Deployment
Android MDM solutions provide various deployment methods to enroll a large fleet of devices. Manual deployment of devices in the management system of a university with thousands of students is time-consuming and complicated. So, zero-touch enrollment enables smooth device enrollment and installation of apps, ensuring equal distribution of apps.
Enhanced Security and Data Protection
MDM solutions for Android devices allow customization of various security policies in each institute. Logins and passwords are provided to each student to ensure authorized device access and keep the data secure. Data encryption enables safe file sharing.
Classroom Management and Monitoring
Remote access to security cameras enables the admin staff to monitor classroom activities every time. Remote updates of attendance, notifications, timetables and results on student portals ensure effective communication between the staff and students. 
Content and App Management
Some students misuse the devices for watching movies or log in to their social media accounts on official devices. MDM solutions restrict the apps on school devices and filter the content to ensure only education-related searches.
Instant messaging to all the students using MDM solutions, remote monitoring and control saves management time, which they can spend on other important tasks. It also reduces costs by remotely troubleshooting issues and monitoring university premises.
Conclusion 
The education sector has transformed traditional teaching and management techniques with the latest digital e-learning systems. These systems are based on digital devices, especially Android. Thousands of students are enrolled in large institutes, so MDM solutions are required to manage these devices to meet all security endpoints. Start with a 14-day free trial to find out more useful tips for managing devices in school.