Plus-size online lingerie and swimwear retailer Viva Voluptuous put the body back in the body positivity movement last week (7 June) by inviting 11 women of varying shapes and sizes to take part in a glitzy nude photoshoot in the New Forest, UK.
The project was inspired by the #PositivelyGlittered movement which conducted similar outdoor photoshoots in Australia recently, with the aim to promote body confidence for women of all sizes.
The ladies, including plus-size beauty queens, and Miss Curve finalists, were tastefully covered from head to foot in multi-coloured glitter and asked to pose for a range of fun group shots intended to celebrate their bodies against a picturesque garden backdrop.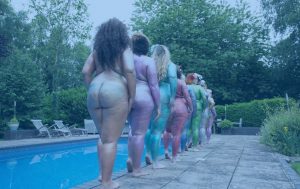 The project is designed to challenge the limited way the female body is portrayed in the media and to outwardly demonstrate that women don't need to conform to specific beauty standards in order to sparkle.
Viva Voluptuous Director Liz Willis says: "We love the work that the Positively Glittered team do for the body positivity movement and couldn't resist the opportunity to join the cause by arranging our own photoshoot with our own ladies!
"At Viva Voluptuous, we believe that beauty isn't a 'one-size-fits-all' situation and we always try to represent the many beautiful female body types that exist in any way we can"Pictures : Request High Res
Editor's notes: Established in 2016, Viva Voluptuous is a luxurious, high quality plus size lingerie and swimwear company which operates online and ships worldwide. Based in Salisbury, England, the company manufactures in the EU and exclusively designs and sells beautiful yet practical garments for women who are size 16 and above with the aim to celebrate and flatter their bountiful curves.
Media contacts: Liz Willis, Viva Voluptuous Ltd.
Tel: 07900 654401 Email: liz@vivavoluptuous.com
Media Contact Details
Liz Willis, Viva Voluptuous
Salisbury, UK
07900654401