Ducci Electrical Demonstrates Its Unique Railroad Construction Expertise
Working safely and efficiently, Ducci Electrical Contractors continues to establish itself as the most capable electrical railroad contractor in its market, performing a diverse portfolio of railroad projects across the northeast on Amtrak, Metro North, and Shoreline East railroads.
While Ducci Electrical is now an over 70-year old family-owned and -run company that has spent most of its history focusing on electrical subcontracting for traditional building and highway projects, what has become this highly specialized railroad work did not become a primary focus of the company until around the turn of the century. Having experienced tremendous expansions of its capabilities and expertise in the years since, today such work accounts for approximately half of its annual business.
Specifically, Ducci has proved itself time and time again uniquely capable of all facets of Auto-Tension Catenary installation and replacement, a complex overhead AC-power electrification system that powers the trains and allows for consistent and sag-free trolley wire height despite the extreme 120+ degree Fahrenheit fluctuations New England weather is known for. The maze of interwoven overhead wires and the proprietary nature of the Metro North system design, not to mention the extreme logistical challenges and dangers of working in what is the busiest commuter rail corridor in the nation, makes this work extraordinarily dangerous, complex, and specialized. "Logistics on the railroad are everything," says Chief Operating Officer John Ducci.
"We seldom have the luxury of working in continuous outages, so our team needs to know every last detail of what they will encounter shift-by-shift to leave no room for surprises," he adds. "I believe that over many years we have established ourselves as the most knowledgeable, safest, and most capable catenary contractor in our market, to the point where our customers and their designers often look to our team members for solutions on complex problems. We also know that we are only as good as our last project, and that we need to keep earning that reputation continually if we expect to continue successfully performing this uniquely challenging work."
In addition to these Catenary systems, Ducci regularly performs many other types of electrical railroad installations, including AC and DC substations, DC "3rd rail" traction power, all facets of train signalization systems' installations and replacements, fiber optic communications backbone, bridge replacements, interlock construction, cable plows, and more. Amongst this work, Ducci has historically self-performed not just the electrical work, but served as a prime contractor as well as all associated supporting drilled shaft foundations and structural steel work.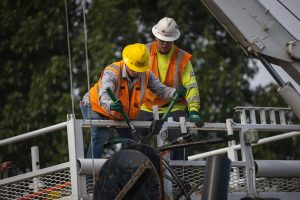 Currently, the company has a diverse list of projects in progress with Metro-North, including:
$59.6 million in communication and signalization infrastructure work on Metro North's New York Harlem line
$49.5 million for the next stage of work in the railroad's Croton Harmon Yard
$37.4 million in communication and signalization improvements on Metro North's Waterbury line
$64.4 million in catenary and signalization systems associated with the upcoming replacement of the historic "Walk" Bridge over the Norwalk River.
$41 million in modifications to track and catenary systems in Metro North's New Haven Yard.
Other recent railroad projects that Ducci Electrical has taken on in recent years include:
$87 million in main line Catenary replacements on Metro North's New Haven Line section C1A/C2
$15.9 million in Amtrak signalization upgrades in Albany, New York
$13.4 million DC traction power substation on Metro North's Harlem Line
$22.4 million in cable plowed signal and backbone communication cables in Port Jervis, New York, finished in 2014
$22.5 million for signalization of MNR's Danbury line from Norwalk to Danbury, CT
$2.16 million project to install real-time train information systems and a new communications room, completed in 2017
Ducci has performed every major section of the 100+ year-old catenary system replacement program on the New Haven Line since 2000, and in total has well surpassed half a billion dollars in completed railroad installations for Amtrak, Metro North, and Shoreline East railroads in Connecticut and New York.
Among its specialized railroad work, and perhaps most interesting and unique second to catenary replacement, is that Ducci also performs cable plow operations, having performed several major projects for Metro North using this unique method. Cable plowing involves the use of a specialized locomotive and attachments to physically "pre-rip" the ground open, loosening the ballast, to prepare for later use of the same train to directly "plow" armored cables and flexible conduit in long continuous lengths off reels and directly into the ground as the train moves. This process is difficult to coordinate around existing underground installations and even more technical to perform, but it offers great cost and time savings compared to traditional excavation and backfill methods of installing these utilities.
Investing in Equipment for Its Future in Railroad Work
Beyond the expertise and experience required to perform this diverse portfolio of railroad electrical work is a staggering investment in equipment. Specialized heavy duty bucket trucks, cranes, dump trucks, flat beds, and drill rigs capable of operating under low overhead wires, among others, and all outfitted with specialty hydraulic rail gear that make them capable of driving directly on railroad tracks, are just a portion of the price of admission to be capable of performing this work.  In fact, Ducci has just made a major investment in its future by taking delivery of four brand new Altec bucket trucks, designed specifically for the unique work they will be helping Ducci crews perform.
Ducci also prides itself on a robust preventative maintenance program designed not just to repair this equipment when something breaks, but to proactively address issues before they can lead to breakdowns that may affect productivity and progress. "Equipment can only make money while it's running, and fleet reliability naturally reduces safety and environmental risks, increases productivity, and improves crew morale. While there are many challenges associated with a growing fleet, and while we always have many things we are working to improve, the collective we have put tremendous efforts into keeping our vehicles rolling and the work progressing," says COO Ducci.
Complexity and Safety Make Railroad Work Challenging but Rewarding
In the environment of a functioning railroad where energized lines and speeding trains are never more than feet away, this railroad work presents extremely unique safety challenges and requires a level of coordination, precision, and safety-conscious processes not commonly found elsewhere. Work is necessarily scheduled weeks if not months in advance, and then only scheduled after having completed and gotten approved extensive detailed work plans, which often detail down to the minute the schedule of work that may be performed during a very tight outage with little to no room for error. According to company President/CFO Rich Ducci, "This extreme attention to detail and fostering a culture of safety are critical to the company's ultimate goals of sending every employee home in the same condition they showed up to work in every day—or better, in being more aware of their surroundings and better prepared for the next day."
In the railroad industry, the Ducci name and reputation have made the family-run business a top choice for companies and government agencies looking for experienced, safe, and skilled work on some of the most complex projects on the country's most well-traveled lines. Ducci Electrical Contractors provides expert services that keep the trains running.