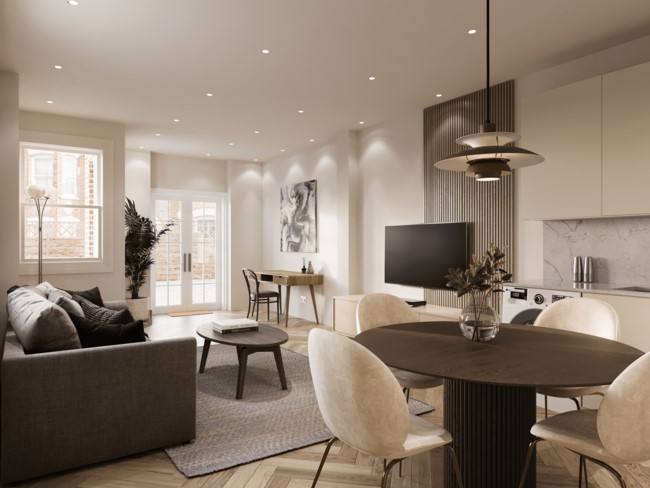 Doncaster is the UK's newest city after it gained its official city status on 1 November 2022 with a visit from King Charless III and The Queen Consort soon after to give their blessing to the Royal order switch from town to city.
Doncaster is also expecting new residential developments worthy of its city status as RAM Property Group starts on the conversion of its £1.5m Auckland Road site, The Aucklands, in Wheatley, which is set to transform the road and bring back homes in the local conservation area.
RAM Property Group acquired the former guest house in September 2022 which had lay empty and dilapidated since 2020, making it a target for squatters and other criminal use.
"We are excited to bring life back to the stunning period properties through a comprehensive conversion which includes making the properties energy efficient, modernised and creating beautiful communal areas such as patios, gardens and an off-road car-park," says RAM Property Group Director Kelly-Ann Mealia.
The Wheatley site is made up of four Edwardian terraced buildings sprawling 8232 sqft, which will be transformed into nine two bedroom flats and two one bedroom flats featuring generous kitchen diners with integrated appliances and original bay windows on the ground floor, allowing for plenty of natural light.
Due to the size of the site, each unit will benefit from a dedicated parking space in addition to two electric vehicle spaces in line with the Department of Transport's policy to encourage electric vehicle ownership in Britain.
"Our vision is to restore the beauty of these buildings with a sophisticated touch and be ready for modern living," adds Mealia.
RAM Property Group has enlisted the expertise of Create Properties for this development who are well established local project managers with numerous projects in and around Doncaster.
Create Properties Director Ryan Malee shares "We are proud to work alongside RAM Property Group to bring this space back to life. These quality homes are close to the city centre and will push the local standards higher with smart traditional designs complete with plenty of off street parking available. Great partnerships in property development are crucial because together we can build something amazing."
The Aucklands development has secured funding with the help of specialist mortgage broker New Property Finance. "The mini-budget in October 2022 really shook lender confidence and that of course has a knock-on effect on the property market," highlights Sebastian Newby, New Property Finance's Managing Director. "It is important that lenders continue to give the best possible terms to developers creating much needed housing stock to ensure as many projects are completed as possible. The Aucklands is one such example of a development getting started despite the challenging conditions of the UK market."
RAM Property Director Kelly-Ann Mealia describes the development as "a really exciting opportunity to bring a great end-result to Britain's newest city that the whole community can be really proud of."
The Aucklands development is scheduled for completion in September 2023.