Alpha1Media CEO Talal Malik launches global film strategy, Arabian focus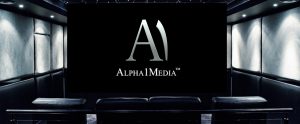 Global media and entertainment company Alpha1Media said on April 28 2018 that its Chairman and CEO, Talal Malik, had launched the company's strategy on the new Saudi Arabian cinema industry and its potential contribution to global film production, finance and talent.
Talal Malik on April 21 published the strategic thought leadership article in leading Saudi Arabian newspaper, Arab News,  under the title 'A new dawn for Arab cinema', outlining the entry of the Kingdom, the Arab world's only G20, member into the global cinematic industry, ahead of a full lifting of a near four-decade ban on cinema in May 2018.
"The Arabian cinematic dream has been built on the achievements of many contributors, some silent and some now long gone," said Talal Malik in his influential article.
"As their feats are recorded for posterity, the future looks bright, with new Arabian stories ready to be showcased to the world, and with talent from its own sands, both male and female."
Talal Malik in the strategic article also outlined how some key milestone events behind the historical decision, including the first Royal Film Premiere in Saudi Arabia in 2012, as well as the future strategic global contribution of Saudi Arabia to the film industry, film finance, production and talent, citing leading Hollywood industry figures such as WME Co-CEO Ari Emanuel and UTA Partner and Agent, Rena Ronson and institutions such Variety and the Saudi Film Council.
Talal Malik also cited the 1962 epic film, 'Lawrence of Arabia', referring to a scene which depicts the start of a desert raid with the line: "This was Talal's village," before the obscured Talal initiates a solo charge, and stating that while T.E Lawrence's story became universal, the story of Talal of Arabia, like many others, has not yet been told.
Saudi Arabian billionaire businessman, industrialist and film financier, Dr. Abdulrahman Al Zamil, publicly hailed the excellence of the thought leadership piece, and thanked Talal Malik, stating, "We in Saudi Arabia are proud of these achievements. All this time, we have been telling all our friends in the world, to just wait. When society is ready, we'll be ready."
On April 19, Alpha1Media received full script approval from the Dubai Film & TV Commission for its critically-acclaimed $100 million feature film project, NANO, six years after Talal Malik met Dubai's ruler, HH Sheikh Mohammed bin Rashid Al-Maktoum at the World Premiere of Mission: Impossible – Ghost Protocol, who had instructed its producers to bring the next global Hollywood mega-blockbuster.
NANO has been recognised as one of the best film scripts for 2018 by 40 Oscar, Bafta, Golden Globe and Emmy award winners, such British actor, Jeremy Irons, and is set in the US, Africa, the Middle East, China and Russia.
Talal Malik co-wrote NANO with the award-winning British writer Tamsin Astbury and is producing the $100 million movie project, nearly two decades after his first screen appearance in the James Bond 007 film for the new millennium, 'The World is Not Enough' opposite Pierce Brosnan.
Talal Malik was amongst the first from a new generation of Xennials and Millennials at world-famous Oxford University who have gone on to work in or be closely associated with the global Hollywood cinema industry, including influential lawyer Amal Clooney, Oscar-nominated actress Rosamund Pike, studio management executive Sam Enoch, award-winning film director Lucy Mulloy, film studio head Tasmin Lucia Khan and Emmy-award winning actor Riz Ahmed.
Alpha1Media is the global media and entertainment arm of global conglomerate, Alpha1Corp. In the film sector, Alpha1Media™ focuses on film development, production, financing and cultural advisory services. It currently has four film projects in development with production value estimated at over USD $350 million from 2018-2025.
Alpha1Corp International is a global diversified conglomerate focused on education, strategic consulting, private equity, travel and tourism, media and entertainment and technology, which has worked with or been recognised by some of the world's most influential people, institutions and companies since 1999.