Parenting
LIT ATLANTA crime television will bring the HEAT back to television!!!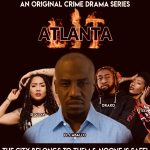 Television &  film actor Horse ' El Caballo ' Wren leads the cast of LIT ATLANTA!!!
With the World completely shut down due to unforeseen circumstances the filming of LIT ATLANTA or LIT ATL  for short has stopped indefinitely. This has still not thwarted the media buzz that is building around this series. The wait is worth it from what we have heard and seen from the cast. Leading actor Horse Wren brings his character ' El Caballo ' life once again! It is a win win for the audience. This character is worth it's weight in gold with a cast to match. The director has high hopes of returning the spotlight on "Greater acting and Great action!" 
The primary cast members are:
Sterling Jones as DRAKO 
Cali Sonte as SEQUOIA 
Karonda Amor as STEEL
Show concept is brilliant to say the least, i won't spoil it for the audience.
It has corruption to highest levels, murder, mayhem, and betrayal and this is just the 1st pilot we are talking about!!