Press Releases
Award-winning Great White Shark Documentary "Apex Survival | Maiden Voyage" released on Amazon Prime Video

Avon, Colorado and Cape Town, South Africa, May 13, 2020. International content producer Arniston Media is pleased to announce the release of its award-winning Great White Shark documentary, "Apex Survival | Maiden Voyage," on Amazon Prime Video.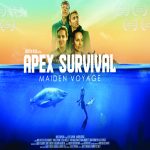 There is not an animal we fear more, and understand less, than the Great White Shark.  In Apex Survival, an inspiring global team of shark experts and conservation advocates join forces to explore the mysteries underlying the disappearance of Great White Sharks from the cold and stormy South African waters — once home of the highest population of Great White Sharks in the world.  Apex Survival not only deepens our understanding of Great White Sharks and the complex issues driving their extinction; but also, provides an inspiring window into the hearts and minds of a team, dominated by smart, strong and brave women, investigating the mysteries underlying their disappearance.
Apex Survival features world leading shark behavior expert, Ocean Ramsey, former Sea Shepherd member and shark photographer, Juan Oliphant, South African conservation advocate, actress and free-diver, Tanya van Graan, Australian champion free-diver and investigative photojournalist, Julia Wheeler, and the OG Sharkman, Mike Rutzen.
"Not only have amazing women led many conservation movements of the past, but women continue the fight.  In Apex Survival, the audience gets to know just such a team of brave, strong and smart women.  The current global climate has created a perfect opportunity for women to lead mankind to re-examine the core of humanity, explore human impact on sharks, the biological foundation of our oceans, and our now seemingly smaller-than-ever planet," said South African environmental advocate, actress and Apex Survival team member, Tanya van Graan.
Said marine biologist, world-leading shark-behavior expert and Apex Survival team member, Ocean Ramsey, "In the ocean, nothing exists alone.  In Apex Survival, the audience learns that as apex predator, sharks are essential in maintaining a delicate oceanic equilibrium.  Without sharks, our oceans will become unhealthy with cascading adverse consequences — not only for marine life; but also, for our planet as a whole."
Said former Sea Shepherd member, shark photographer and Apex Survival team member, Juan Oliphant, "a major thread in the tapestry of issues that brought us the COVID-19 pandemic is human abusive relationship with our planet and its creatures.  Apex Survival explores one such thread — the global shark fin trade.  Driven primarily by consumer demand for shark fin soup, sharks are being wiped out to the brink of extinction.  With social media, we can invigorate a new generation of environmental activists, engaging millions of people around the world."  
"As knowledge grows, fear of freediving with Great Whites, outside a cage turns, turns to fascination.  Ecologically, humanity has been noted as an unprecedented "global super-predator," who preys on other apex predators. Apex Survival, however, shows a noble side of humanity: a true passion to save our oceans' apex predators and protect our planet for future generations.  Although Apex Survival is filled with action, unexpected oceanic challenges and adventures, the Apex Team raises awareness and finds solutions, which provide hope for the survival of the Great Whites," said Apex Survival director, Jakes Jordaan.
Apex Survival | Maiden Voyage is available only on Amazon Prime Video.  Shot in 4K by a multiple Primetime Emmy Award winning production team, the feature-length documentary has won 10 US and international film festival awards.  For more information and to contact us, please visit http://www.apexsurvival.net/.