Technology
The Temu Phenomenon: Why Americans Love This E-Commerce Site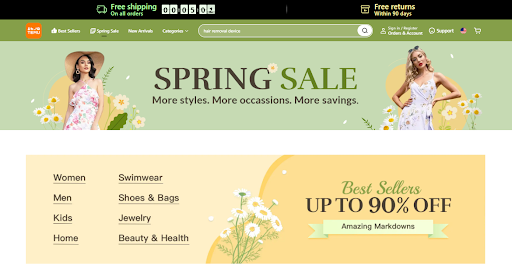 Temu, the Boston-based e-commerce platform, has quickly become a hit among American consumers since its debut six months ago, surpassing Amazon and Walmart to become the most downloaded app in the US.
Temu's popularity has been attributed to its wide selection and low prices, an attractive combination at a time when households are looking to stretch their budgets amid rising costs of living. Other commentators have sought to cast Temu's emergence as evidence that American consumers are embracing its more interactive and fun model of shopping.
Whichever the case, Temu had attracted 13.4 million monthly active users in six months, more than discount retailer Target's 9.2 million, and closing in on Walmart's 17.7 million, according to SensorTower. Temu enjoyed a significant boost after its Big Game commercial, "Shop Like A Billionaire." The 30-second spot featured a young woman shopping happily without financial constraints because prices were so affordable on the Temu app.

"Temu is the real deal. It has rocketed in popularity and has become one of the most downloaded apps in the US, offering a range of product categories such as beauty, fashion, tools, pet supplies, and more," said Jacob Cooke, CEO of WPIC, an e-commerce consulting firm. "Temu's primary advantage is its ability to offer incredibly low prices for products. It is able to leverage PDD's relationships with low-cost manufacturers" to offer unbeatable prices.
How can Temu offer such low prices?
Temu is able to offer prices close to wholesale levels because of its parent, PDD Holdings, which has cultivated a network of global merchants and manufacturers that can supply quality goods at the most economically competitive prices. Unlike other e-commerce startups, Temu did not have to start from zero and spend years building relationships with these suppliers and demonstrating a track record before being able to secure the best terms from them. 
Temu operates an online marketplace where top sellers are "generally priced lower than rival platforms," according to Sanford C. Bernstein, an investment research firm.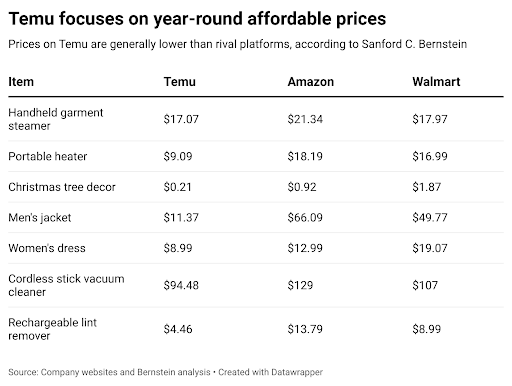 Michael Felice, an associate partner at management consulting firm Kearney, said Temu stood out simply by selling products without high markups. "Temu might be exposing a white space in the market wherein brands have been producing at extreme low cost, and along the value chain there's been so much bloated cost passed on for margin," he told CNN. 
Temu's wide selection caters to diverse consumer needs
CNN has described Temu as an "online superstore," while Fast Company said its online marketplace offered a "riot of choice." With 29 major product categories spanning clothing, kitchen, and homeware, to automotive accessories and industrial tools, Temu is "filled with the kind of stuff you might scoop up at Walmart or Costco. Only it's even cheaper – sometimes a lot cheaper."

On YouTube, Temu customers are posting videos of their purchases, including a working mom who shared about her experience using a mini washing machine from Temu to wash a soiled tee from her two-year-old daughter. "I went ahead to plug it in, saw it work its magic, it works wonders, and is great for apartments. "

Another happy customer posted about the car accessories he bought from Temu. Yet another, Pham from Green Bay, Wisconsin, uploaded a video about buying craft supplies from Temu. "The craft supplies are so economically feasible they're not a stretch on the budget and they actually work really well," she said, showing her viewers a package containing everything from botanical prints to yarn and tracing paper. 
The road ahead for Temu
A common refrain from consumers is that they bought something from Temu because they chanced upon it. This discovery-based shopping model is new to Americans and could be the next big thing in e-commerce if it takes off, according to Connie Chan, a general partner at the Silicon Valley venture capital firm, Andreessen Horowitz. 
"The importance of discovery-based shopping is that it better mimics the in-store shopping experience and frankly, it's fun. It's literally shopatainment," Chan said in a blog post. "Consumers are far more likely to spend time — and consequently money — with apps that they enjoy spending time with."
For Temu, besides recommending suitable products to users and making browsing and shopping more enjoyable, another arguably bigger innovation lies in its push to put consumers in the driving seat for what products get made. 
This is where Temu's Next-Gen Manufacturing model comes into play. By connecting consumers directly with manufacturers and channeling consumer insights to them, Temu's Next-Gen Manufacturing allows for a more targeted and responsive approach to production, which means that consumer needs and preferences are taken into account when creating new products or improving existing ones. This means that people who may have previously had difficulty finding products that met their specific needs or preferences may now have more options available to them. 
Additionally, by reducing excess inventory and waste, Next-Gen Manufacturing can help to reduce costs and make products more affordable, which can also make them more accessible to a wider range of consumers. This is in line with Temu's core values of empowerment, integrity, inclusion and diversity, and social responsibility. 
Temu aims to continue expanding its customer base and satisfying its existing customers like Ashlee Nordquist, a 39-year-old optician from Fargo, North Dakota. Nordquist has become a loyal Temu shopper, having purchased a range of products including fishing gear, homeware, and appliances.

Previously, she had bought similar products from Amazon or Walmart but has since switched to Temu due to its low prices. In fact, she says that Temu prices can be as much as one-eighth of what her local supermarket charges, making her feel like she was being overcharged at other retailers.
"I feel like I was getting robbed, shopping at other places."