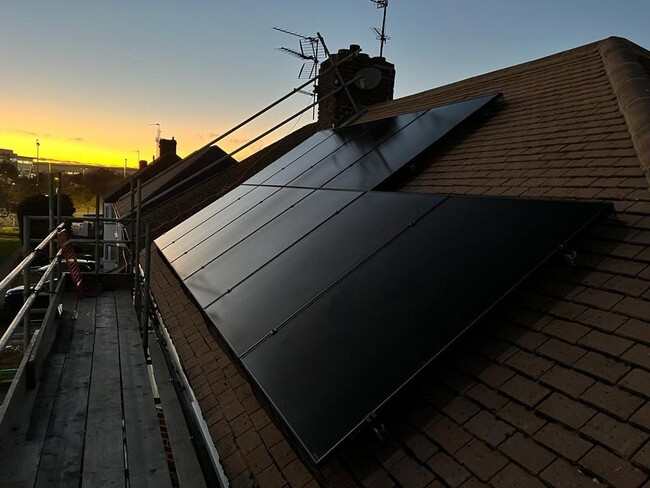 Solar experts have warned homeowners to do their due diligence when searching for installation companies after a spate of scammer incidents.
World of Solar, said that as demand for solar energy rockets in the UK, the number of cowboy builders offering so-called solar solutions has also increased, duping innocent families out of thousands of pounds.
The company has issued its top 10 tips for homeowners looking to switch to solar, in a bid to save them from being conned and being left without an installation.
A spokeswoman for the company said: "We want to help people make the safest choice when selecting a solar system for their homes.
"We have compiled what we believe are the 10 most important points to consider for people considering a solar installation and to protect them from scammers. Recent news reports have seen unlicensed firms leave householders without installations, losing thousands of pounds, risking their home insurance and potentially even their homes in the process," she added.
World of Solar's Top 10 Tips for Solar Power Installation
1. Research is key.
It is important homeowners compare companies on their products, costs, service and their knowledge on technical aspects on the installation.
2. Check if it is cheap.
It is important customers do not opt for the cheapest company just because they are the cheapest. When making a significant investment, homeowners have to know they are getting what they were promised. Some householders have opted for cheaper and were given less panels than they were promised, or unsafe systems installed by people without the correct qualifications.
3. MCS Registration
Homeowners should only enquire with MCS registeredcompanies. The MCS upholds service standards in the energy industry. The MCS logo should be displayed on the company website. Without this certification, homeowners can't register with their energy provider for the smart energy guarantee tariff (SEG), which allows them to earn money from excess energy.
4. HIES Registered
The HIES Scheme protects consumers and the deposit they pay for the solar system installation work to be carried out. The HIES Scheme websitelists all registered companies.
5. NAPIT Certified
NAPIT – the National Association of Professional Inspectors and Testers – certification confirms that the company has demonstrated competence in their work, and they hold the necessary insurance. It also confirms that the firm's health and safety tests are in place and that the company is audited regularly to ensure they remain competent and legal.
6. Company Reviews
Check Trustpilot or Google reviews. These are two of the few platforms that do not allow 'fake' reviews and have to be supplied by genuine customers. Reading how the company responds is a tell-tale sign of a competent and responsible firm.
7. Guarantees and Warranties
Homeowners should check what guarantees and warranties are in place for the system being installed, in case there are any problems. For example, World of Solar offers a 10-year HIES Consumer protection along with additional warranties on products, including 5-year warranties on batteries. The length of the warranty will depend upon the product
8. After Care Sales
Consumers enquiring about solar should find out whether there is an after-sales care team in place. It is crucial to have support after committing to such a significant investment.
9. Maintenance
Keeping the system in tip top condition is crucial, so homeowners searching for a solar energy company must check if there is a maintenance service available and what it includes.
10. High Demand for Solar Panels
It is important homeowners are aware of the current delays in the supply of solar panels due to the high demand. Solar companies also have to wait for regulatory sign off before an installation can begin, which can take three to six weeks from the start of the enquiry. It can take six to 12 weeks with smaller companies.