Beldon Haigh Trump Video Goes Viral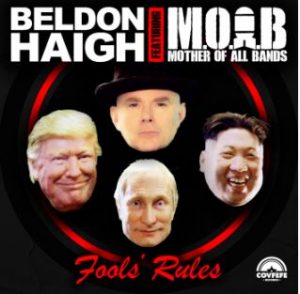 In Central Scotland there's a town called Falkirk which is famous for a few things: it's famous battle with the English Army of King Edward back in 1298, it's the place where John Logie Baird gave the world's first demonstration of TV using the Falkirk Transmitter and today its famous for it's Kelpies – a couple of iconic 100 foot horses head sculptures.
Falkirk is also home to Scotland's most prolific Anti-Trump protest songwriter. Beldon Haigh.
This year Beldon has released three singles and video's – Freedom (a song about how Beldon felt after Trump was elected) Land of Hope (inspired by the plight of refugees fleeing Syria) and his latest release Fools Rules (a protest against fakery) which has just gone viral. Beldon released all these songs by himself on his own label the aptly named Covfefe Records.
The video for Fools Rules is particularly imaginative and features the stunning masks of Trump, Putin and Kim Jong Un which are made by hand by Denver based sculptor Landon Meier whom Beldon managed to persuade to loan the masks for the production of the video.
The song, it's message (a protest against fakery and lies in politics) and the video just seem to have captured the imagination of a global audience who have not just watched and shared the video they are also making up a burgeoning group of followers (Beldon has more than 200K of followers) and downloading the song from iTunes and spotify.
When you listen to Fools Rules you will hear a very well crafted, produced and recorded pop song with song very hard hitting and provocative lyrics. It is a gem of a song with some truly great lines.