Half of Brits would be devastated to receive festive communication over social media instead of a heartfelt Christmas card
Sentimental Brits would prefer to receive a Christmas card than a text or email this festive season, a study has found.
Researchers found despite the plethora of high tech methods we can now utilise to deliver messages of goodwill, most still yearn for a good old fashioned handwritten card.
Half of adults polled in the Oxfam study would be devastated to receive a festive communication over social media instead of a heartfelt Christmas card.
Eight in ten admit they'd hate to see technology taking over one of their favourite times of the year, and 64 per cent think those who don't bother to send a card have lost the true spirit of Christmas.
An overwhelming 83 per cent truly believe more thought and feeling goes into the written word than a quick-fire text message or post.
And nine in ten adults still believe a Christmas card is the most fitting festive greeting of all.
Fee Gilfeather, Head of Customer Experience at Oxfam, said: "Us Brits love our traditions, and this survey proves our nation is united when it comes to festive greetings.
"Electronic messages just can't replace reading a handwritten message from a well-wisher, or the lovely decoration they bring when strung up at home.
"And unlike some charity Christmas cards, every penny of the profit raised from Oxfam Christmas card sales goes to a good cause – fighting poverty at home and around the world."
Two thirds of those polled admitted they would be offended to receive a Christmas text, festive photo filter or seasonal status update from parents, siblings or a best friend.
According to seven in ten, these types of messages during the festive period are only appropriate for distant acquaintances – and even then a considerable two thirds still preferred a card through the mail than a message in an inbox.
Two thirds of Brits are warmed by the idea of the thought and effort that goes into choosing, writing and posting a Christmas card – while 37 per cent look forward to reading the greeting inside.
Half of those polled feel sending a card shows someone really cares – and for one in ten, the sound of a card coming through the letterbox makes them feel a little less lonely.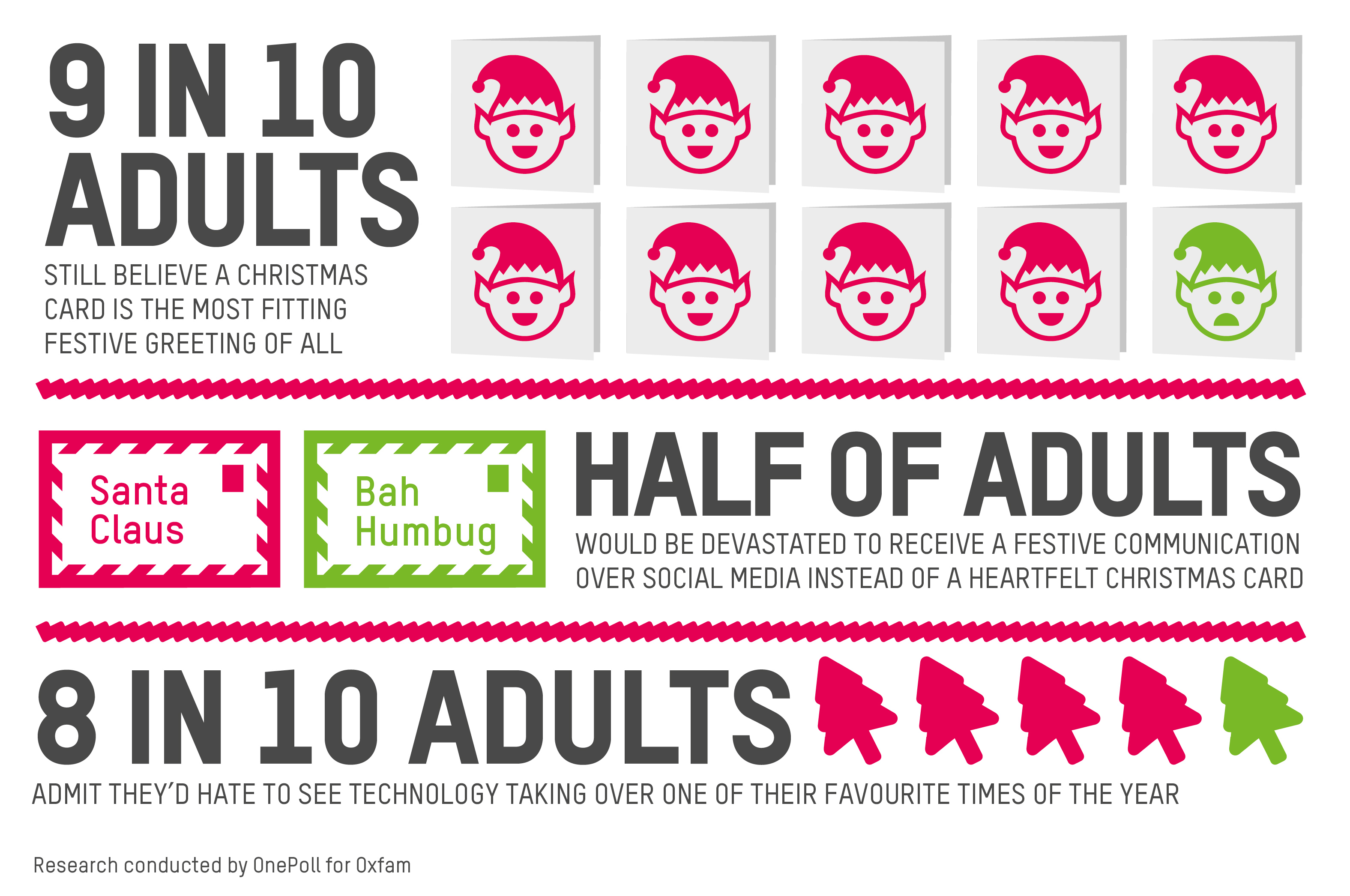 On the other hand, 46 per cent said digital greetings are too easy to send, and lack the thought and effort that a traditional hand written card brings.
More than a third disliked the thought of online friends firing off messages to everyone in their contacts list, like a Christmas conveyor belt.
But if Christmas cards is a numbers game, Brits are totalling some impressive festive figures: sending an average of 23 greetings each year, and spending an average 45 minutes writing them – approximately two minutes on each.
Though there are many people to consider, and much to say when carefully crafting cards each December – unsurprisingly, parents received the lengthiest messages, while best friends, siblings and children also receive detailed tidings.
More than four in ten adults said they use Christmas cards as a round robin- a traditional way of communicating to distant family and friends what has happened during the year – and seven in ten considered it a fantastic way of keeping in touch.
But it's not always the season of goodwill when it comes to Christmas greetings – as almost one in ten have 'defriended' someone because they didn't receive anything from them.
What's more, a name spelt wrong and a card received after Christmas were considered the ultimate faux pas – as was a stamped name and a hastily scrawled signature.
While one in five feel nauseous receiving personalised cards of a beaming family, including the family pet among the list of senders also makes the list of seasonal social blunders.
Through only one third of adults feel every single card message should be different from another, eight in ten Brits said Christmas cards receive more thought and feeling than a digital greeting ever could.
Mrs Gilfeather for Oxfam added: "This year Oxfam shops are again stacked with beautiful Christmas cards carefully sourced for you – for every budget and taste – bringing humour, style and art into homes along with your personal messages.
"Last year the money raised from your Christmas card purchases was enough to help children recover from malnutrition in Niger. Safe, clean water now flows in their communities, making sure that these children can grow healthy for years to come."
"Now we know that your small gesture could mean the world to the receiver, as well as delivering hope to the people who Oxfam works for."