News
Meet the woman with the important job of testing rollercoasters

Jordan Middleton's career has reached new heights – after she landed her dream job as a rollercoaster and attractions excellence tester at Thorpe Park Resort in Surrey.
Thrill-seeking Jordan's first day in the role saw her try out their new The Walking Dead: the Ride, for passenger comfort and fright value.
The rollercoaster is the first zombie-themed one on the planet and recreates the post-apocalyptic backdrop of the global television phenomenon.
Jordan, 27, is more than qualified for the job – having ridden 840 rollercoasters in more than 50 different cities and countries around the world.
And she aims to hit the 1,000 mark by the end of next year.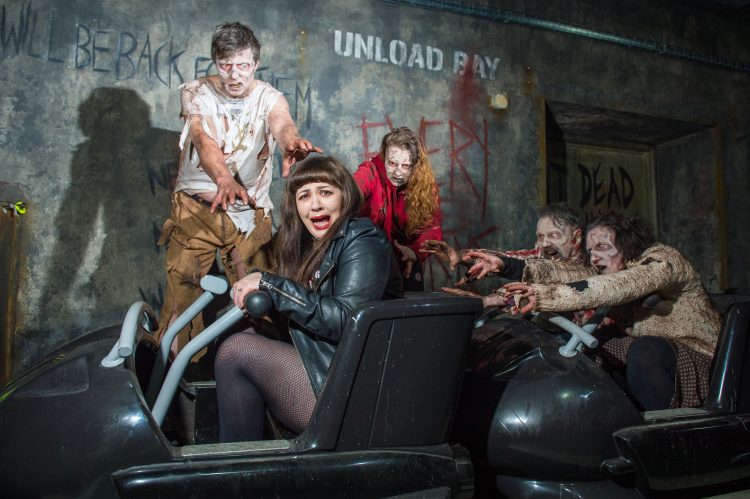 Yesterday Jordan, who has been at the theme park for the last three years, but has just been appointed as Attractions Excellence Manager, said: ''Rollercoasters first became my obsession from the age of about 14, so this is a dream opportunity for me.
"I remember being taken to Adventure Island in Southend when I was really little, and we also holidayed in Florida regularly, so I was fortunate enough to experience all of the theme parks there.
''But in my mid to late teens I joined a website called Coaster Force where you had to tick off rides all around the world – and I like a challenge.
"I do my best to get to as many theme parks as I can."
''But now I have ridden The Walking Dead: The Ride I can say it is by far the scariest rollercoaster I have been on to date.
"The theming is really intense and I felt completely immersed in the world created by the TV show. I am a massive fan of the series, so being able to get to test the coaster first-hand was an amazing experience."
Married Jordan's love of theme parks began in her childhood. One of her first memories of a coaster is going to Thorpe Park with her family when she was just three.
She can also recall riding on the Python at Busch Gardens in Tampa, Florida and feeling as if the over the shoulder restraint was too big for her.
But riding the Rock and Rollercoaster in Florida when she was seven was her first 'wow!' moment.
As a teen she began playing Rollercoaster Tycoon on a PC and fell in love with the thought of designing coasters.
Soon after she discovered the Coaster Force site and her quest to conquer as many around the world as she can swung into action.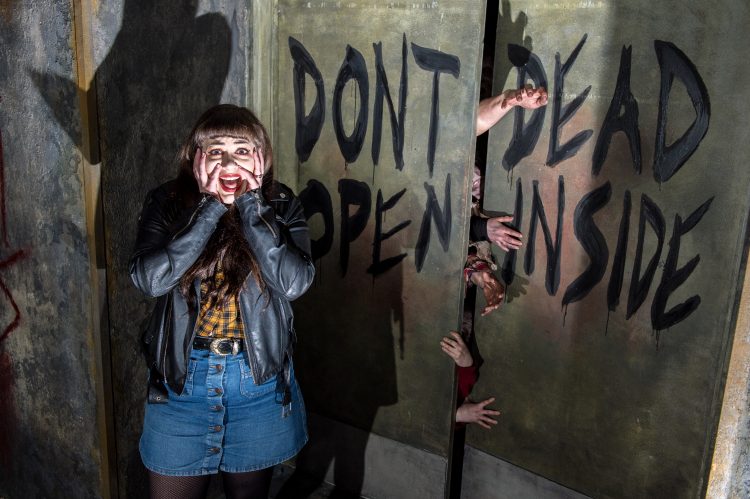 Over the last ten years, Jordan of Kingston-Upon-Thames, Surrey has travelled to America, France, Italy, Germany, Japan and Finland ticking off coasters to name but a few.
She is planning to visit Hong Kong to ride Mystic Manner at Disneyland, and China where she will board the Bullet Coaster at Happy Valley in Shenzen and in Beijing.
Then she will head to Abu Dhabi to ride the fastest coaster in the world, the 149.1 mph Formula Rossa on which riders have to wear goggles to keep sand out of their eyes.
Currently her favourite ride is Sky Rush in Hershey Park, Pennsylvania which Jordan said 'feels like a bucking bronco trying to throw you out of your seat'.
The ride Jordan disliked most was i305 in Virginia, USA, which Jordan said 'was too intense' and drops you down from a height of 305 feet.'
She added: ''The rest is weaving around close to the ground, it was so intense I saw dots. It's not for me, I didn't enjoy it.''
Jordan went on: ''Rollercoasters are just the kings. Thorpe Park isn't trying to be the tallest or fastest – The Walking Dead: The Ride is so much more than a rollercoaster.
''It transcends the thrill of the physical track and it's more about the narrative, the theming and the storyline and how they come together to create the best experience for whoever experiences it."
Dominic Jones, Divisional Director at Thorpe Park Resort added, "We pride ourselves on ensuring that our rides and attractions are the best they possibly can be and will be part of a thrilling day out for everyone."
"I'm delighted that Jordan has taken on this new role, to test our rollercoasters and attractions for their scare credentials, using her many years of expertise."
"We'd love for our visitors to return as many times as they can throughout the 2018 season to enjoy our series of unmissable events as part of the Year of The Walking Dead, all of which will have been road-tested by Jordan beforehand."
Michael Bolton, founder of ScareTOUR, the UK's biggest and best scare attraction news and review website, said of The Walking Dead: The Ride, "This is genuinely really frightening.
"It's actually surprised me with what they've done with it. I wasn't expecting it to be as jumpy and as scary as it was. It was totally immersive too.
"It tells a story from start to finish, from the moment you join the queue. It has a great build up, a quality ride and has loads of other stuff going on too.
''There is a lot more going on than I was expecting.
"The Walking Dead is a global phenomenon based around an Intellectual Property. When I first heard they were going to do it, I didn't think they would be able to carry it off.
''I was wondering how you have a zombie-based television show and theme a rollercoaster around it.
''But they have created a brilliant rider experience.
''The challenge is 'Can you escape from the walkers?' I don't think you can. I am sure they will get you in the end.''
JORDAN'S TOP TEN ROLLERCOASTERS
1. USA – Sky Rush at Hersheypark in Hershey, Pennsylvania: 'My number one ride'
2. Germany – Taron at Phantasialand, Cologne: 'Really intense and so fast. Changes direction, tries to kick you out of your seat. It's a double launch too'
3. USA – El Toro at Six Flags Great Adventure, Jackson, New Jersey: 'What we would call an 'airtime-machine' – you're never once in your seat the entire way around
4. UK – Stealth at Thorpe Park Resort: 'The launch! Mind-blowing and not topped anywhere in the world'
5. Sweden – Helix at Liseberg Park, Gothenburg: 'Amazing, really good night riding in the middle of the city, feels like your hurtling towards buildings '
6. USA – Iron Rattler at Six Flags Fiesta, San Antonio, Texas: 'Completely wild – really unusual but brilliant mix of forces, speed and airtime all set with a dramatic backdrop'
7. Spain – Shambhala at Port Aventura in Salou, near Barcelona: 'Liked this one'.
8. USA – The Voyage at Holiday World, Santa Claus, Indiana: 'Proper old-school wooden coaster. Relentless and just keeps going on and on (in a good way!)
9. Japan – Do Dodonpa (Used to be Dodonpa) at Fuji Q Park, Tokyo: 'At the base of Mount Fuji and great fun'
10. Oz-Iris at Park Asterix in Paris: 'Really fun inversions lots of weightless moments'