Parenting
UK Somehow Justifies The Best Option For 3 Seriously Ill Children Is Death By Euthanasia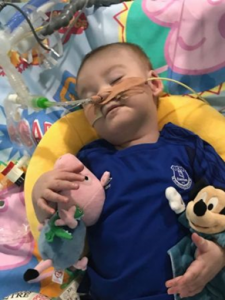 Baby Charlie Gard, Baby Isaiah Haarstrup, and now Baby Alfie Evans have had the odds stacked up against them in continuing as patients in subsidized medical facilities in the U.K..
Essentially upon being admitted, his parents are being repeatedly refused an appropriate say in how and in what way they believe their loved one should be treated in the hospital setting.
In each case, the toddlers have had willing parents who went to great lengths to find additional options for the wellbeing of their child. In the case of Charlie Gard, over $1 million was raised to cover all necessary expenses for his safe travel to permit his rare disorder to be researched and managed by additional (perhaps more inclined) physicians. This was a clear indication of Charlie's parents having had his best interests at heart, as they put forth the hard work and effort to collect the funds needed to cover all necessary avenues that would allow the continued pursuit of a cure for their son.
But the doctors and judges did not allow his relocation and still won't respect current parents' efforts.
Tom Evans and Kate James (Alfie's Parents) have good reasons to vehemently fight for the prolonging of
treatment and research for their baby. One major reason is that his illness has still not yet been diagnosed.
Doctors apparently do not know what Alfie is sick with. No research is being pursued to discover the cause
of his condition, and by not making the effort to discover what is ailing Alfie, medical research
professionals are left in the dark as to how to treat such an illness should it surface again in a different
child.
Another more fundamental reason the parents hold fast to pursuing this fight is because Alfie appears to be very much alive. Recent footage confirms this… He blinks and reacts visibly to stimuli. He stretches. He recoils. He yawns. He sucks his pacifier. He responds to light shining in his eyes. He opens his eyes in response to his father's voice.
Alternative options available to help extend little Alfie's life may even be more cost-effective than his current level of care and more accommodating for both the hospital and the parents. If Alfie is removed from his life support machine and administered a tracheotomy, he will be mobile again. This will free up a hospital bed for another sick child. But Adler Hey Hospital refuses to perform this procedure.
After witnessing the great measures these parents have taken to protect their children, including the money that has been raised, the support that their children have procured from around the world, and the continuous legal battles undertaken to argue a case for their child in trail after trail, to hear a judge rule that the parents here do not have the best interest of their children at heart seems quite inaccurate.
Little Alfie's next and final attempt at permission to remain on his life support machine is being considered by the highest legal courts for human rights cases in Europe, the European Court of Human Rights –located in France. A decision will be made soon as to whether Alfie will continue to live or if he will join Charlie Gard and Isaiah Haarstrup.
Media Contact Details
Jacinta Robin, Prayer People Politics
Florida, USA
9045159804