Wedding
Groom's speech interrupted by the delivery of a six-foot GIANT SUB

A smitten groom stunned guests at his wedding – when his heartfelt speech was interrupted by the delivery of a six-foot GIANT SUB.
Fortunately for new husband James Coad, 30, it wasn't a case of lost delivery drivers, but all part of his cunning plan.
The secretive spouse organised the giant Subway sarnie to be delivered in the middle of his wedding speech, as a special reminder of his very first date with his new wife, Lucinda, 26.
James, of Hemel Hempstead, said: "Lucinda and I have been together for five years now.
"We met at work, as you do, but we didn't really hit it off at first – in fact she thought I was a bit of an idiot.
"I fancied her a little bit, and one night in 2013 we all went on a typical work night out to welcome some new faces in the office.
[youtube https://www.youtube.com/watch?v=GDLsC2sqvjg?enablejsapi=1&autoplay=0&cc_load_policy=0&iv_load_policy=1&loop=0&modestbranding=0&rel=1&showinfo=1&theme=dark&color=red&autohide=2&controls=2&playsinline=0&]
"Lucinda and I hit it off with a bit of flirting, then we went to our local nightclub, Veeda, and shared a passionate kiss in the R'n'B room.
"Later in the night I took her to Subway and thought I'd be romantic by offering her an Italian 6-inch BMT.
"But when I handed it to her – she dropped the whole lot on the floor. I didn't offer her mine though, that went home with me.
"We always have a laugh about Subway now, and when we walk past we joke about the way we first met."
However, it wasn't until wedding planning was well underway that James had the bright idea to involve the sandwich chain in his big day, making sure nobody else knew about it – not even his best man.
He said: "I was writing my speech and thinking of the first time we met, and was stumped because ours wasn't love at first sight, she didn't really like me that much.
"The Subway story came to mind straight away. I ordered three sandwiches, an Italian BMT, Ranch Chicken and Veggie Delight.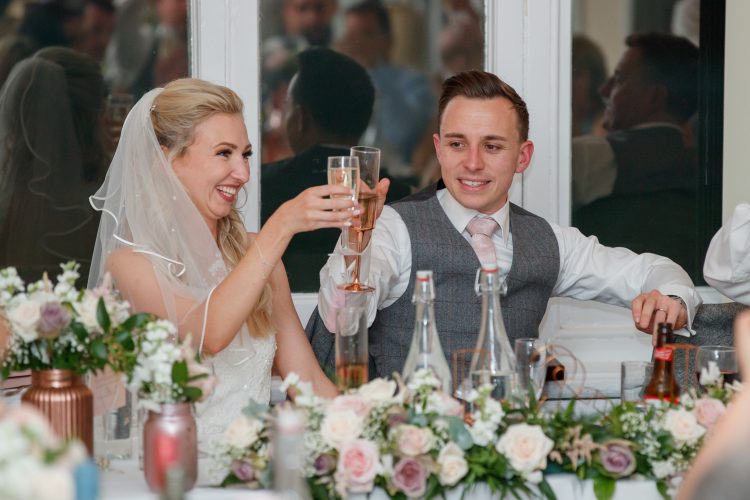 "But it's the BMT that links back to that special night in 2013."
Subway sandwich artist Justin Pringle, 42, who made and delivered the Giant Subs from the Jarman Park store in Hemel Hempstead, said, "James told us about the jokes he and Lucinda share after she dropped her BMT sub on the night they first got together.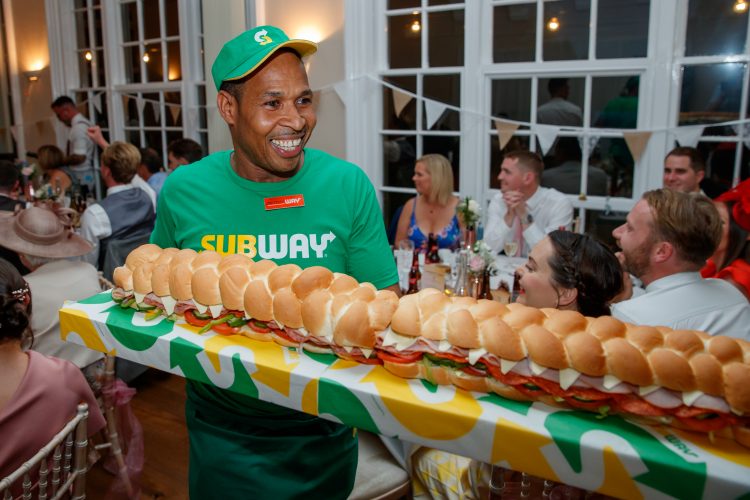 "We were delighted to help him surprise Lucinda with some Giant Subs at their wedding – and luckily no one dropped these ones."
Justin and his team created three Giant Subs for the reception, including one with the BMT filling, which was delivered to James and Lucinda as part of the groom's speech.
The specially baked Giant Sub, which is designed to feed a group of up to 25, measures a whopping six-foot, and costs from £116.
It takes 2 hours and 30 minutes to make a Giant Sub, from dough to plate.