Mens Interests
4Play Lounge Budapest's No.1 Gentlemen's Club Are Raising the Standards in Eastern Europe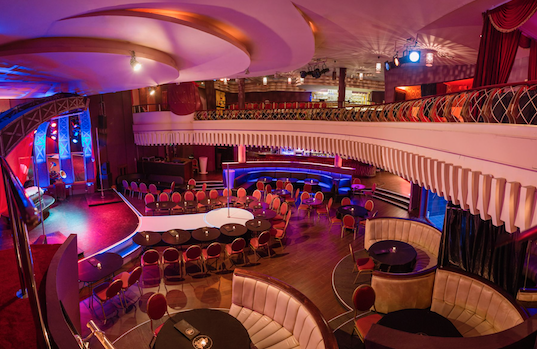 4Play Lounge is the leading gentlemen's club in Budapest. Having opened in 2006, the reputation of 4Play Lounge has continually grown in stature, with thousands of clients visiting the club every year. Known for its professionalism and friendliness, it has managed to turn around the old preconceptions of strip clubs in Eastern Europe.
This gentleman's club has been in business for 13 years and has built a solid reputation as the best strip club in Eastern Europe. Its American owners have worked to ensure that their staff are happy and friendly and give their best to the clients at all times. The decor and atmosphere merge together to give the club both a relaxing and entertaining vibe. Prices are very reasonable and transparent and the girls are sensational. There is no time like the present to visit 4Play Lounge. Clubs used to be chastised for being dangerous, dark places where the staff were rude and drinks and dances were extortionate.
The American-owned club is quite unlike the many underground strip clubs that can be found in Budapest. 4Play Lounge has its own unique style, with modern and clean decor and comfortable furniture. The VIP rooms are reminiscent of the old Moulin Rouge days, where dancing girls stripped, adorned with feather boas and basques and suspenders. 4Play has been able to move away from the old notions of unscrupulous strip venues and has become the only gentlemen's club worth visiting.
Marketing Manager Ildikó Dóczi said: "4Play Lounge is a great place to relax and have fun. More and more people choose us not only for stag parties but also for company meetings and events. "
Safe, Not Seedy
Due to 4Play's door policy, clients are checked for weapons and drugs before they are able to enter the club. Although unlikely, any clients behaving in an aggressive or inappropriate manner are asked to leave the club and may be escorted from the premises. 4Play prides itself as being a very safe place to visit, with no hidden agenda.
Helpful Staff, Affordable Prices
All of 4Play Lounge's staff are chosen for their natural friendliness and are trained in good customer service. From the security staff to bar staff and dancers, clients are treated in a professional way and staff are more than happy to help at any time. The prices have been carefully set, so they are affordable and transparent. They can be found on all the menus and on the website – and of course, they can be seen on the bill too.
Eco-Friendly Straws and Glasses
4Play Lounge likes to keep up to date with helping the environment and has invested in PLA straws and glasses. Made from renewable cornstarch, they do not harm the environment and are biodegradable, meaning they can be composted rather than thrown away.
Safe Taxi Service
To encourage clients to remain safe and get to 4Play Lounge quickly, 4Play operates a free taxi service. By calling the appropriate number, it will pick your party up and deliver you straight to the door of the club. No need to worry about arriving at a club where you would rather not be. This is not taxi-mafia, it is simply a way of providing our guests with free transport. 4Play Lounge is more than happy to pay for a taxi to the club, as long as the guests are in Budapest!
Quality, Cool Club
The music is modern and they have select Hungarian DJs who play the latest tunes. From the stage to the VIP rooms and toilets, each area is clean, classy and cool. Combined with the dancers' outfits, this club is a feast for the eyes and the senses!
Easy-going, Beautiful Dancers
On a typical night, there are around 40 dancers available in the club. All of 4Play's girls are chosen for their looks, fitness, personality and – obviously – their dancing skills. Many of 4Play's girls can speak a variety of languages including: English, German and Spanish, amongst others. The ladies are not pushy, they will offer their dancing services, but if a client is not interested, they will wish you well and continue to the next.
No Sex, No Drugs
There is a zero tolerance policy on any clients who bring drugs into 4Play Lounge. It is against the law and is treated as such, security will be called and possibly also the police. Sex is also non-negotiable at the club. The girls are there to dance, not to have sex with the clients.
Themes, Nights and Events
Throughout the year, 4Play Lounge likes to get clients in the mood for upcoming festivities, such as Halloween, Easter, Christmas, summer parties and many more. These events are always advertised on the website so that clients can book events that are running and not miss out. The ladies dress up in various costumes and the club is decorated to get into the spirit of the evening. See our Latest Events
4Play Services
4Play Lounge offers stage shows with single dancers, duos and group dancing throughout the week. Private dances can be booked with any of the girls, or you can also have a table dance for a group of clients while having a drink. VIP rooms are also available for private dances. Drinks and dances are available throughout the evening.
4Play Lounge is perfect for stag and hen parties. For the stags, there are many different striptease shows, table and private dances available. For the hens, there are Chippendale shows and the ladies can take pole-dancing classes here! If an exclusive meeting room is needed for business meetings, then 4Play can also provide this.
The VIP Gallery has 5 themed rooms: Moulin Rouge, Secret Room, Bedouin Tent, Mirror Room and the Business Room, depending on company preferences, and the VIP bar is always available, information can be found on the website. 4Play Lounge can also organize transfers to and from the airport or hotel with different sized limousines, according to the size of the group.
Original source PRFire.com