Parenting
SmartBear Names Lou DiFruscio as New Chief Revenue Officer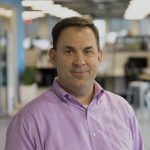 https://smartbear.com/news/news-releases/smartbear-names-lou-difruscio-as-new-chief-revenue/
 
With more than 25 years of sales experience, Lou DiFruscio now leads revenue growth and the global SmartBear sales organization
 
SOMERVILLE, Mass. — April 21, 2020 — SmartBear, a leading provider of software development and quality tools, has promoted Lou DiFruscio to Chief Revenue Officer, overseeing the company's global sales organization. He joined SmartBear in 2014, and most recently served as VP, North American Sales.
"With his product and industry knowledge, and keen understanding of both our sales force and the needs of our customers, Lou rose to the top among a number of strong candidates for this role," said Frank Roe, CEO of SmartBear. "He has continuously proven to be a great leader throughout his six year tenure at SmartBear. As a company, we've achieved outstanding growth year over year, and with the added challenges and uncertainties in the world today, Lou is poised to lead the next wave of global growth at SmartBear."
Software development and delivery continues for many SmartBear customers during the COVID-19 crisis. There's an ever-increasing need for APIs, as well as functional and load testing, in particular as organizations rapidly develop and evolve software tools and services in reaction to their new realities. The company continues to lead the industry with its wide array of development and testing tools that support software quality around the world.
"It has been a wonderful opportunity to manage various sales teams at SmartBear who have supported a wide range of customers with our award-winning software development tools," said Lou DiFruscio. "I am thrilled to now oversee our unparalleled global sales organization, while being the continuous advocate for our customers in support of their needs in these extraordinary times."
The role of Chief Revenue Officer was previously held by Frank Roe, who was promoted to CEO in March. Prior to SmartBear, Lou spent two years as Technology Sales Manager at Oracle. For two decades, he held sales leadership roles at various companies, including AccuRev, Empirix, and Coverity, among others.
SmartBear is currently hiring in Sales and Product Management. For open positions, visit:
https://smartbear.com/company/careers/
About SmartBear
At SmartBear, we focus on your one priority that never changes: quality. We know delivering quality software over and over is complicated. So our tools are built to streamline your process while seamlessly working with all the tools you use – and will use. Whether it's Swagger, Cucumber, ReadyAPI, Zephyr, TestComplete, or more, our tools are easy to try, easy to buy, and easy to integrate. We're used by 7 million developers, testers, and operations engineers at over 22,000 organizations – including world-renowned innovators like Adobe, JetBlue, MasterCard, and Microsoft. Wherever you're going, we'll help you get there. Learn more at smartbear.com, or follow us on LinkedIn, Twitter, or Facebook.
  
Contact:
Tracy Wemett
BroadPR
+1-617-868-5031
tracy@broadpr.com
All trademarks recognized.
#