Parenting
Ukrainian orthopedic surgeon launched a franchise: Device for varus deformity correction

Innovations in medicine in the 21st century are gathering pace. Cosmetic surgery is one of the promising areas. It allows one not only to look beautiful but also solves a number of health problems. Will this trend bypass Ukraine and what can it boast of?
Orthopedics is our choice
While the whole world makes beautiful lips and breasts, the home market is engaged in a more promising vector – orthopedics. Injuries, congenital anomalies, infections, arthroses and diseases of the musculoskeletal system often lead to various pathologies of legs. They become crooked, the joints hurt, bulge and cause great discomfort. This brings serious health problems. Patients develop scoliosis, lameness and other diseases.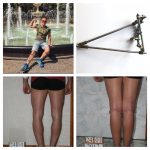 Also Genu Varum is a cosmetic and psychological problem, especially for young girls for whom bowed legs become a huge complex in life.
Because of that, straightening of the legs is not just an act of plastic surgery, but a necessary procedure. It is performed even in childhood, when the skeleton of a child is still developing, and the rehabilitation is easier. Adults also seek help as they are often frightened by the appearance of their own legs.
Surprisingly, Ukraine is the place where orthopedic plastic surgery is gathering pace. Thanks to unique developments in this area, operations are performed using minimally invasive methods and with help of lightweight fixation devices. Therefore, people often seek help in solving their problems.
Deformities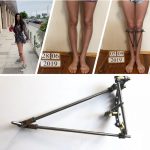 What kinds of deformities are there? The most common problems are as follows:
Aesthetically crooked legs;

Knock-knees (valgus deformity). The knees are brought together and the feet are diverged apart;

Bowed legs (varus deformity). The knees can't come together, there is a space between them and the defect of splay knees is present;

Congenital pathologies – dysplasia, genetic abnormalities, etc.
Deformation of legs causes great discomfort, both psychological and physical. People suffer from constant leg pain, fatigue and reduced physical activity.
Bowed legs are the most common of all defects They cause great stress for beautiful girls and young sportsmen wearing out their nerves. One can forget about having model looks, and uneven load on the joints brings trouble during physical training. The problem of bowed legs requires correction.
Traditional solution
Varus deformity has been treated for a long time already. The surgical operation is simple: an incision is made in the place of incorrect bone growth, the bone is fixed, and then it is knitted on its own. A new tissue which straightens the legs and forms the correct skeleton is formed. During the growth of this tissue, a special device is put on in order to fix the bone in the desired position.
If everything has already been invented, what else can be surprising about it?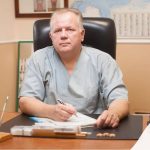 The fact is that the fixation apparatus itself is very bulky and traumatic. During the operation, sharp spokes are used, and scars remain on the legs for life. Spokes often cause infections, inflammation and severe complications. That is why people avoid correction of varus deformities.
But in Ukraine, it became possible to solve this problem. Orthopedic doctor with 30 years of medical experience, Vitaliy Veklich, improved the external fixation device.
The purpose of creating Veklich device designed for the correction of varus deformity:
To change the technology of surgical procedures aimed on correcting bowed legs, making it safe and less traumatic.

To create conditions for providing accessible treatment of varus deformity for the patient with minimal risks and time loss for the rehabilitation.
Modern correction technology
What does the device look like? It is a construction having triangular design. To fix it on the leg, it is not necessary to cut the limb. It is enough to make 3 punctures with a length of 2-5 mm and perform the surgical procedure minimally invasively. The patient doesn't lose much blood and doesn't get any ugly scars.
Dr. Veklich has removed the spokes, replacing them with anatomically correct parts. This reduced the risk of infection, sped up the rehabilitation time and made it possible to get rid of the scars which are usually left after removing the devices. Now bowed legs are corrected in an hour, and new bone tissue is formed in 2-3 months. In order to remove the device, there is no need to perform a second operation. It is removed within minutes.
Dr. Veklich offers a franchise for his unique invention. It is not necessary to be a medical expert in order to invest in a promising field.