Parenting
Greencom Ebizz Infotech introduces GPS Map Camera Lite: Geotag Photo Location – is there to add GPS stamps to camera photos very easily while you are travelling.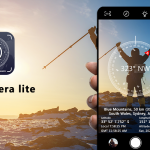 GPS Map Camera Lite Application, Lets you to add Coordinates, Direction, Unit and also Date/ Time in a picture which is taken by mobile phone.
SURAT, INDIA- 05 May 2020; Greencom Ebizz Infotech, an inventive  mobile development company, has recently launched GPS Map Camera Lite Mobile application for android platform, Which is utilized to include Geo coordinates on  picture with no complexities.
GPS Map Camera Lite app is the lite version of GPS Map Camera Application with all necessary features of this app. With this app, You can create a visual record of your locations while you are travelling or you are at a place that is unknown to you. 
This app can be useful for Individuals related to Business identified with land, Infrastructure, Architecture can undoubtedly apply GPS Map Location stamps to their Site Photos. Voyagers and Explorers can viably use this app. This app can be useful at Locations, Roads, In Sea for Sailors, For Military Purpose, Forest for Hikers etc.
Suresh Kalathiya – CEO and Founder Of Ebizz Infotech said  "I am delighted to welcome our new GPS Map Camera Lite Application on which our diligent team has been working for the last few days. We utilized required highlights from our last application which called GPS map Camera for better understanding to our leading users." 
Features in Application:
Add GPS Stamp to Your Photos

Add Date Time Location Stamp

Add Address, Latitude Longitude, Altitude, GPS Coordinates, DateTime, Compass to Photos

Get Geotag Photos

Make Location map stamp camera for Geo Mapping & Landmarking

Get location image stamp

Add Geo location to Mobile Camera Photos
Related Links
###