Home Interests
Master Bedroom Design Trends That'll Make You Fall for the Style!

When it's time to hit the hay, there's nowhere better to get your much-needed sleep than in your own bedroom. To get adequate amounts of rest, make sure that it exudes comfort so that you can rest, relax, and drift off to dreamland without any problems.
However, while comfort is the top priority for designing your room, you can also apply the latest design trends. Freshen up your master bedroom with these ideas:
 #1 Let the Right Bed In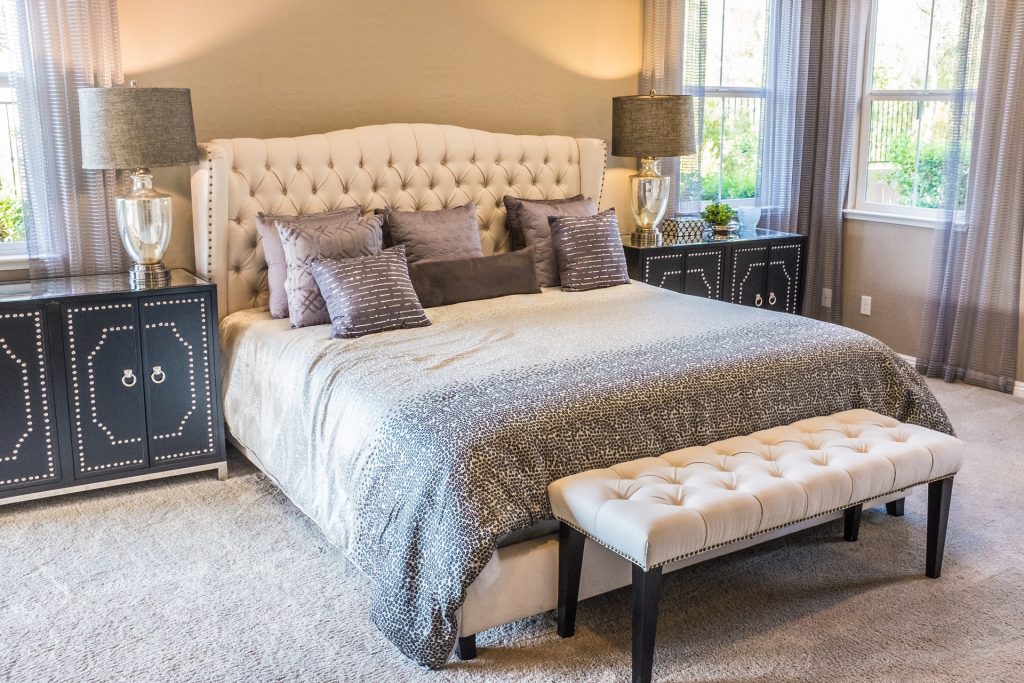 The bed is the single most important piece in the bedroom; choose wisely
Consider investing in a statement bed. Not only would this furniture be functional as you sleep soundly on it, but it also becomes your room's focal piece. Make this relaxing spot more welcoming and captivating to use. Apart from its platform frame, you must also consider the colours, shapes, and patterns when it's time to choose the bed.
#2 All Aboard With The Headboard
While you might initially only be concerned about finding great mattresses, another essential part of the bed is the headboard, which offers multiple benefits. It provides extra bed support, it helps bolster you as you sit up, and it can even protect you from cold temperatures while you're sleeping.
It can also become a fashionable centrepiece. If your budget allows, don't hesitate to spend a certain amount to get the largest possible size for your bedroom. The headboard space can turn into an alternative canvas that can dazzle its spectators with its beautiful designs. You can be creative with choosing which patterns and colours to display on it, as well. Whether or not it matches with the rest of the bedroom, that's up to you.
You can find quality headboards in mattress stores in Burlington, Toronto, or any other major city.
#3 Add Matching Wall Lights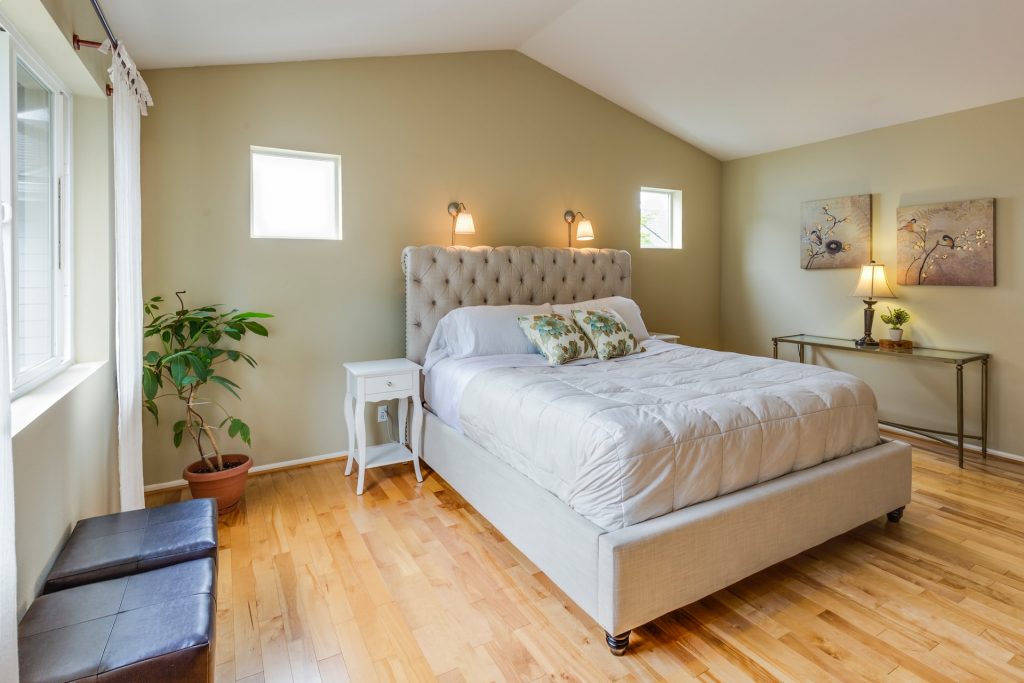 Matching wall lights can add a sense of harmony to your room
Another growing trend that's both practical and gorgeous for your master bedroom is to hang matching wall lights. This addition will serve to style your lighting and help change the look of your bedroom.
To be more specific, this trend includes choosing bold designs for their lampshades. People are starting to have fun in decorating, and their way of expressing their creativity is through adding more pops of bright and vibrant shades in their bedroom. The additional lighting also assists in visually maximizing the space. For instance, you can use them to light the narrower sides of your room and make them appear wide. They're also helpful for giving some height for low ceilings.
#6 Include More Rustic Elements
Sustainability and caring for nature are rising trends that also affect how we decorate our homes. As we become more knowledgeable on how we impact our planet, we have slowly changed our lifestyle. Among other examples, we have reduced our plastic straw usage and began using tote bags, which are eco-friendly alternatives to plastic bags.
To apply this trend to your master bedroom, you can use local artisan products as your decoration. You can add more rustic elements to your space with products made out of wood, linen, straw, and rope. You can even reuse a pallet, boxes, and other such materials to create furniture. Be inspired by what's available around you.
#5 Get Inspired by Nature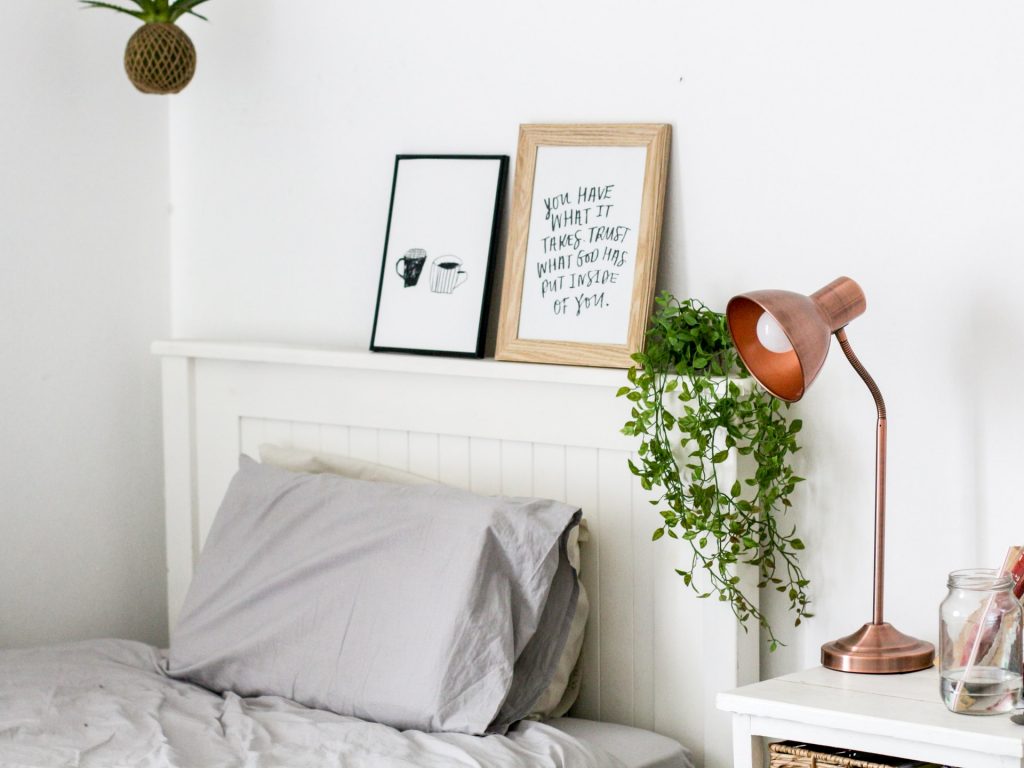 Use live plants to decorate your bedroom
If the current state of your room feels quite empty, that might be due to the lack of green in it. For this trend, let mother nature inspire you by including greenery in your master bedroom. You can do this by applying floral wallpapers that can highlight and involve the trees and other plants that might be outside your home. You may also try creating a small arrangement for your nightstand using different shades to contrast effectively with other colours.
Another trend is to let nature in and design your bedroom space using live plants. Not only will these serve as beautiful decorations, but they will also oxygenate and freshen up your room. There are multiple types of houseplants to choose from, so feel free to pick which suits your bedroom the most. Pick a corner in your room where there's good lighting and place the foliage there.
#6 Store All Of Your Clutter
How does your bedroom usually look? If you see piles of clothing, books, and other knick-knacks littered everywhere, these may hinder you from feeling relaxed. Seeing all this clutter might make you feel agitated, instead.
If you're concerned with making your bedroom cozier while staying in, this trend reminds you to clean out all this clutter with storage. Keeping everything in its designated space creates a sense of calm while improving how the area looks. Consider choosing fitted furniture for a neater finish. It may even help with your current sleeping conditions.
#7 Play With Different Textures
Think of the various elements that are in your master bedroom right now. Don't just limit yourself to the pillows, blankets, and comforter on your bed. Include rugs, carpets, curtains, tables, and chairs, as well. Featuring different textures in your room can guarantee a fascinating experience for your senses.
Allow yourself to experiment and see which kinds of materials complement each other. By picking several fabrics, there might be less uniformity in your master bedroom. Still, it also means you're constructing a personalized look for your space. Just make sure these fabrics complement each other. If you need hardwood floor installation Toronto services, then consider using diverse elements for the rest of your room. Think outside the box.
Upgrade and elevate your master bedroom with these simple redecorating tips. Turn your space into a beautiful and functional space.