Digital photo enlargement is simply more than just cropping or increasing pixels of an image in order to fit them into certain dimensions. It has to be done in a suitable way, which complements their resolutions, image size, and most of all, image quality. In this post, we will be giving you a look at Vance AI Image Enlarger, a tool which lets you upscale images online and enhance image quality at the same time.
How to upscale images online:
If you are wondering how to get a photo enlargement from Vance AI Image Enlarger, this short guide is all you need to read.
You can access this online image upscaler by clicking on the link given and then selecting Upload Image. You will see a dialog box open up.
Now, click on the plus sign upload button and upload an image. Select the image and go to Continue.
Wait for the image to process and display output. Click on Download to save the image in your device.
Features of Vance AI Image Enlarger
The Vance AI Image Enlarger has a number of cool features, which is a good sign for any application but especially for an online one. The AI Image Enlarger tool makes sure to offer high quality photo enlargements with the help of its complex techniques embedded into AI based models. These AI based models elevate the entire application which otherwise would have been the same as the standard online image editors you come across daily. You can not only get photo enlargements online with this tool but also offline, through its software application version.
Prices
If you are the kind of user who only wants a photo enlargement tool once in a while, you could make do with Vance AI's free account. This Free account will let you process images up to 5 times every month and will give you access to the standard Vance AI features.
For heavy usage, you would be looking at either Basic or Pro accounts. The Basic account will provide 200 credits per month with a payment of $9.90 per month. It also includes extra benefits such as being able to batch process 5 images at one, increased limits on image size and resolutions, and faster servers.
The Pro account will give you similar advantages as Basic, but more enhanced. It costs $19.90 per month with 500 credits per month given. Pro also lets you use Vance AI's advanced AI models for image processing. Other than that, you can also save your image as a PSD. Pretty useful for Photoshop users.
Enlarging Images with Vance AI Image Enlarger
A few images to give you an idea.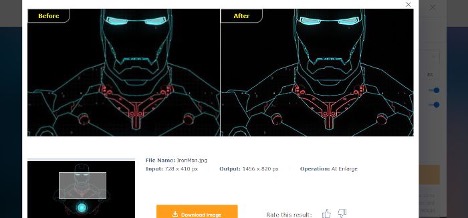 As seen, the details are definitely a lot clearer in the After image. This particular photo enlargement was done twice the original image resolution.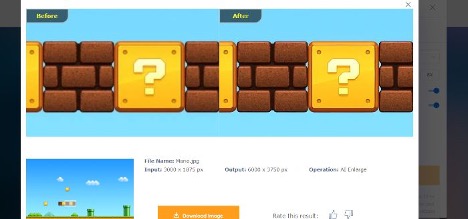 Another high quality photo enlargement by the online tool. Not to mention that both these images were processed incredibly quickly within mere seconds.
Conclusion
You can either keep using Vance AI Image Enlarger for free time to time or purchase it for regular use. Either way, with the number of options that the application offers along with the features and ease of use, this is a photo enlargement tool that you don't want to miss out.
In addition, Vance AI also makes leveling up images easy with its AI-powered photo sharpener.  If you want to make your images professional and sharper effortlessly, just go to Vance AI official website and get larger and sharper images in one click.
Meta title: Reviewing the Photo Enlargement Tool Vance AI Image Enlarger
Meta desc: A review of Vance AI Image Enlarger for its photo enlargement capabilities and other various features.