Price Prediction: SafeMoon to Offer Buy Opportunity Before 65% Upswing and HUH Token Eyes 116% Surge
After the December 4 crash, the price of SafeMoon has more than doubled. SAFEMOON's bullish move is currently reversing, although bulls are expected to initiate a second upswing. Meanwhile, HUH Token is eyeing a 116% surge to test its all-time high.
SafeMoon (SAFEMOON)
After the December 4 crash, the SafeMoon price established a swing low of $0.00000070. This downtrend reversed 180% to establish a trading range and swing high at $0.00000133. SAFEMOON has since fallen 25% to its current price of around $0.00000149.
Investors can anticipate a further decline in the altcoin's price to the 62% retracement level at $0.00000118 in the coming days. If this barrier is retested, bullish momentum is likely to surge, triggering a new swing up.
Similarly, the 70.5% and 79% retracement levels at $0.00000107 and $0.000000966, respectively, can be applied. A break above these levels is likely to signal the start of a new uptrend.
The subsequent rally is expected to retest the range high of $0.00000196, implying a 65% increase. In some instances, the SafeMoon price may briefly exceed this level in order to collect liquidity.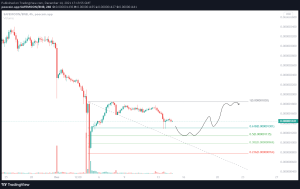 SAFEMOON 4-Hour Chart According to TradingView
If the price of SafeMoon, on the other hand, fails to hold above $0.000000966, this indicates a lack of buying pressure and an increase in selling activity. SAFEMOON may then revisit the range low of $0.0000007, where the bulls may attempt a comeback.
A swing low below this barrier, on the other hand, would invalidate the bullish thesis outlined above and indicate that further decline is likely.
HUH Token (HUH)
HUH Token has reclaimed its major support level at $0.0001277 indicating further upside is on the way. HUH's price briefly fell below the support level to $0.0000905 before bulls swept in and lifted the price back up, indicating buyers' appetite is strong at these levels.
HUH now looks set to retest its first resistance level at $0.0001830. If HUH's price can close above this level on its 1-hour chart then investors should anticipate the price to retest its all-time high at $0.0002728. This would be a 116% rise from current levels.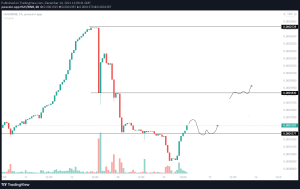 HUH 1-Hour Chart according to TradingView
 However, if HUH's price falls below the $0.0001277 support level, then traders can anticipate the price will dip to its next support level at $0.0000905.
HUH Token launched on Monday, December 6 and surged over 4000%, breaking into PancakeSwap's top 20 during its first week of trading.
In the last 7 days since launch, HUH Token has amassed a market cap of over $146 million, with over 10 000 holders. Another reason for Tuesday's bull rally could be HUH's listing on popular indexes CoinMarketCap.com and CoinGecko.com, which would undoubtably provide more exposure for the new crypto.
Although HUH's launch has been successful it has not been without incident. One of the reasons for the price pull back over the weekend could be due to some complaints from holders who purchased HUH during its presale. Presale holders have voiced concerns on telegram and social media about not receiving their tokens yet. However, HUH's creators made an announcement on Tuesday saying they are working hard to resolve the issue, which they say was caused by a fault in their payments system.
The announcement seems to have lifted sentiment around the token as the price continues to recover and the community continues to develop rapport with developers.
For more on HUH Token:
Buy HUH on PancakeSwap – https://bit.ly/3pSg09d
Website – www.huh.social
Latest HUH Token News https://bit.ly/3F6ttAV