Travel
5 Most Beautiful Spots to visit in Costa Rica in 2022

Costa Rica is famous for being one of the most beautiful, safe and laid-back countries in Central America. The best months to go are between December and April when the weather is driest and brightest, though the May-June "green season" is another option.
As for accommodation, many Costa Rica hotels are usually quite affordable (at least compared to some other locations throughout central America), and also offer all-inclusive options. And while there are many in San José, the country's capital city, there are also others close to the beauty spots we discuss below.

Cocos Islands
The Cocos Islands, located around 550 km to the southwest of mainland Costa Rica, are the only islands in the eastern Pacific home to tropical rainforest. In fact, the islands are so beautiful that they inspired the Jurassic Park movies.
Nobody is allowed to stay on Cocos. However, you can visit and enjoy one of the twenty or so dive sites where you can come face-to-face with eels, dolphins, sharks, and rays.
Santa Teresa
Santa Teresa is widely regarded as being one of Costa Rica's most beautiful fishing villages. The small settlement, located on the Nicoya Peninsula, is a favorite among surfers and other thrill seekers because of the huge surf that the area has to offer. However, it is also a great place to go adventuring in the rainforest by booking a canopy tour. Nearby is the Cabo Blanco Absolute Natural Reserve, the first protected area in all of Costa Rica.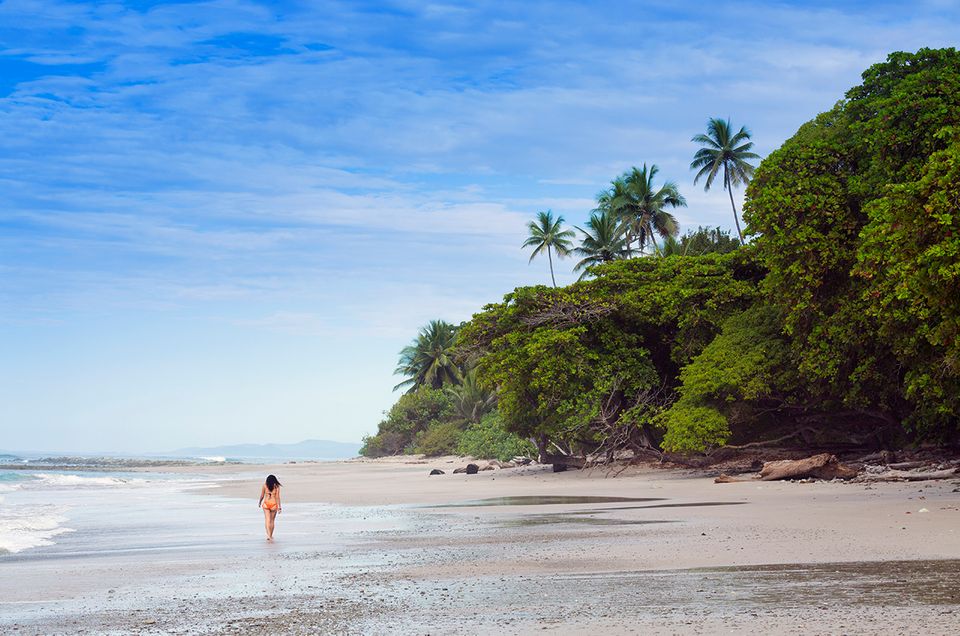 Monteverde Cloud Forest Biological Reserve
If you love sustainable tourism, you'll certainly want to check out the Monteverde Cloud Forest Biological Reserve. According to estimates, the park's 25,946 acres are home to more than 2.5 percent of the Earth's total biodiversity. There are more than 100 mammals in the forest, 2,500 plant species, 400 birds and over 120 different reptiles. More than 70,000 people travel to the park annually to see the spectacular wildlife on display.
Manuel Antonio National Park
Over on the eastern side of the country, you'll find Manuel Antonio National Park. Formerly, the region was a small cluster of volcanic islands. However, it is now home to various habitats that play host to endangered species, like the squirrel monkey.
If you plan on going here, you'll want to stay at one of the luxury chalets peppered around the area. There are also plenty of stunning white sand beaches to enjoy and opportunities to dip in refreshing waters around La Playita and Playa Espadilla.
La Fortuna Waterfall
Lastly, if you head north and west out of San José, you'll encounter La Fortuna waterfall, about an hour's walk from the center of La Fortuna. Locals consider it  perhaps the most beautiful waterfall in all of Costa Rica, with a drop of more than 246 feet. To get close, you'll need to pay a small admission fee. However, once you hand over your colons, you have an opportunity to swim in the stream and follow the small rapids below.