Lifestyle
Get Ready For Summer With A Brand New Grill

Summertime is almost here and you know what that means: it's time for an outdoor cookout! That also means it might be time to get a new grill! A new grill is fun and makes for some delicious food or an excuse to have a party. There's sure to be something for everybody, whether you're cooking steak, burgers, or tasty grilled vegetables on your brand new grill. Finding and selecting the right grill can turn your summer from boring to amazing. If you have the space and plan to use it regularly, you and your friends will never have to eat a lousy dollar-menu burger again! Whether you're looking to get into charcoal grills or go with something electric, Let's take a look at finding a new grill that's right for you.
Charcoal Grills
When most of us think about grilling, the image of the charcoal grill often comes to mind. It's a nostalgic, simple design that simply works well. The charcoal grill is often going to provide delectable and very tasty results on whatever you're grilling. They're smaller than many other grills and a little bit more portable. Charcoal grills use, well, charcoal to generate the heat used for cooking. Cleaning can be time-consuming and a bit of a pain in the neck. It requires scrubbing down pretty much every inch of the grill, including the ash catcher and grilling service. There is a lot of scrubbing involved, but luckily it only needs to be done a few times during the grilling season to prevent carbon buildup on the grill. There's also a little bit more work involved in using a charcoal grill. You have to light the charcoal, but with a little bit of practice, you can get your grill to maintain its temperature. The best charcoal grills offer a great way to infuse your food with Smoky flavors and it's perfect for barbecues during the summer. Charcoal grills tend to produce more ash than other types of grills, so be sure to clean your grill if you notice a lot of buildup throughout the season.
Gas Grills
 The convenience of gas grills makes them a favorite among backyard barbecuers everywhere. You're a fantastic grill for beginners because they're easy to use, cook food evenly, and are easy to clean. Professionals also like them for the same reasons. After all, being a professional chef doesn't necessarily mean you have to do things the hard way all the time. Gas grills cook food evenly because users don't have to spend a lot of time fiddling around with lighting/relighting coals or adjusting the temperature. Gas grills usually use propane, a type of liquid petroleum. When you fire up the grill, it preheats fast and then maintains its temperature on the grilling surface due to being gas-powered. They're easy to use because they have individual burners and offer a lot of control over your grilling service. Whether you're searing some steaks or cooking some salmon, a gas grill is a fine addition to your summer barbecue.
 BBQ Smoker
 If there's one thing that can be said about smokers, it's that they produce the most flavorful food you've probably ever had. Using wood chips to infuse your food with a delicious smoky flavor, smokers are the ultimate slow-cooking grill. Because it Cooks meat slowly, it makes it more tender and delicious. They're also easy on the wallet and budget, which can be wonderful if you're just getting started with barbecuing. If you have the patience for it, using a smoker to add some extra flavor to brisket, a few steaks, or fish is fun and a great way to kick off an awesome summer.
 Rotisserie
 Who among us doesn't love a rotisserie grilled chicken now and then? For slow-cooked, succulent, and less greasy food a rotisserie grill is the ideal cooking tool. Because the grill regulates temperature well, food Cooks evenly and browns better than some other methods. This is why you see so many types of poultry cooked via rotisserie. When cooking large portions of food, rotisserie grills are a very handy tool and can help produce some of the tastiest meals you'll have all summer long.
Electric Grill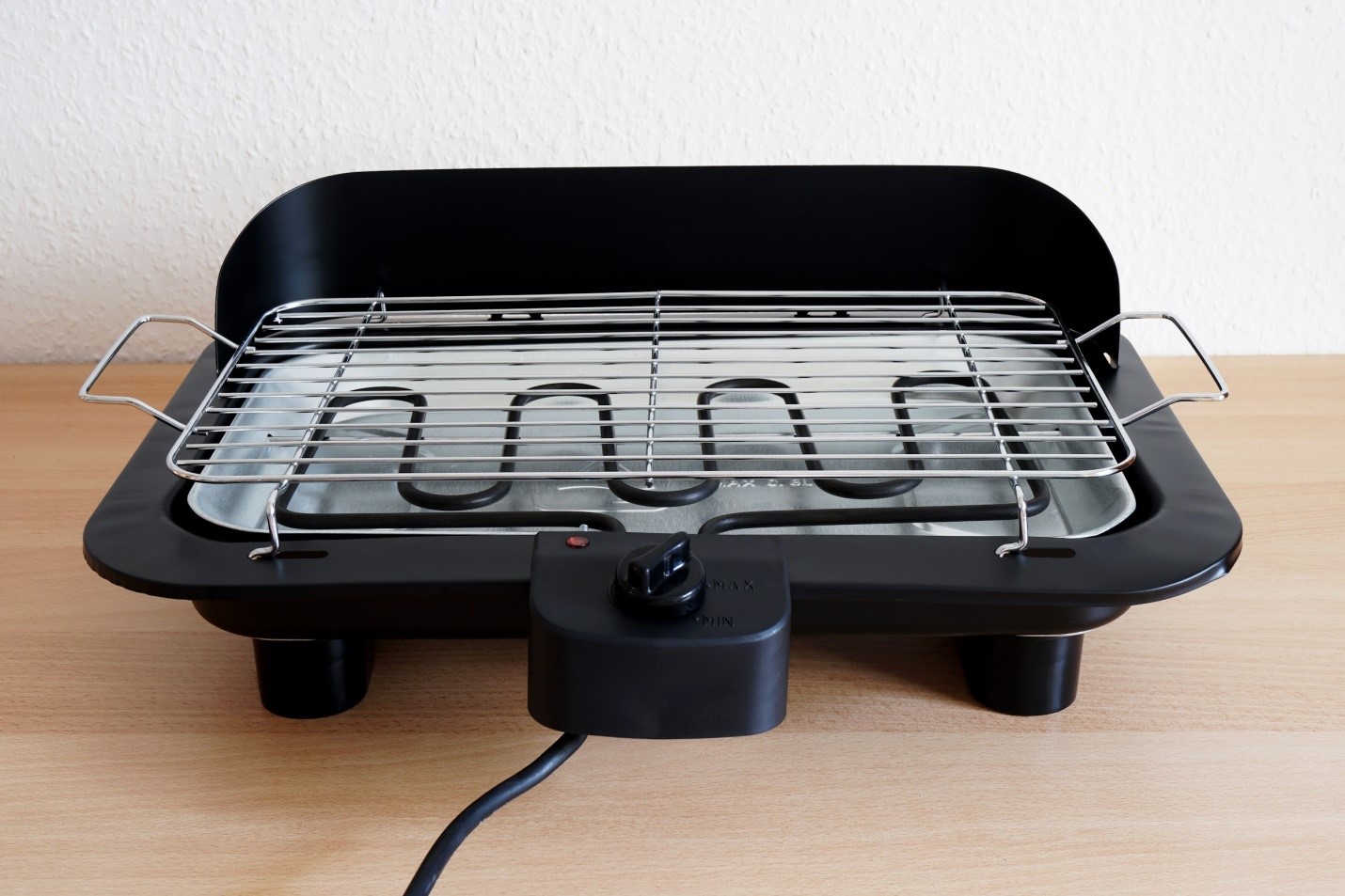 If gas and charcoal grills don't catch your eye, then an electric grill might be right for you. On the plus side, electric grills are ideal for indoor barbecuing and can be used pretty much all year long. Instead of using gas or charcoal to create heat, these grills generate heat via electricity. They're ideal for small spaces and indoor use. Because they're electric, using them in your kitchen is an option due to reduced hazards. Since they come in different sizes, storage considerations are simplified and you could choose one that should fit your living area. Electric grills have a temperature control knob and heat up very fast, along with having a drip pan below the grill for easy cleaning. This gives you a lot of control over temperature and makes cooking food evenly much simpler. There's also the fact that you don't have to keep a stock of propane, charcoal, or other supplies on hand to use your electric grill. Simply plug it in and turn it on. On the downside, electric grills can be a little pricey sometimes. But if you can look past the slightly higher impact on your budget, they offer an easy/fun cooking experience and a way to capture the delicious flavors of outdoor cooking with ease.