News
How to Prepare for and Recover From Laser Hair Removal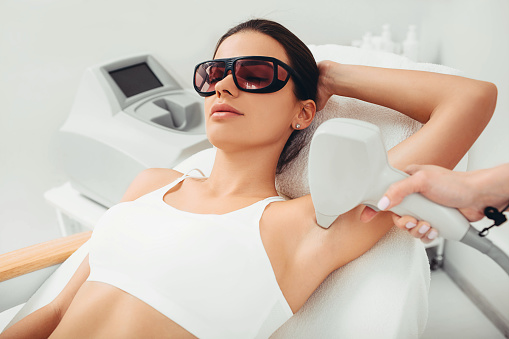 Laser hair removal treatments are the perfect way to target and eliminate unwanted hair from different areas of the face and body. If you're tired of shaving, waxing, and plucking and want a permanent solution to unwanted hair, you will love this treatment's results. First, you need to know how to prepare for your treatments and what to do after they're over to achieve the best results and enjoy those results long-term.
How To Prepare for and Recover From Laser Hair Removal
Once you undergo your initial consultation and confirm that you are, in fact, a good candidate for hair removal with laser treatments, you'll need to know how to prepare and recover from your treatments. Your technician will provide you with specific directives to follow both before your scheduled treatment and the days that follow your treatment.
It's important that you take these directives seriously and follow each of them to achieve the best results and properly care for your skin so that it can recover and heal after the treatment process.
Stop Waxing and Tweezing Six Weeks Before Your Appointment
If you're planning on scheduling laser hair removal in Fort Collins, the first thing you must do is stop waxing and tweezing six weeks before your appointment. Both waxing and tweezing remove the entire hair with its root.
The laser treatment is attracted to the hair follicle's pigment, heats it, destroys it, and renders it incapable of regrowing hair. Without the hair intact, the laser won't be able to recognize it and damage it. For that reason, you must avoid any hair removal process that removes the entire hair follicle.
Shave the Treatment Area 24 Hours Before Your Appointment
For the treatment to be successful, it's important that you shave the treatment area 24 hours before your appointment. The hair needs to be in the skin, not growing beyond the skin's surface. Shaving doesn't remove the hair follicle; it just shortens the hair and will help make the laser treatment process more effective.
Avoid Tanning Beds and Sun Exposure Seven Days Before Your Appointment
You must also avoid excess sun exposure in the days leading up to your treatment. Both natural sun exposure and tanning beds increase melanin in the skin. The best results come when patients undergo the treatment with the most natural levels of melanin, not elevated ones. You should also avoid sunless tanning creams, mousses, lotions, and spray tans to ensure the best results.
Avoid Anti-Inflammatory Medications Several Days Before Your Appointment
It's also important that you avoid anti-inflammatory medications and supplements before your treatment, including certain pain relievers, blood thinners, and vitamins. Anti-inflammatory medications thin your blood, which increases your risk of bruising. Your technician will give you a complete list of medications and supplements to avoid and directions on when you can resume taking them once your treatment is over.
Show Up With Clean, Dry Skin
On the day of your appointment, it's important that you arrive with clean, dry skin. Don't apply any lotions, cosmetics, or topical products to your skin because your skin must be clean and dry to ensure the best results.
Avoid Sun Exposure Post-Treatment
After your treatments, avoid sun exposure. After laser treatment, your skin will be more susceptible to the sun's damaging rays, and you may end up with hyperpigmentation in your treatment area due to the sun. Use sunscreen, cover your treatment area with clothing, or wear a hat and sunglasses to ensure extra sun protection.
Avoid Exfoliating Treatments and Products After Your Appointment
It's important that you temporarily avoid exfoliating products or in-office treatments after your appointment. These products and treatments are designed to exfoliate and remove the top layer of your skin. Still, after laser treatment, exfoliation of any kind will only irritate and inflame your skin. Your technician will give you clear directives about when you can schedule exfoliating treatments or use your exfoliating at-home devices and products once your treatment is over.
Apply Products Post-Treatment Carefully
There are some lotions, creams, and topicals that you will need to avoid temporarily after your treatment is over to avoid further irritating or inflaming your skin. Laser treatments increase skin sensitivity, so you must use caution applying topical products after your treatment.
As a general rule of thumb, avoid products with harsh anti-aging ingredients like retinoids, AHA's, BHA's, and exfoliating acids. Your technician will direct you regarding which products to apply to hydrate and nourish your skin without causing any further inflammation or irritation.
Once you complete the recommended number of laser treatments to target and eliminate your unwanted hair, you won't have to worry about shaving, waxing, or plucking again. You won't have to treat razor burn or deal with cuts and ingrown hairs. This treatment is an investment in your appearance and confidence and will save you countless hours during your shower routine and make your life much more convenient.