Health
How Much Does It Cost to Develop a Medicine Delivery App? A Complete Guide

Quick Summary
Typically, the cost of building a medicine delivery ranges between $15K to $75K. However, the range is a rough estimate as the cost for each blog depends on its complexity. Many factors contribute to the cost of a medicine delivery app. The cost of building a medicine delivery app like 1mg, Netmeds also depends on the outsourced development team, their location, and experience. Read the blog to know the detailed factors that shape the cost of creating a medicine delivery app like Pharmeasy, Netmeds, practo.
Introduction
The on-demand business model has made people's lives more convenient and efficient. There is no longer any need to wait in line or line up outside a pharmacy to purchase essential medicines. The use of medicine delivery apps is rapidly expanding. Medications may be ordered with a few clicks and delivered to your home in no time. You need to use a Medicine Delivery App Development company to do this.
These programs are becoming more popular since they eliminate the need for many people to leave their homes to search for medicines.
If you're interested in learning more about how much it costs to build White Label medicine delivery app Solutions,  this article is for you.
A medicine delivery app: What is it? 
The introduction of a Pharmacy prescription delivery app has the potential to revolutionize the healthcare sector. A medicine delivery app is a mobile software that allows patients or smartphone users to place direct medication orders.
One of the most popular services in app development nowadays is the creation of apps for pharmacies. A Medicine Delivery App For Individual Store and an online pharmacy app for Pharmacy chains helps them streamline their operations through a single app.
Why should one develop a medicine delivery app?
The global market for medication delivery applications and systems continues to expand steadily. The sector was worth $49,43 billion in 2021 and is expected to be worth $107.5 billion by 2026, a CAGR of 16.8 percent. The dramatic increase may be traced back to the widespread behavioral shift that would characterize life after a pandemic. Consumers' confidence in and adoption of this method of looking for and purchasing prescription pharmaceuticals is expected to grow as the practice becomes as simple as internet shopping.
What are the medicine delivery app features?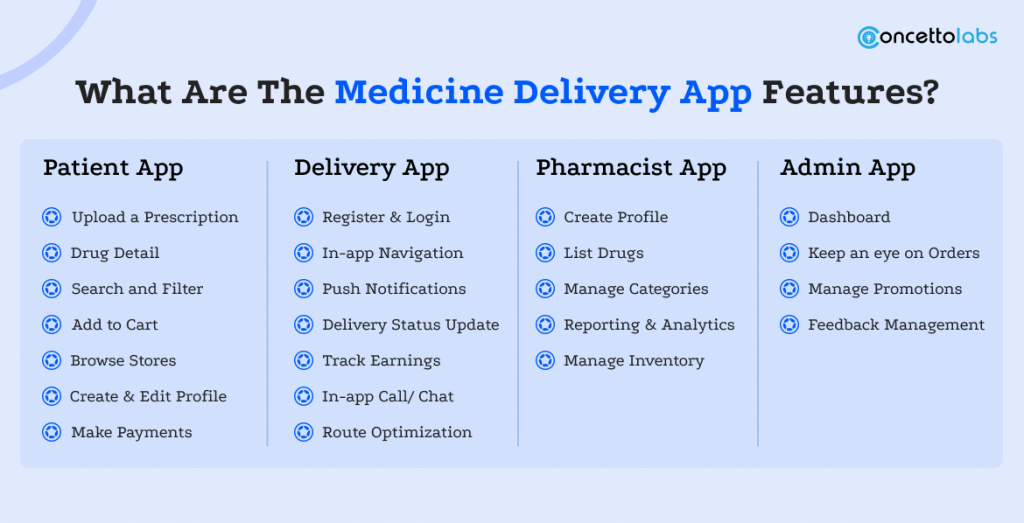 A well-designed and functional app for delivering medications should include several essential characteristics. To be considered a viable option, a medicine delivery app development service must include the following features:
Patient App
Login: Patients can log in using their email ID, mobile number, or social credentials.
Create & Edit Profile: After signing up, patients can create their profile and edit the information on it.
Browse Stores: Patients can browse different pharmacy stores listed on the online medicine delivery app.
Search and Filter: Patients can also search for any drug using the search bar and use filters for quick searches.
Drug Detail: Patients can check the details of all the drugs listed in the store, including manufacture & expiry date, & drug composition.
Upload a Prescription: Patients can upload a snapshot of the prescription on the custom medicine delivery app to order the drugs.
Add to Cart: Patients can add the drugs to the cart, and once they add them, they can proceed to checkout.
Wish list: Patients can also add the drugs they want to purchase in future to their wishlist.
Make Payments: Patients can make secure payments for the drugs through cards, net banking or wallet.
Rate & Feedback: Patients can rate the on-demand medicine delivery app and add their feedback about the services.
Refer & Earn: Patients get bonus points for referring the app to other patients, which they can use while paying.
Delivery App
Register & Login: Drivers can register via email, mobile, or social credentials on the custom medicine delivery app.
Create & Edit Profile: The delivery agents can create their online medicine delivery app profiles and edit information like name, contact no., license, etc.
In-app Navigation: Drivers can use the in-app navigation and map to find & see the directions for customer locations.
Push Notifications: Soon the patients place an order; drivers receive notifications of the orders customers place.
Accept Delivery: Drivers can choose to accept or reject the order as per their availability.
Delivery Status Update: Drivers can update the status of medicine delivery as pending, on the way, or delivered.
Track Earnings: Drivers can track their daily and monthly earnings on the on-demand medicine delivery app.
In-app Call/ Chat: Drivers can connect with customers via a custom medicine delivery app using the in-app call/chat feature.
Route Optimization: The online medicine delivery app lets them see and use optimized routes with less traffic, shortcuts, etc.
Reorder Reminders: Patients can set alerts and reminders on reordering the drugs periodically, and the pharmacy app will alert users to reorder via notifications.
Pharmacist App
Sign Up: Pharmacists can create a profile for their store on the online pharmacy delivery app.
Create Profile: Pharmacists can create a store profile on the app by adding all the information like name, contact, address, timing, etc.
List Drugs: They can list all the stores' drugs with images, descriptions, and prices.
Manage Categories: Pharmacists can organize the drugs in different categories to make searching easier for users.
Reporting & Analytics: Pharmacists can track the profits and losses made through real-time reports generated by pharmacy apps and analyze them for the future.
Manage Inventory: Pharmacists can keep track of the drugs in the store and manage the stock and refill it before it goes out of stock.
Admin App 
Dashboard:The admin dashboard allows admins to manage various stores, customers, and drivers in a single place.
Keep an eye on Orders:Admins can keep track of pending, ongoing, and completed orders.
Manage Users: They can see and manage customers' information on a single dashboard & use it to enhance their services.
Manage Promotions: Admins can create & offer discounts on drugs and also run loyalty programs to attract new customers.
Feedback Management: Admins can manage and answer the feedback from customers, and can also take necessary actions on complaints.
What are the benefits of using Medicine delivery apps?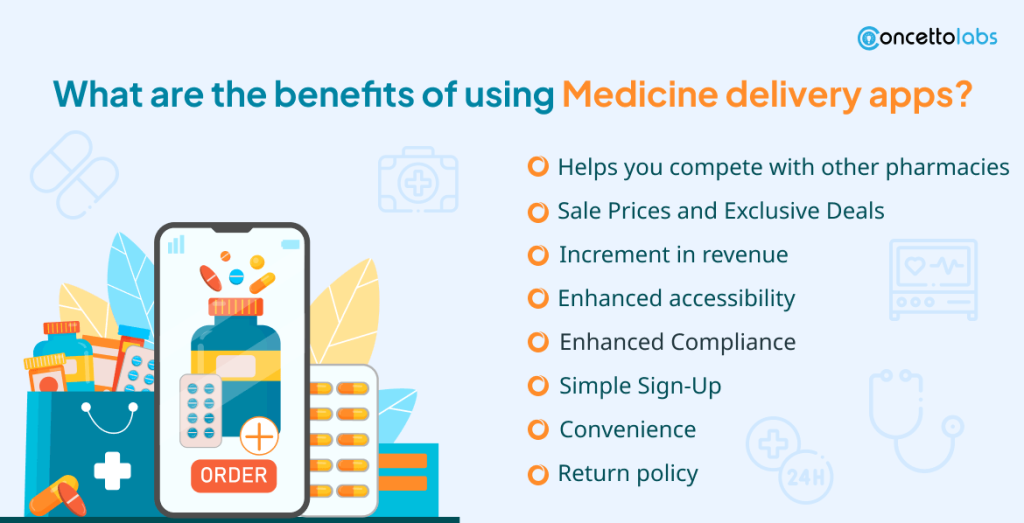 Medicine delivery apps offer a wide range of advantages:
Convenience: Those who are unable to physically visit a pharmacy owing to factors like sickness, mobility challenges, hectic schedules, or lack of transportation might make use of a drug delivery app as an alternative.
Time-saving: The convenience of a pharmaceutical delivery app allows clients to place their orders from the ease and convenience of their homes, saving them both time and energy. There is no need for them to make a trip to the pharmacy since they can check on the progress of their delivery and get updates.
Enhanced accessibility: Those living in outlying or rural locations, where access to pharmacies may be restricted, might benefit greatly from a medication delivery app. Furthermore, it may help those who have trouble getting to the pharmacy, such as those who are physically unable.
Helps you compete with other pharmacies: Offering a medication delivery app is a great way to differentiate your pharmacy from the competition and give your consumers a reason to choose you over a local drugstore.
Enhanced Compliance: Medication adherence may be enhanced by using a medication delivery app to remind patients to take their medication at the appropriate times. This could reduce the likelihood of undesirable outcomes such as drug errors or overuse.
Increment in revenue: Growing Your Customer Base A pharmaceutical delivery app may help you reach new customers outside your immediate region, leading to more sales and profits.
Sale Prices and Exclusive Deals: The Instantaneous Medicines Supply Consumers may benefit from App Development's generous sales and promos. This aids businesses in attracting new clients and keeping existing ones loyal. Customers may use these reward points for future purchases.
Ask an expert option: There are always medical professionals, such as doctors or pharmacists, accessible via the app. This allows you to communicate with them through text-based or video-based ways online. As a bonus, the professional is available 24/7 should a user have an urgent issue.
Return policy: Customers can return their medications to the store and file a complaint if they have any issues with their purchase. In addition, customers may seek a refund; if that is denied, they can contact the app's developer.
Simple Sign-Up: Users may sign up for the app by entering standard contact information like email addresses and phone numbers; some applications even have paid membership tiers for even more features.
Overall, an online medicine ordering app may give several advantages to clients and the pharmacy, making it a smart investment for organizations operating in the healthcare sector.
How much does it cost to develop a medicine delivery app? 
Various factors affect medicine delivery app cost, such as the app's complexity, functionality, design, platform, location, and hourly rates for the development team. A pharmacy delivery app development cost might be affected by the following different factors:
Features and Complexity: The more features and complexity the app has, the greater the development cost. A simple pharmacy delivery app with just the most essential features may cost as little as $10,000 to as much as $30,000, while a very complicated app with several advanced features can cost as much as $50,000 to $100,000.
Design of the app: Custom designs may drastically raise overall development costs. The cost of app creation might vary from $5,000 to $20,000.
The platform of the app: The app's platform, such as iOS or Android, may also affect the development cost. The expense of creating an app that works on both platforms may be higher than making an app that works on only one.
However, if someone is on a limited budget and still wants to create their applications on both iOS and Android platform, Flutter is the ideal choice. Flutter enables developers to use a single reusable code to create the applications for both iOS and Android. Thus, it helps them save up to 40% of the development costs.
The geographical location of the development team: The Development Team's Hourly Rate May Vary Depending On Where They Are Located. For example, the hourly pay of a developer in India may vary from $25 to $40, whereas the hourly rate of a developer in the US or Europe can range from $100 to $200. Therefore, in this case, hiring an online pharmacy app development company in India is a viable option.
Testing and maintenance of the app: It is important to include in the yearly testing and maintenance cost, which may be as much as 20-30% of the total development cost. 
Steps to Creating a Successful App for Medicine
There are several levels of on-demand medicine delivery app development:
Analysis of market trends: A comprehensive market study is the first step in creating any effective application. Throughout the several phases that make up this phase, you'll figure out the size of the market, the outlook of medication delivery app development in a certain location, the potential stumbling blocks along the way, and your level of competition.
Business plan and income generation: Having thoroughly analyzed the competitive environment for pharmaceutical delivery apps, you must now choose the most effective monetization strategy for your software. Please review the content wherein we covered the various business concepts and ways of making money off of them. Identify the functionality in your application that must be present to fulfill the selected model's needs.
You need to find a medicine app development company: As crucial as it is to establish a compelling USP, choosing a reliable software development provider is even more crucial. You may send your app development work to a wide variety of countries. Nonetheless, Europe stands out because of its extensive range of businesses, advanced technological knowledge, and cheap costs.
Deciding features of the app: The features of your future app will be determined by the business model and monetization approach you choose. Beginning with a version of the app that has just the most fundamental features will allow you to get started on the development process. Make an informed decision to avoid overwhelming consumers with features they won't utilize.
Test and launch the app: Quality Assurance Engineers must test all aspects of an app, from the user interface and user experience to the backend programming and frontend design, among other things, throughout the development phase of a medicine delivery app.
Construct a strategy for continuous improvement and maintenance: After publishing your app to the public, you should immediately begin working on the next version, prioritizing enhancements that will positively impact the user experience.

Final Thoughts! 
The total cost of developing an online medicine ordering solution may fluctuate greatly based on many factors mentioned in the blog.
To know your pharmaceutical delivery app's development cost, it's important first to have a firm grasp on the app's needs and intended outcomes, then staff up with a talented development team, choose the appropriate technological stack, and zero in on making an MVP. A well-planned investment in a pharmaceutical delivery app may provide positive returns for hospitals, pharmacies, and individuals looking to enhance their health.
If you plan to build a custom medicine delivery app, Concetto Labs can help you out. We are a leading medicine delivery app development company in India & USA and we have been designing and developing custom medicine delivery app solutions for global clients. With our medicine delivery app development services, we help traditional pharmacies switch to the online world and sell more.
FAQs
Is the medicine delivery business profitable?
Yes, of course. You can reach more customers and increase sales with an online medicine delivery app. Also, when customers get the convenience of ordering medicines from their homes, they are more likely to order more. 
How do medicine delivery apps make money?
The main source of revenue for pharmacy delivery apps is the commission on each delivery. In addition, they can earn through subscription fees and in-app ads.
What are the popular Pharmacy delivery apps?
Some popular on-demand pharmacy delivery apps are Pharmeasy, NetMeds, Practo, 1mg, and more.