Travel
Holiday Tips 2024: Why Namibia is the Dream Safari Destination

While the memories of this past summer might already feel like a distant dream, it's never too early to start thinking about and planning your next great getaway.
For those seeking an unforgettable and transformative travel experience, the stunning landscapes and diverse wildlife of Namibia beckon. Nestled in the southwestern corner of Africa, Namibia is a land of dramatic contrasts, where the desert meets the ocean, and wildlife roams freely. Perfect for families, groups and couples alike let's explore why a Namibian safari in 2024 should be at the top of your travel bucket list.
Spectacular Scenery
Namibia is a country of unparalleled beauty. From the otherworldly landscapes of the Namib Desert to the rugged mountains, pristine coastlines, and lush savannahs, this country has it all. The iconic sand dunes of Sossusvlei, which rise to astonishing heights and change colours throughout the day, are a sight to behold. Exploring the surreal Deadvlei, a white clay pan surrounded by these towering dunes, is a photographer's dream.
Namibia's vastness also provides opportunities for stargazing that are second to none. The clear, unpolluted skies of Namibia make it one of the world's premier destinations for stargazing, and you can even visit the International Dark Sky Association-accredited NamibRand Nature Reserve to witness the celestial beauty in all its glory.
Wildlife Wonderland
Namibia's wildlife is a major draw for tourists, and the country's dedication to conservation ensures that you'll have a chance to witness incredible creatures in their natural habitats. Etosha National Park, one of Africa's largest game reserves, is home to a diverse range of species, including the Big Five: lions, elephants, rhinos, leopards, and buffalos.
For those interested in wildlife photography, Namibia offers unique opportunities to capture animals against the backdrop of stunning landscapes. From cheetahs roaming the grasslands of the central plateau to desert-adapted elephants in Damaraland and the incredible birdlife in the Caprivi Strip, Namibia provides a rich tapestry of natural wonders.

Ethical Tourism and Conservation
One of the standout features of a Namibian safari is the country's strong commitment to ethical tourism and wildlife conservation. Namibia's success story in rhino conservation is particularly noteworthy and the aptly dubbed 'Soul of Africa' is home to the largest population of free-roaming black rhinos in the world. Namibia has also embraced community-based conservation efforts, which empower local communities to protect and benefit from the wildlife in their areas.
By choosing to go on a safari in Namibia, you are directly supporting these efforts and contributing to the preservation of some of the world's most endangered species. Your visit to this spectacular country helps fund anti-poaching measures, education programs, and community development, making your trip a responsible and sustainable choice.
Cultural Encounters
While the natural beauty and wildlife of Namibia are undoubtedly the main attractions, the country's diverse cultures and fascinating history also add depth to your safari experience. Namibia is home to several indigenous groups, including the Himba and San communities, and you can engage in cultural exchanges with these fascinating peoples to gain insight into their traditions, art, and way of life.
The German colonial legacy is still evident in the architecture and culture of places like Windhoek and Swakopmund, offering a unique blend of African and European influences. A visit to the desert town of Lüderitz, known for its colonial-era buildings and diamond-mining history, is like stepping back in time.
Adventure Activities
Namibia is a haven for adventure seekers. Beyond the traditional safari experience, there are numerous adrenaline-inducing activities to enjoy. Sandboarding down the dunes of the Namib Desert is an exhilarating experience, and quad biking through the rugged terrain of the dunes offers a unique perspective on this extraordinary environment.
The Fish River Canyon, one of the world's largest canyons, provides a challenging trekking experience, and for those who crave even more adventure, hot air ballooning, skydiving, and 4×4 off-roading adventures are readily available. With its diverse landscapes and varied terrains, Namibia is a playground for thrill-seekers.

Accessibility and Safety
Namibia is known for its excellent infrastructure and safety. Roads are well-maintained and the hospitality and warmth of the Namibian people will make you feel right at home.
In terms of safety, Namibia is considered one of the safest countries in Africa, with low crime rates and a stable political environment. This peace and security create an ideal environment for exploring the country without undue concerns.
Lodges in Namibia: Where Luxury Meets Wilderness
Namibia is home to some of the most prestigious lodges in Africa, offering the perfect blend of luxury and immersion in the country's breathtaking wilderness. These lodges provide all the amenities you need for the trip of a lifetime, ensuring your stay is not only comfortable but also enhances your overall safari experience.
Nestled within the heart of the NamibRand Nature Reserve, Wolwedans Dunes Lodge is a prime example of luxury in the midst of the desert. This eco-friendly lodge offers spacious, elegantly designed chalets with private verandas, allowing you to wake up to panoramic views of the surrounding dunes. Indulge in gourmet cuisine, unwind in the lounge, and take advantage of the lodge's guided nature walks and scenic drives, all while being embraced by the stunning Namibian landscape.
Likewise, Onguma Tented Camp is another example of the stunning accommodation that awaits you on this trip of a lifetime. Located on the eastern border of Etosha National Park, the camp comprises a collection of luxurious tented suites, each equipped with modern amenities and offering sweeping views of the nearby waterhole. You can enjoy game drives in Etosha National Park, relax by the camp's pool, and savour delectable meals while watching the local wildlife come and go.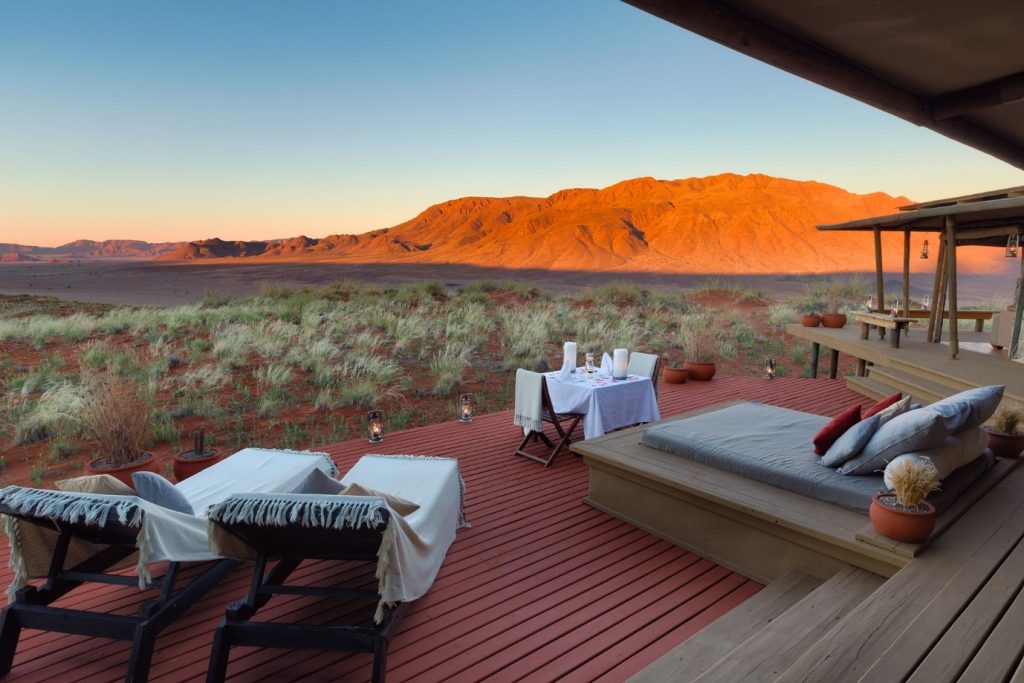 Flexibility & Customisation
A Namibia safari is regarded as one of the most highly customisable holidays you can enjoy, catering to a wide range of interests and preferences. You can plan your trip to focus on specific aspects of Namibia's natural beauty, such as bird watching, desert landscapes, or wildlife photography. Award-winning tour operators like SecretNamibia can even tailor your itinerary to include cultural experiences, adventure activities, or even more luxury pastimes if you're planning an extra special getaway to commemorate an occasion like an anniversary or honeymoon.
Environmental Responsibility
Sustainable tourism is at the forefront of Namibia's travel industry. The country has implemented a number of eco-friendly measures to ensure that its natural beauty and wildlife are preserved for generations to come. Many lodges and tour operators in Namibia adhere to eco-friendly practices, such as using solar power, recycling water, and minimising waste. By choosing Namibia for your 2024 safari, you're aligning your travel with responsible tourism and conservation efforts.
Photographic Opportunities
Namibia's striking landscapes, unique wildlife, and ethereal lighting conditions offer photographers a treasure trove of opportunities. The ever-changing desert scenery, dramatic sunsets, and a wealth of wildlife provide the perfect canvas for capturing stunning photographs. Whether you're a professional photographer or an amateur with a smartphone, Namibia will leave you with a memory card full of breathtaking shots.

Memories to Last a Lifetime
Ultimately, if you need a holiday a Namibian safari in 2024 promises to be an unforgettable experience that will stay with you for the rest of your life. Whether you're exploring the towering dunes of the Namib Desert, tracking rhinos across the arid landscapes, or sharing stories with indigenous Himba people, every moment in Namibia is a memory in the making.