Fashion
The perfect novelty legwear for Halloween 2017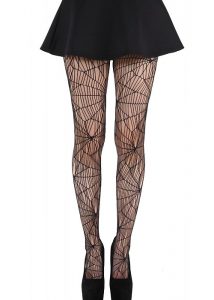 Halloween is one of the most popular times of year for legwear, coming after only Christmas, New Year's Eve and Black Friday regarding sales figures.
Halloween is a popular time for legwear for several reasons, the main one being the versatility of the items. Tights and other hosiery items are easier to print onto, so manufacturers can choose any pattern or colour. This makes spiderweb tights, witch tights and pumpkin tights very popular.
The other reason is that they are an accessory, so they can add to a costume that is too conventional and give it a more original take, like  spiderweb tights  combined with a traditional witch costume, is a popular choice. This helps make an outfit at a fancy-dress party more outstanding and exciting.
Recommended brands and designers for this type of legwear would be Tiffany Quinn and Pamela Mann. Both do ranges that concentrate on novelty designs and holiday designs, like Halloween, Saint Patrick's Day and Christmas. Their range is always extensive for any, and all kinds of novelty legwear and the inexpensive price tag makes them ideal for party goers that may ladder their tights while dancing.
The second most popular kind of tights and legwear after themed prints is coloured items. These are versatile for character costumes, for example, yellow tights for Simpsons costumes, or green tights for a Bride of Frankenstein themed look. These coloured tights are popular all year round for style reasons, but there is a significant peak around Halloween for them, and nearly every colour is popular for various reasons.
Recommended manufacturers are Trasparenze, an Italian designer that doe several coloured items, one being Sophie. This is one of the bestselling tights designs in the industry and is a 70 denier coloured tights design, making it ideal for the weather around October and November too.