Technology
Sitemorse: Time for Transparency On Pricing

London, 25th April 2018 – Sitemorse, a leader in digital governance and content quality management, has decided to take the industry-first step of making its pricing information fully public.
Sitemorse's CEO, Lawrence Shaw, said: "Our preference is to have clear, open communications and to ensure that interests are always aligned between all parties. That's precisely why we want to make this information public, removing ambiguity and opacity in order to make the procurement of digital governance services fast, painless and easy. For individuals and organisations looking to boost their performance in governance, web quality (QA) and digital quality management, this can only be a good thing."
Sitemorse has 3 Service Levels and core pricing packages, suitable for the varying digital landscapes that Digital Managers oversee. The common component across all services is the inclusion of Sitemorse's Prioritisation Intelligence engine, which uses machine learning to identify where mistakes are being made and their likely impact in order to drive prioritised action. Sitemorse is passionate about moving the market away from endless reporting and to bring data science to Governance / QA.
At each service level, Sitemorse can provide assessments and prioritized actions, which can be accessed directly within the client's CMS, via email or through the Sitemorse Dashboard.
The pricing hierarchy is based on the number of pages that the Digital Manager has within their control (across sub-sections, microsites, separate domains and pre-launch sites, or any combination of the above).
Download an example service schedule.
The number of social channels to be monitored (QA / Governance monitoring of social content) also plays a part in the Service Level that is purchased. It is also possible to have more than one Dashboard, should the organisation's digital footprint warrant it.
"WOW….if I invest in Sitemorse, I pay less than the cost of Siteimprove – really? And it includes unlimited PDFs and prioritised recommendations without the hassle of endless reporting?"
Digital Reporter (Sitemorse's entry-level service that competes directly with Siteimprove [www.Siteimprove.com], and provides an upgrade on their offering) – the key difference is that prioritisation intelligence is included as standard, as it is at all levels of service. Includes live content search and policy management and SMARTview. Unlimited pages, PDFs and Office Docs; and other page options are available.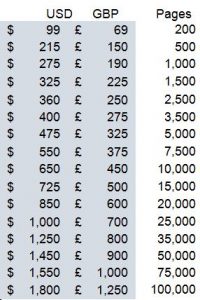 Digital Dashboard – a new Governance / QA Dashboard for the Digital Manager, allowing you to focus on proactive analysis and decision making, driving improvements and efficiency. Adds the ability to assess any site at any time (independently of your main sites). Recall actual results for up to 3 years. First level of workflow also included. Includes workflow and social page QA/Governance Monitoring and prioritisation intelligence. Unlimited pages, PDFs and Office Docs; and other page options are available.
Digital Experience Manager – the ideal solution for Digital Managers looking to implement as much automation as possible. Adds full workflow (automated routing and management of actions to individuals), reporting consolidation and daily reporting (live mapping of content consumption vs page exits for example). Executive KPIs and tailored reporting. inCMS™ licence also included. DXM has a number of options – the following simply presents an idea of what you need to consider:
2,500 pages £900. | $1,135
7,500 pages £1,200 | $1,515
10,000 pages £1,800 | $2,270
25,000 pages £2,400 | $3,030
Investment in Sitemorse is monthly, billed annually and in advance. Monthly payment options are available where recurring card payment has been authorized.
Prices are fixed and no discounts are offered – the only reduction is for affiliate clients at 7%.
When you are ready to progress, there is a simple upgrade path – billed for the difference at the next level of automation.
Download an example service schedule.
In the near future, Sitemorse plans to publish more information about precisely how deployment works; how much organisations need to invest in setup; and the likely ROI of using Sitemorse. The company's aim is to provide as much detail as possible about how purchasing and onboarding the service works.
About Sitemorse
Sitemorse  helps organizations to efficiently drive improved user experience, ensuring that content is always optimised and that compliance requirements are always met. With clients in every corner of the world, Sitemorse  sets out to remove endless reporting from Digital Governance and to instead provide actionable insights so that major changes can be made quickly.
The company has now been moving the field of Digital Governance forwards for over 15 years, while remaining privately owned, and continues to provide clients with new tools and capabilities every year. Most recently, this has included a focus on extending capabilities directly within the CMS, as well as addressing the governance / QA service issue of 'endless reporting'.
Sitemorse helps digital managers to build strong processes and accountability, to minimise risks and to achieve the highest standards of content quality. And with Sitemorse , there is no need for the substantial infrastructure, support and accordant costs that are required for manual quality and compliance checks.
Media Contact Details
Michael Simon, Sitemorse
London, UK
020 7183 5588