Lifestyle
The world's first 4G cinema in the sky was hoisted to the air in Sussex last night

A flying cinema complete with a big screen, pick 'n mix and popcorn delivered by DRONES was hoisted to the air in Sussex last night.
Students from Goodwood Flying School were treated to the world's first 4G cinema in the sky experience, suspended 100 feet in the air above a former RAF base.
The twenty lucky flying school students were raised high above the South Downs to enjoy a sunset screening.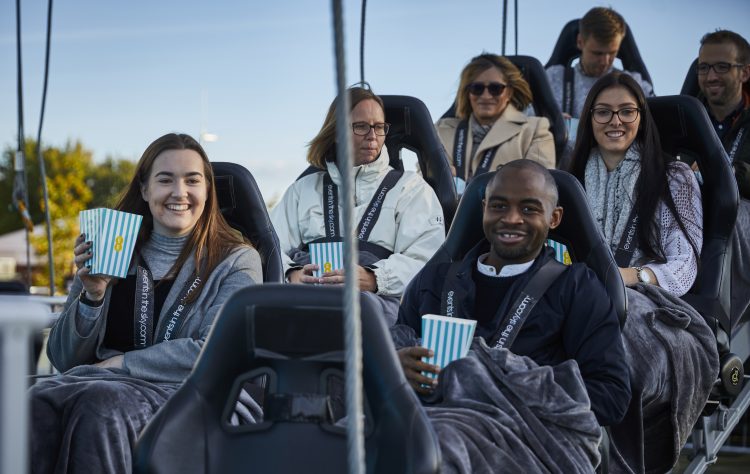 The buzz of popcorn delivering drones filled the skies as the students were strapped into their cinema seats before being elevated 100 feet in the air.
It marks the return of 4GEE Cinema, a series of free 4G-powered outdoor film screenings bringing BAFTA-winning films to rural communities.
Pete Jeavons, Director of Brand Marketing at EE, said: "Over the next month we are going to be travelling thousands of miles to areas we've recently switched on with 4G, to deliver unforgettable experiences to those communities, only possible over our award winning 4G network.
[youtube https://www.youtube.com/watch?v=OVHSElkxLM0?enablejsapi=1&autoplay=0&cc_load_policy=0&iv_load_policy=1&loop=0&modestbranding=0&rel=1&showinfo=1&theme=dark&color=red&autohide=2&controls=2&playsinline=0&]
"As part of our ongoing partnership with BAFTA, we constantly challenge ourselves on how to bring film to new audiences using the power of our network, and 4GEE Cinema is a great example of doing just that."
The unique cinemas are hoisted on a crane above idyllic rural spots in rural locations, and follow a summer of film events that was launched with a screening of La La Land on a platform 500 metres up Gimmer Crag in the Lake District.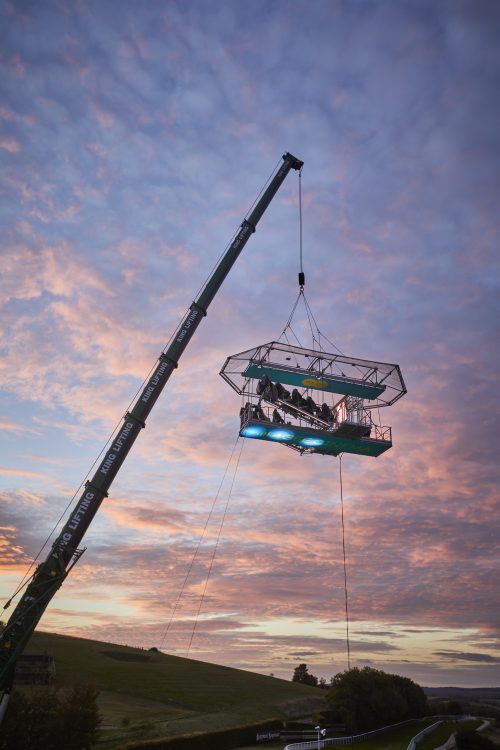 Students at Goodwood enjoyed views of Kennel Hill in West Sussex as they took to the air for some exclusive cinema time as the sun set.
Katie Aitkenhead, of the Goodwood Flying School, said: "It was certainly a unique experience, to be in this beautiful setting, so high up whilst watching a great film on a big screen.
"It felt like we were in the clouds and we loved every minute of it."
Further 4GEE Cinema screenings will be coming to a field near you throughout October, helping to bring big screen outdoor cinema to rural communities across the UK.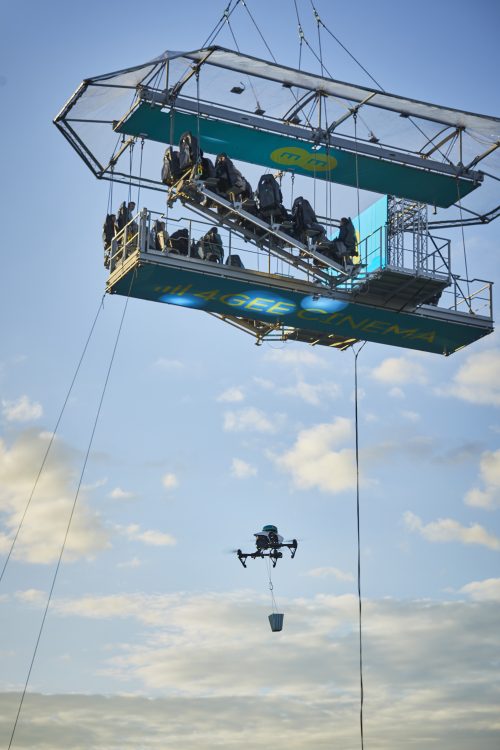 Film lovers up and down the country could be in with a chance to win a 4GEE Cinema experience, complete with big screen viewing, popcorn, pick 'n mix and a choice of BAFTA-winning films for up to 40 people.
To apply for a screening, entrants need to visit ee.co.uk/cinema and explain why their community deserves to win a screening – whether they've just completed a community project or won a sporting tournament.
Tim Hunter, Director of Learning and New Talent at BAFTA, said: "BAFTA and EE have had such a longstanding and successful partnership because we share a commitment to helping audiences discover and enjoy great cinema in new and innovative ways.
"We fully support EE in its continued ambition to bring BAFTA-winning films to rural communities."