Halloween Hotspots of the UK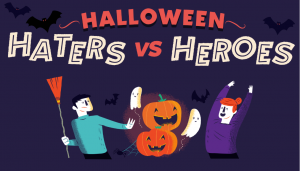 October, the month of Halloween and the beginning of an influx of scary films on TV, pumpkin calving, fancy dress costumes, fake blood and trick or treaters flooding the streets. At My Home Move Conveyancing, we've surveyed the public to see which cities in the UK love to don their fake fangs, and which like to avoid the whole thing like a zombie plague. Find where your most likely to find sweet success trick or treating, and which cities turn off their lights and pretend they aren't home.
Halloween Heroes
Sheffield 55.50%
Belfast 54.70%
Leeds 50.90%
Sheffield is the number one city for getting in the spooky spirit of Halloween, with 55.5% of locals celebrating the holiday by either giving out sweets to trick or treaters, or dousing themselves in fake blood and knocking on front doors themselves. Over half of Belfast and Leeds also take part in the haunting holiday, whilst less than a third of Edinburgh, Brighton and Glasgow join in, with Southampton being crowned the Halloween Haters with just 29.6% making effort.
Halloween Hideaway's
Southampton 20.50%
Bristol 18.80%
Newcastle 18.70%
Ever been at home on Halloween, turned off your lights and closed the curtains to hide from a group of child-sized zombies knocking at your door? Well over a fifth (20.5%) of the residents of Southampton do this every year. Other cities who hide from Halloween horrors at their door include Bristol (18.8%) and Newcastle (18.7%).
Ghosts of Halloween
Cardiff   12.20%
London 8.10%
Glasgow 7.3%
Consistent knocks from trick or treaters is enough to drive the residents of Cardiff from their homes, with the highest amount in the UK (12.2%) going out on the night to avoid the haunting situation altogether. 8.1% of residents from London and 7.3% from Glasgow also flee the scary scene.
Heartless Halloweener's
Edinburgh 6.50%
London 4.90%
Southampton 4.50%
What's worse than hiding and avoiding trick or treaters? The 6.5% of Edinburgh residents who answer the door with not a sweet in sight, that's what! Also at risk of being on the wrong side of a trick by turning trick or treaters away empty handed are 4.9% of London and 4.5% of Southampton residents.
Halloween Hot Spots
Belfast 45.30%
Sheffield 44.40%
Leeds 42.90%
For the trick or treaters out there, we've discovered where to find sweet success, by naming the most generous cities in the country for dishing out sugary goodness to the ghoulish creatures knocking on their door. Belfast came out on top with 45.3% of those surveyed from the city giving out sweets to all that knock, as well as 44.4% in Sheffield and 42.9% in Leeds.
Timeless Trick or Treaters
Nottingham 15.60%
Liverpool 14.00%
Manchester 11.30%
All the Happy Halloweeners will fondly remember putting on their home-made costumes fashioned from bin bags, plastic witch fingers and going wild with the face paint before knocking on neighbours doors, ending the night with a sugar overload from your sweet bounty. But who of the over 16's questioned is still hitting the streets on Halloween? 15.6% of Nottingham, that's who! Keen trick or treaters also include Liverpool with 14% and Manchester at 11.3%.
Dedicated Decorators   
Cardiff 71.00%
Plymouth 64.50%
Sheffield 60%
Of all our Happy Halloweeners questioned, who is pushing the boat out the most by carving pumpkins and decorating for that haunted home look? Of those who celebrate Halloween, 71% in Cardiff are celebrating in spooky style and putting up Halloween themed decorations. Also loving cobwebs and orange bunting is Plymouth at 64.5%, and Sheffield at 60%.
Fancy Dress Fans            
Manchester 32.90%
Cardiff 32.30%
Leeds 31.6%
Which city loves to put on the fake blood, face paint and creepy clothing the most? Of those who celebrate Halloween, Manchester has the highest percentage who wear fancy dress for the occasion, with 32.9% dressing up. Cardiff are also fancy dress fans with 32.3% taking part, and Leeds with 31.6%.
Whether you are a Halloween Hater or Hero, My Home Move Conveyancing will aim to make every step of your property journey run as smoothly as possible, whether you are buying a house for the first time, selling a house or just looking for more information on our service.