Textiles
First Corporate Clothing Expand Product Range In New Catalogue Launch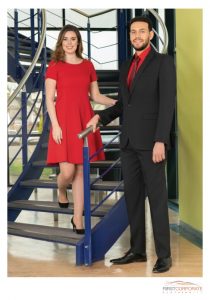 Workwear manufacturers, suppliers and distributors, First Corporate Clothing have announced the launch of their brand new and improved 2019 catalogue – featuring even more clothing styles and ranges than ever before.
The existing suit ranges Avignon, Dijon and Riviera come with new styles and colours for the modern workforce, accompanied by two new ranges – Orleans and Lille.
Orleans has a robust 'linen effect' fabric in less traditional colours like Grey, French Navy, Brown, Burgundy and Purple, while Lille is a brightly coloured capsule collection of collarless modern styles – perfect for the Hotel and Hospitality industry.
Outside of suiting, the Blouses section has been completely reimagined with new pattern blouse ranges (Biarritz and Bordeaux), as well as a long list of improvements to fabrics, styles and colours of some of the old favourites – especially the Versailles blouse range which has many new styles with 10 vibrant colours to choose from.
The greater choice means even more options for customers, regarding styles, fabrics, and colours as well as the further ability to 'mix and match' different blouse ranges together.
In addition, the new brochure also aims to show the importance of British manufacturing and the versatility of bespoke design.
Accordingly, the new catalogue contains two sections – "Bespoke Made Easy" and "Bespoke Your Way" which demonstrate the possibilities there are and how the company will work through the design and manufacture process with customers to achieve results.
There are also dedicated pages to bespoke case studies so you get a feel for the bespoke journey – and specific pages for the sectors they focus on, as well as details of sourcing capabilities for a wide range of accessories and workwear.
Mal Davies, Managing Director of First Corporate Clothing, said: "We are extremely proud to have launched our new 2019 catalogue. We have worked hard to overhaul the brochure with a new design and, more importantly, give our customers greater choice with new suiting and blouses ranges, styles and colours. These new options ensure we stay at the forefront of UK manufacturing for corporate clothing and workwear."
You can get your hands on a copy of the brand new catalogue when you get in touch with the team and – if you want to see it right now – you can also view it online https://flipflashpages.uniflip.com/2//14607/358130/pub/html5.html