Modern LED Destination Displays installed in smart cities.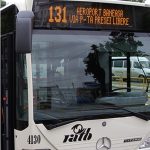 India's transportation is under up-gradation with smart products. Smart LED Signboards have been installed in buses, trains and metro. The trend has been caught by major cities like Delhi, Surat, Rajkot and Pune. While travelling, passengers often get confused about the route of their journey. Thus, to help the passengers, LED signboards display the entire route for them. LED Destination Display eliminates the fleet operator's need to appoint staff for passenger guidance. This smart product also aids drivers and fleet operators to schedule and execute their planned journeys. These boards have helped several fleet operators save money. The smart product is highly durable and can withstand all weather conditions. Not only that, the LED can be seen in broad daylight. It is easy to install and readily starts displaying destinations. These are available in Scrolling Text, Random Text, Numeric, Date & Time, Animated Text LED boards on the inside to announce and display current and upcoming stops for buses and railway. The brilliant product- LED display can also run safety instructions or ads inside public transport vehicles.
On the outside, display boards show the entire route to the passengers. These also come in multi-colour and multi-lingual variants to reach larger passenger audience, speaking all regional languages. Masstrans has aided many fleet operators to undertake their up-gradation journey.
Know more –     http://masstrans.in/intelligent-transportation-solutions/led-destination-display/