cryptocurrency
Price Prediction: Ethereum Following Bitcoins Lead and HUH Token Surges Over 900% Eying Further Gains

Following the recent flash crash, the Bitcoin (BTC) price has been steadily recovering. Ethereum is following its lead and is currently retracing previous losses. Meanwhile, HUH Token has surged over 900% in 24 hours, as the new cryptocurrency looks set for further highs.
Bitcoin (BTC)
While the upswing in BTC is likely to continue, investors should keep in mind that a downswing could occur, resulting in the formation of a range.
Bitcoin's price has begun to recover from its December 4 crash, and is currently hovering near the psychological $50,000 level. This rally comes as BTC attempts to reverse the bearish sentiment created during the recent sell-off.
While $53,687 remains the short-term resistance level, investors should keep in mind that BTC could sweep the swing low at $46,698 and establish a trading range. While this may result in a brief correction, it may provide an opportunity for sidelined buyers to accumulate.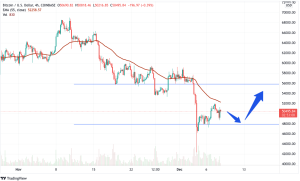 BTC 4-Hour Chart According to TradingView
Bitcoin's price will be able to reach the next level at $56,276 if it clears $53,687. In total, this run-up would represent an increase of 11% from current levels.
On the other hand, if Bitcoin's price retraces sufficiently to produce a lower low below the December 4 swing low of $40,867, the bullish prediction will be invalidated.
Ethereum (ETH)
Ethereum's price has rallied roughly 30% from its December 4 swing low of $3,370 and is indicating a desire to continue higher. The first resistance level that ETH will encounter is $4,493. Clearing this level will indicate overcoming $4,659 and $4,777 as the next obstacles.
Ethereum could easily surpass these levels and eye the all-time high at $4,878t. In a bullish scenario, Ethereum's price could surpass its previous high and establish a new one at $5,000.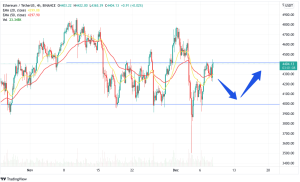 ETH 4-Hour Chart According to TradingView
While ETH's price is improving, a failure to break through the $4,493 barrier may indicate a buyer's weakness. If ETH retraces lower and makes a lower low below $3,890, the bullish thesis will be invalidated.
HUH Token (HUH)
 HUH Token has surged over 900% since its launch on Monday and shows no signs of slowing down.
HUH Token (HUH) is available via PancakeSwap and its debut surge in price could be attributed to strong presale levels and solid fundamentals.
HUH formed a support level at $0.00002700 before breaking its resistance at $0.00003130 and has continued making higher highs, with no signs of slowing down. Trading volume has been steadily increasing with over the past 24 hours.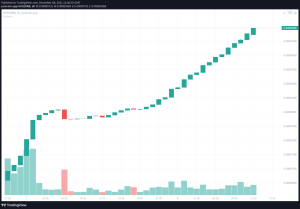 HUH 1-Hour Chart According to TradingView
 Over the past 24 hours HUH has seen over $900 000 in trading volume, taking its market cap to over $26.4 million.
The new cryptocurrency dubbed a "utimeme" aims to rival other meme tokens with enhanced utility and features.
HUH Token features an innovative, intelligent chain-based referral system. Using the code provided at the time of purchase, a holder of HUH Token can refer an unlimited number of people. This referral programme then compensates the holder with 10% of that new person's first HUH purchase. This 10% commission is paid in either Binance Coin (BNB) or Ethereum (ETH), depending on the exchange used for the transaction.
HUH's value also increases over time in a holder's wallet, which means that the more tokens they keep, the more tokens they receive. Currently there are over 2000 holders of HUH.
Another reason for the new cryptos launch success was its ability to go viral, with various news articles appearing on major crypto and financial news websites.
What may also be enticing investors is HUH Token's announcement of $1 million in liquidity, which will be locked in for at least two years to promote stability and security.
Follow HUH Token on their socials:
Telegram: https://t.me/HUHTOKEN
Website: https://huh.social
PancakeSwap: https://pancakeswap.finance
Twitter: https://twitter.com/HuhToken
Instagram: https://www.instagram.com/huhToken/