Top 18 Elementor WooCommerce Themes to Create an Outstanding E-commerce Site
Would you like to create an outstanding eCommerce site that drives traffic and generates sales? Wish to have the possibility of easily and quickly customizing your online store according to your preferences and needs? You have come to the right place.
You will find in this post a collection of the 18 best Elementor WooCommerce themes available on the web right now.
So let's get right to it.
Woostroid2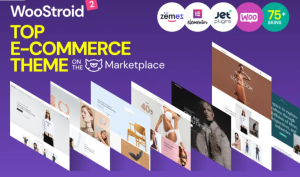 Woostroid2 is a premium Elementor WooCommerce theme that you can use to create an online store you like, from pharmacy to gadgets.
There are 70+ demos included, each serving a different purpose and layout, style, colors, and images.
Moreover, it contains multiple web forms, such as a search form and contact form, intended to facilitate navigation within your eCommerce and contact you easily in case of inquiries.
The theme is fully responsive. Users will access, browse, and interact with your website from any device, regardless of its size and resolution.
Azuri
Azuri is a WooCommerce WordPress theme specifically primarily designed for online fashion stores.
It features a modern and clean design that will enable you to showcase your products in the best way, making them look more appealing and desirable.
The theme also comes with a blog section to share the latest news about your company, new product launches, and fashion tips.
The theme is based on Elementor. Therefore, you will be able to edit any element and section of your website using its native drag-and-drop system, which does not require coding experience.
The Azuri theme is also optimized for search engines, enabling your website to rank higher on search engine results.
Flipmart
The Flipmart theme is a multipurpose Elementor WooCommerce theme that can be used for any online shop project, including electronics stores.
A category menu allows users to find what they're looking for more easily, thereby improving their navigation experience.
Also, it showcases products divided by category or individually, allowing users to quickly revise the essential information of the product ( such as its price, description, and image) without leaving the main page.
Additionally, the theme comes with a newsletter subscription option, which will help you build your email list and strengthen your relationship with potential clients and customers.
The theme is also fully responsive and optimized for search engines and users.
Hugesale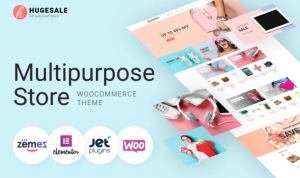 Hugesale is a multipurpose WooCommerce theme suitable for any type of eCommerce website.
It is based entirely on Elementor. Hence, customization and editing will be super-easy, even if you don't have any previous experience.
Each section and product is tidily arranged, making the design and layout simple and effective.
The theme also supports the WPML plugin, which allows you to translate your eCommerce site into many languages and make it accessible worldwide, increasing sales.
Its core features include a dropdown menu, blog, a Google Maps, an admin panel, and more.
Pictrum
Pictrum is an Elementor WooCommerce theme specifically designed for drone stores.
This theme presents a clean and modern layout with impressive images that will drive users to checkout.
It comes with an integration of JETplugins that can be used to enhance your website's functionality and display the products and their attributes in the most effective manner.
An Ajax filter system allows users to sort products according to their preferences, including price range, color, features, and more.
Additionally, it provides you with detailed documentation that guides you step-by-step through the theme installation and customization processes.
Elitario
Thanks to its elegant and modern design, the Elitario theme is the perfect solution for online liquor stores.
It is built using Elementor that makes editing, creating, and customizing it easy and quick.
This theme is presented in a dark version, which imparts professionalism and elegance to your online store. Nevertheless, you can customize it as you wish.
You can sort all your products by price, size, and more using the smart filter system.
Additionally, users can save their favorite products on the wishlist and compare them to make a better purchasing decision.
Naturio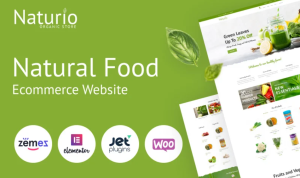 Naturio is an Elementor WooCommerce theme that lets you create an outstanding food-related eCommerce site.
You'll be able to display your products in their best light and offer users an impressive experience with this modern, clean and fresh design.
The theme is built entirely using the Elementor page builder. Thus, all elements and sections can be edited, removed, or added using its intuitive interface.
Product pages, wishlists, comparisons, my account, shopping cart, and more are some of its core features.
You can also use the pack of add-ons this theme comes with to add more functionality to your e-store. The list includes popups, smart posts, testimonials, contact forms, and Google Maps.
Burgelo
The Burgelo Woocommerce theme is specifically developed for food delivery businesses.
The design is clean and minimal, allowing you to showcase the essential details of your business and products without being distracted.
It is based on the Elementor page builder, which makes the customization process easy and quick.
You will also be able to categorize products and show special offers and daily meals with this theme.
JetWooBuilder, JetCompareWishlist, JetProductGallery, and JetSmartFilters plugins are integrated to enhance the appearance and functionality of your eCommerce site.
Additionally, it integrates with Mailchimp, which allows you to start an email marketing campaign and nurture your relationship with leads and loyal clients.
Gemstonic
Gamstonic is a modern and stylish Elementor WooCommerce template suitable for luxurious jewelry stores.
The site has multiple useful pages, such as a blog where you can share the latest news about your business and products and a features page where you can describe all the unique features of the products you sell.
This theme lets you showcase your products by categorizing them by type (e.g., earrings, bracelets, necklaces, etc.).
Furthermore, it has animations, background videos, and hover effects to make the user experience more engaging and memorable.
This theme is fully responsive and SEO-friendly, so you can expect the best performance.
Artcraft
Artcraft is a minimal WordPress theme compatible with WooCommerce and is designed for handmade products and crafting stores.
You will showcase your products by category, new arrivals and add videos to show how your products can be used.
Due to its compatibility with the Elementor page builder, you can customize your website according to your preferences.
There is a package of images that you can freely use on your eCommerce site, so you don't have to search for them on the web if you don't have your own.
Motoronix
Motoronix is an Elementor WooCommerce template designed specifically to sell car parts.
You can place your contact information and social media icons in the header to link your social media accounts. In this way, users will be able to contact you more easily.
Also, it enables you to display products by category, popular products, featured products, top-rated car parts, and more.
It provides a blog section to post valuable content and share news about new features and product launches.
Furthermore, it provides a wishlist and compares options to enhance the user's experience.
LuckyBox
The LuckyBox theme is ideal for creating gift-based online stores.
It is completely based on Elementor and compatible with WooCommerce. This ensures simple customization and easy store management.
The design is simple, but animations, transitions, and hover effects make the overall appearance more eye-catching and engaging.
It includes Jet plugins, such as JET Menu, JET ProductGallery, and more, that contribute to the smooth purchase process of your online store.
The theme supports WPML. Therefore, you can translate your website into many languages and make it available worldwide, increasing your audience and sales.
Toys store
ToysStore is a WooCommerce template that allows you to build a stylish mega toy store website.
It has a colorful, creative, and bright design. However, it does not distract users from your site's purpose.
You can use multiple pages to showcase any aspect of your business in a well-organized and clear manner.
It also has a sale page where you can showcase your discounted products. Moreover, the homepage includes a section that allows you to sort products by category.
The Book
TheBook is an Elementor WooCommerce theme that can be used to promote single or multiple books and create an e-commerce site to sell them.
It features a main section where you can display your book with a big and eye-catching image. There will then be a section for you to describe your book (including a few lines for each chapter), add reviews, and include your author bio.
Additionally, it has a contact form that users can contact you if they have any questions or concerns.
In addition, the theme integrates a fast checkout process that will enhance the purchasing experience.
Furthermore, you can add social media icons to let potential customers and clients follow you on social media.
MegaSale
MegaSale is an Elementor WooCommerce theme that lets you create a big online store to sell various products.
Design is clean and displays collections, popular categories, featured products, best sellers, and sales. Also, it has a search form that enables users to find the product they're looking for immediately.
Users can set up an account to view orders, wishlists, compare purchases, credit slips, and more.
There are also single pages that allow you to clearly describe any aspect of your business, such as delivery, payments, etc.
Vinedo
Vinedo is a WordPress theme designed specifically for building winery eCommerce websites.
It is built on Elementor page builder, which lets you edit any preexisting element or section with ease and does not require coding knowledge or skills.
This theme includes essential pages like home, shop, and contact that showcase your products and allow customers to easily buy them or quickly contact you with any type of request.
All elements of the layout are responsive. In this way, any element or section will automatically adjust to the user screen dimension and resolution, ensuring a seamless navigation and buying experience.
Jazzy
Jazzy is a modern Elementor WooCommerce theme created specifically for creating luxury men's accessories online stores.
It presents a dark design that inspires elegance and luxury.
It is divided into sections so users can concentrate on the most important details.
You will be able to showcase new arrivals, collections, most popular products, etc., within each section.
The package also includes some plugins that will enhance the functionality of your online store, such as popups, wishlists, comparisons, and product galleries, among others.
In addition, it is built with clean and simple code that is SEO-friendly, contributing to better performance and greater search engine visibility.
MediCort
MediCort is a modern Elementor WooCommerce template perfect for creating a professional medical online store.
This theme presents a classic, minimalistic design with bright elements and an intuitive interface.
In addition to its default design, Eleementor's drag-and-drop feature will let you customize any element, section, color, and more.
The theme is completely responsive and optimized for search engines, ensuring the best user experience possible for you and your visitors.
Conclusions
We have come to the end of this blog post about the best 18 Elementor WooCommerce themes.
It provided you with a list of themes that serve various purposes and offer their unique design and functionality.
If none of these templates meet your needs or preferences, check out the TemplateMonster marketplace. The site offers thousands of thousands of themes and many other digital products for any kind of project.