Lifestyle
What is a zip and link bed, and why choose one?

A zip and link bed is two separate beds you zip together to make one larger bed. The idea is that you zip the beds together for couples and keep them separate for solo sleepers, giving you a customisable sleeping arrangement.
This is the perfect solution if you need to sleep two people separately and couples on different nights in the same bedroom.
Hotels love using zip and link beds because they fasten together securely, creating a comfortable large bed without a massive gap in the middle. You can also use a zip and link bed at home in spare bedrooms to unlock lots of flexibility.
Why choose a zip and link bed?
Zip and link beds are the perfect solution for guest rooms because you can accommodate couples and individuals in the same bedroom.
If you regularly accommodate guests, the ability to link the beds together and separate them quickly makes life a lot easier.
Zip and link beds are also ideal for small and narrow homes because the individual bases are narrower than standard bed frames, making access easier.
In addition to zipping two mattresses together, you can use zip and link bases with a standard large mattress. This will eliminate the small joint in the middle and give you the same sleeping experience as a regular bed.
How to use a zip and link bed
Zip and link beds are sold as bases with individual mattresses, so joining the beds together creates a larger mattress with a slight indentation in the middle.
The individual mattresses are zipped together at the seam, and the bed frame might also have a connecting joint to ensure the frames don't pull apart.
When zipped together, the two mattresses mimic the performance of a larger mattress and deliver a comfortable, supportive sleeping experience.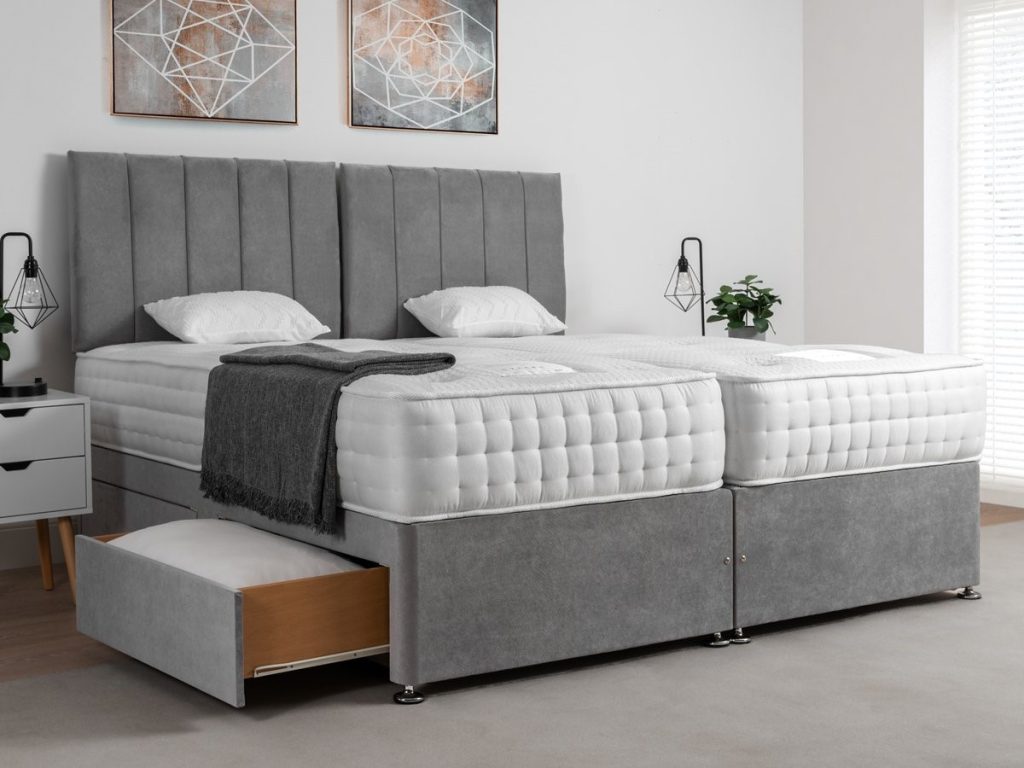 Pictured: Giltedge Beds Elegance 2000 Zip & Link 5FT Kingsize Divan Bed, Available from Bedstar. The Online Bed Superstore
If you have the space to store a large mattress separately, you can substitute the two individual mattresses with a larger mattress on a whim. This configuration will ensure guests don't feel the joint of two mattresses zipped together.
Zip and link mattress sizes
Zip and link beds are sold in king and super king sizes, both being the same sizes as standard beds of the same size.
That means a king measures 150cm x 200cm, and a super king measures 180cm x 200cm when the mattresses are zipped together.
Separately, the mattresses for a king are 75cm x 200cm, and the mattresses for a super king are 90 cm x 200cm.
At 90cm x 200cm, the individual mattresses with a super king zip and link bed are similar to single mattresses, with the same width but 10cm longer.
Sleeping two people separately with a king-size zip and link bed is tricker because, at only 75cm, the mattress width isn't very generous.
You can find out more about mattress sizes in our mattress size guide.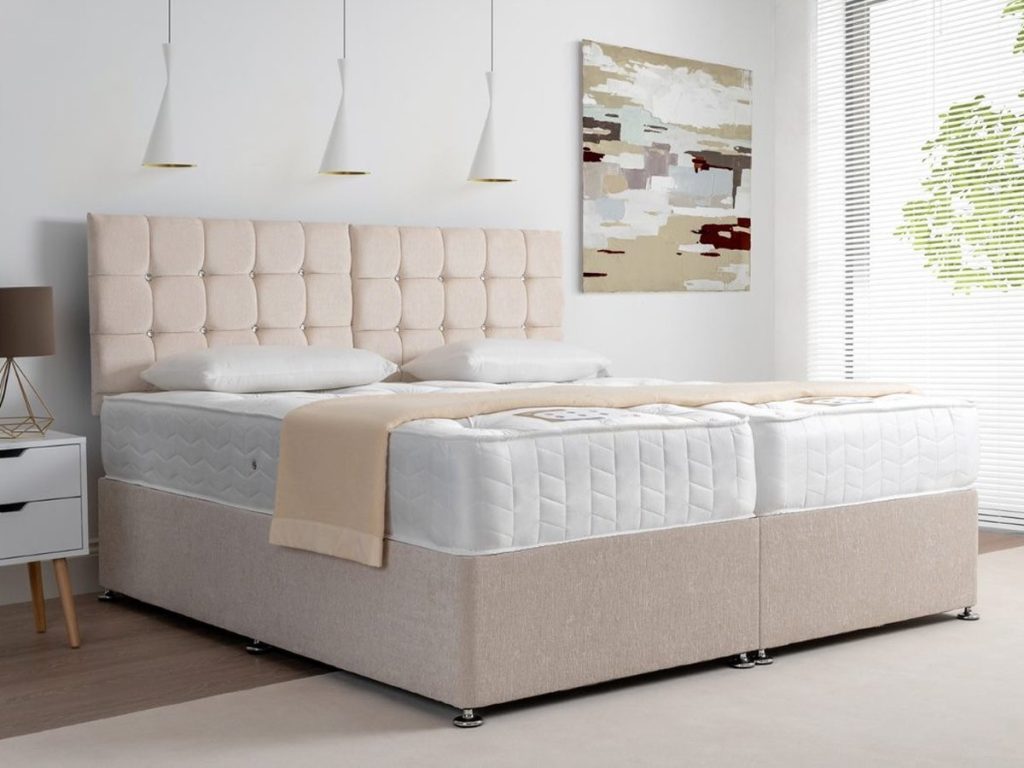 Pictured: Giltedge Beds Sussex Zip & Link 5FT Kingsize Divan Bed, , Available from Bedstar. The online Bed Superstore
The pros and cons of a zip and link bed
Pros
Easy to set up
Excellent value for money
Sleep two people separately or together
Zipped construction mimics the feel of a larger mattress
Super-king splits into two single mattresses
Two smaller bases suit narrower homes
The platform is suitable for a large, standard mattress if you prefer
Cons
Mattress options are less sophisticated than standard beds
There's a visible joint between the beds and mattresses
King size mattresses are only 75cm wide separately – 15cm narrower than a single
Overall
Zip and link beds are fantastic for sleeping couples and solo sleepers. You can split and join the mattresses/bases in minutes to create a twin or king setup, and with a super king, the individual mattresses are as wide as standard singles.
If you have a guest bedroom where twin beds and a king size bed are needed but are impractical on their own, a zip and link bed is the perfect solution.