The 'First Of Its Kind' Air Fresheners
Air fresheners have become a necessity as people want their surroundings to smell pleasant without risking their health and safety. Various air fresheners are available, including timed delivery aerosols, liquid pumps, aerosol sprays, candles, and perfume oils impregnated into different plastic, gels, hanging papers, etc.
Indoor air pollution and health issues caused by some aerosol products can serve as a severe threat if they are not adequately blended with safe, non-toxic, non-flammable, and non-carcinogenic materials. In addition, the chemicals in such products cause secondary pollutants when they react with the atmosphere. The possible toxins can enter human bodies through inhaling or can settle on surfaces. They can transfer quickly to the hands and mouth and cause potentially serious issues. Hanging air fresheners can also cause damage to the plastic, vinyl, and leather car interiors if not used properly.
An All-New And Unique Air Freshener
After 15 years starting in 1980 in the air freshener industry where Mobley Products, Inc. designed, invented and marketed many air fresheher 'first of their kinds' liquid air fresheners, the CEO and Founder of Mobley Products, Inc., David Mobley, realized the growing concerns and hazards of conventional air fresheners. After five years of trial and error, in 1995, he and his company researched and developed an all-new and different type of air freshener that would be the safest and most cost-effective air freshener on the planet!
What Mobley came up with and perfected during those five years completely transformed the entire air freshener industry upside down and inside out by introducing a 'first.' Mobley called this an all new, first of it's kind air freshener, Wonder Wafers. It was a 'first' for the company that forever transformed how air fresheners were used, marketed, and sold.
Within the first few months of its introduction, Wonder Wafers became a true overnight sensation. Sales were so brisk that it soon tripled the size of Mobley Products. After a year of their introduction, Mobley Products opted to change the name of their company to Wonder Wafers International.
This revolutionary product is practical, compact, and safe to use. As there are with liquid and aerosol sprays, there is no risk of spills or waste, and neither is there a risk of irritation to the skin or eyes when using Wonder Wafers.
They greatly reduce the chance of stains or damage significantly due to the perfect formulation, compact size, and custom material that enhances the product's efficiency. Also, no more purchasing costly spray bottles or applicator machines. Furthermore, Wonder Wafers produce an even release of air fragrance, keeping you happy and your surroundings refreshing.
During the initial process of inventing the Wonder Wafer, an extreme amount of time, effort, and testing of hundreds of materials such as standard everyday papers/cardboards, cork, felt, plastic, and many other materials occurred. Finally, after two long years of complete failure in testing and re-testing all of the above materials, Mobley decided to have a fully customized, specially woven paper blend developed to make the Wonder Wafer idea a reality.
The customized blend of paper was then laced with Mobley's highly secretive proprietary air freshener formula, which took years to perfect. Important information such as directions, etc., could be printed directly onto the customized paper without the fear of bleeding, fading, or becoming un-readable by businesses or consumers. The final results were overwhelmingly successful, making Wonder Wafers work exceptionally well and making it one of the most cost-effective and safest air fresheners in the world. Wonder Wafers are fully compliant with California's Proposition 65 and IFRA (International Fragrance Research Association).
Due to the sheer simplicity, safety, and effectiveness of these scented wafers, they were quickly received and accepted by most air freshener users. Wonder Wafers are 'Air-Activated,' safe for the environment, contain no known carcinogens, and are non-flammable and non-toxic. They are so small and powerful that you can use them anywhere – in automobiles, boats, aircraft, RVs, homes, offices, lockers – practically anywhere – to keep the space smelling fresh. They ensure foolproof fragrance distribution that evenly and slowly releases from several days to two weeks, for as little as six cents a wafer.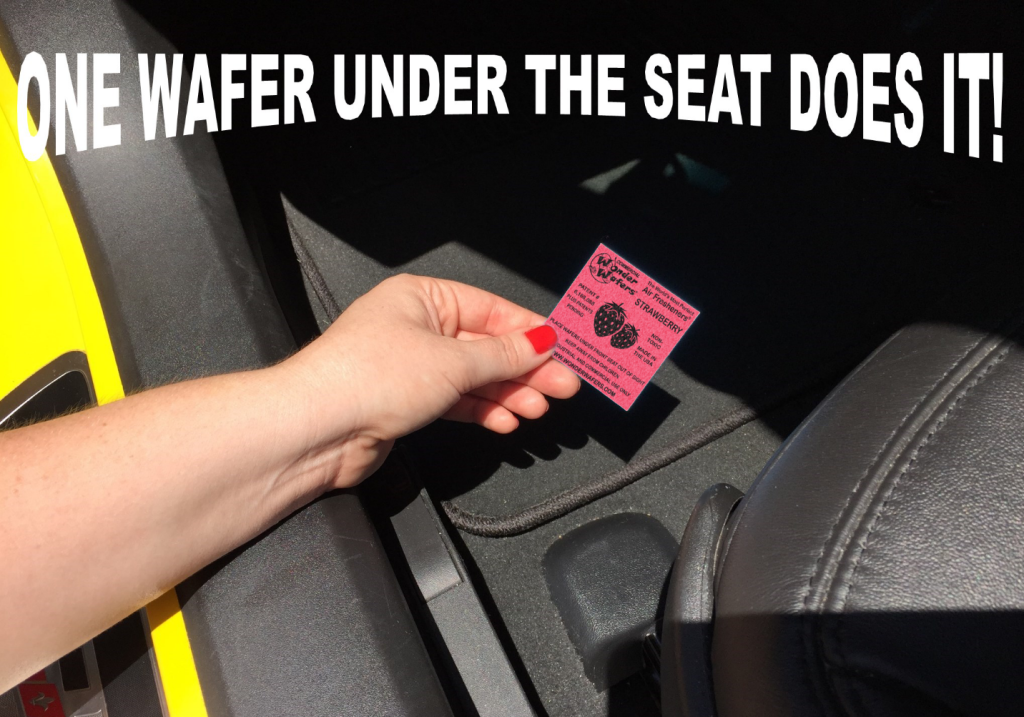 Wonder Wafers In The Recent News
Wonder Wafers are the safest and easiest-to-use air fresheners on the market today. After their introduction, they grew in such popularity that they are now the preferred Air Freshener chosen by many Industries around the globe. They became a true overnight sensation within the first few months of their introduction. Over ONE BILLION Wonder Wafers have been sold and used since their initial release.
Wonder Wafers International has recently announced its partnership with Kevin Harrington, widely considered as the Founder of the now universal Infomercial and the Founder of the 'As Seen On TV' empire. You may also recognize Kevin as one of the original Sharks on the wildly successful 'Shark Tank' TV series!
As an endorser of Wonder Wafers, Kevin and his highly regarded 'Shark Discoveries' team will head up all of Wonder Wafers TV Infomercials, social media, and other multi-media campaigns.