Investment
Hankotrade Review: Is Hankotrade the Ideal Broker for You?

Hankotrade is a Seychelles-based trading broker launched in 2018 to provide traders with all the necessary tools, support, and assistance under one platform. The role of a broker is to act as a support system for their customer to help them make the most out of their investment and provide better opportunities.
Let's dive a little deeper and uncover the basic features and offerings by Hankotrade broker:
Which Trading Instruments Does Hankotrade Provide?
Hankotrade offers a range of trading instruments encompassing more than 60 currencies, including both major and minor pairs and gold and silver. Additionally, they provide energy products like UK Oil and WTI, 11 major international stock indices, and a selection of cryptocurrencies such as Bitcoin, Ethereum, and Litecoin.
What Is the Ratio of Spread Provided by The Hankotrade Broker?


Hankotrade offers a tight spread starting from 0.7 pips for STP accounts, while for ECN or ECN Plus accounts, it operates as a zero-spread Forex broker.
Does Hankotrade Broker Offer Demo Trading?
Yes! Hankotrade offers demo trading accounts for users to get familiar with the trading functionalities and tools. You can deposit virtual funds in your demo trading account. It will work on live market conditions similar to the live account, only that you will be in a risk-free zone.
Is Hankotrade Broker Regulated and Licensed?
Founded in the Republic of Seychelles, Hankotrade is registered as Hankotrade LLC. The brokerage is regulated by the Financial Services Authority of Seychelles.
What Is Hankotrade's Minimum Deposit Requirement?
Hankotrade requires a $10 deposit as a minimum to start an account. They allow you to start small and progressively raise your investment in Forex trading, so you don't need a large sum of money to get started.
Does Hankotrade Charge a Withdrawal Fee?
Hankotrade adheres to a no-fee policy for deposits and withdrawals. You can quickly withdraw money from your account without incurring any charges or deductions.
How Long Does Hankotrade Take to Process Withdrawal Requests?
With Hankotrade, your withdrawal request can be processed and completed within one business day, as opposed to the extended wait times that may be experienced with other providers, which can take several months.
Are There Any Prerequisites for Opening a Hankotrade Account?
There is no such requirement you need to meet before opening the account. You just need to register with Hankotrade broker by filling in your original details. It will also ask for your preferred account type choice too. The broker team will verify your details and get back to you in a short period.
After that, you will get your official credentials from the broker, so only you can access your account. You can start trading the same day after depositing money as required by the respective account type's minimum deposits.
Which Trading Terminals Are Linked to Hankotrade?
Hankotrade broker supports 2 trading profiles, MT4 and MT5. The MT4 trading platform stands out for providing an effective trading environment and fast execution speed.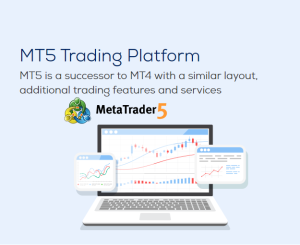 MT5 has additional features such as trading on a Bitcoin-denominated account in addition to USD, EUR, and CAD, improved technical analysis, and 21 distinct types of chart time frames available for trading. 
For simplicity and ease, MetaTrader4 and MetaTrader5 are now available on desktop and as well as on mobile applications.
Does Hankotrade Provide Any Technical Trading Tools?
With Hankotrade, traders can access three trading tools: 
Forex calculator helps you calculate margin, spread, and currency conversions accurately, 

E-Calendar, which keeps you current with the latest foreign exchange market news, 

A Virtual Private Server (VPS) makes it possible to trade securely.
What is the Introducing Broker Program of Hankotrade?
Hankotrade has initiated a referral program where traders can earn up to 40% commission by referring Hankotrade to other traders.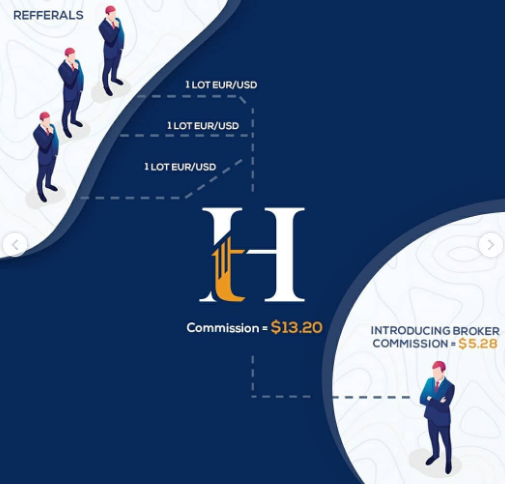 To avail of the Introducing Forex broker bonus, you must sign up for this program and share the Hankotrade platform with your colleagues and family members. You will be eligible for a commission whenever a person joins a Hankotrade broker through your reference and executes trades.
Is Hankotrade a Reputable Broker?
Hankotrade is known for its reliability and safety as a trading broker since they prioritize the safety of its customers' funds and strictly complies with regulations. They utilize advanced technology to prevent unauthorized access to their systems and adhere to industry standards to maintain the security of their client's funds. 
Moreover, you can head to unbiased review posting platforms to read honest and unbiased Hankotrade reviews from actual traders and investors.
Where Can I Find More Information About Hankotrade?
There are plenty of educational resources on the internet about Hankotrade brokers. Refer to the Hankotrade broker's official website for more authentic and accurate information.
You can also get updated information about their recent services through social media accounts. They are always active on social media and keep their audience updated.
What Are Hankotrade's Trading Hours?
Hankotrade allows its clients to trade 24 hours a day, five days a week, providing ample opportunities for trading. Trading on the platform is available from Monday to Thursday at all hours and on Fridays until 12 PM (GMT+2)
How Do I Reach Out to Hankotrade Customer Support?
The 24/7 live chat system is the best way to connect with a Hankotrade broker. However, you can contact them via email or telephone for any queries and concerns.

Hankotrade Review Conclusion: Should You Entrust Hankotrade Broker with Your Assets?
When investing your valuable assets, the foreign exchange market is highly volatile and risky. However, Hankotrade brokers tend to help you manage your trade with a secure and encrypted trading environment.
With tight spreads, Maximum leverage, and multiple bonuses, this zero-commission forex broker is ideal for both professional and new traders.
You can first try out the demo account to get a glimpse of the platform and how it works or open an STP with the minimum commission of $10; this way, you can completely understand the strategies and functionality of Hankotrade broker. Later you can switch to their ECN and ECN Plus accounts.