News
Fresh dog food manufacturer, Naturaw, honoured with the first ever King's Award for Enterprise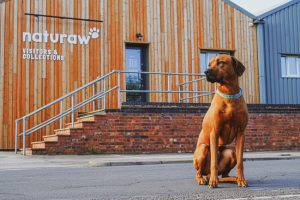 YORKSHIRE, UK 21st April 2023– A fresh dog food manufacturer based in Yorkshire has been awarded the first ever King's Award for Enterprise for its excellence in Sustainable Development. Naturaw is one of only 148 organisations  to be recognised nationally with a prestigious King's Award for Enterprise, announced today (Friday 21 April).
Originally set up in 2014 primarily to provide founder Jess' dog Louis with a natural diet of unprocessed food that didn't produce mountains of plastic waste, 
Naturaw
 now employs a team of 16 people in a state of the art facility near Wetherby in Yorkshire.
The company produces a range of frozen raw dog food with an emphasis on high quality fresh ingredients more akin to what dogs ate before the advent of highly processed convenience pet food, including high welfare meat from British farms. There are no fillers, grain, preservatives or anything artificial. Naturaw makes a point to use entirely plastic-free 
packaging
 on every product they manufacture.
"To receive the Kings Award for Enterprise is a huge, huge honour for us, and a testament to our team's hard work and resilience over the last few years in an incredibly challenging and unprecedented climate"
Chris Broadbent, Director
Recognised in 2022 as a certified B-Corp, their recent initiatives include a move to self generated solar power to run their manufacturing facility, planting a tree every time a new customer subscribes to their food, a free returns scheme to reuse their wool lined insulated packaging, and even delivering to stockists throughout the North of England in 100% electric vans.
"Sustainability has always been at the heart of our entire business ethos, we have always gone the extra mile to do things better. We're so passionate about the way we conduct ourselves as a company, firmly believing we can have a commercially successful business that is also socially and environmentally conscious. To be recognised in this way with such a prestigious award is a proud moment"
Jess Warneken, Co-Founder
The King's Awards for Enterprise was previously known as The Queen's Awards for Enterprise, and the new name reflects His Majesty The King's desire to continue the legacy of HM Queen Elizabeth II's by recognising outstanding UK businesses. The Award programme, now in its 57th year, is the most prestigious business award in the country, with successful businesses able to use the esteemed King's Awards Emblem for the next five years.