Investment
The GameStop Phenomenon: Navigating Market Challenges

GameStop (NYSE:GME) is an American company specializing in retailing video games, consoles, accessories, and computer software. Established in 2000 in Dallas, Texas, the company has emerged as a significant player in the video game market. The "Reddit revolt" orchestrated by small investors led to a short-squeeze, propelling the stock price to unprecedented heights. This incident has drawn attention to the potential influence that an increasing group of retail investors can exert in stock markets when empowered by social media.
Before embracing social media and mobile applications to engage customers and market products, GameStop faced challenges. The shift from physical to virtual game distribution, coupled with the impact of the Covid-19 pandemic, presented hurdles for the company. Collaborations with major video game developers such as Electronic Arts, Activision Blizzard, and Ubisoft, however, enabled GameStop to diversify its product offerings, navigate these challenges, and stay afloat.
Examining the company's past successes sheds light on its current predicament. While GameStop attracted a diverse customer base through its wide array of video games, consoles, accessories, and software, it now finds itself grappling against virtual marketplaces. Online trading, once a novel approach pioneered by the company, has become commonplace, making it harder to stand out. And against the background of large retailers, it is almost impossible to withstand competition.
Despite these challenges, strategic advertising efforts provide a glimmer of hope. GameStop actively utilizes social media, engages in advertising campaigns, and participates in events and contests to maintain visibility. Partnerships with leading game developers contribute to the availability of new and popular games, fostering sales growth and increased market share.
The company's pivot towards expanding its product range, offering clothing, accessories featuring popular game symbols, as well as computer components, seeks to attract new customers. However, financial reports reveal the limitations of this strategy — the profits from souvenir sales primarily benefit game makers, leaving the store with a modest share. It's important to note that despite the sustained interest in the video game sector, its growth is constrained by the inflation rate.
Financial reports signal a disconnect between positive reports and stock price growth. Despite three consecutive positive reports, there is no evident upward movement in the stock price. Notably, the surge in trading volume occurs primarily during the reporting periods, with the last instance being an exception. This suggests a gradual withdrawal of support from bullish investors and a waning interest from small traders. Looking ahead, the forecast for upcoming earnings is bleak, with expected -0.083, signaling a continuation of the downward trend.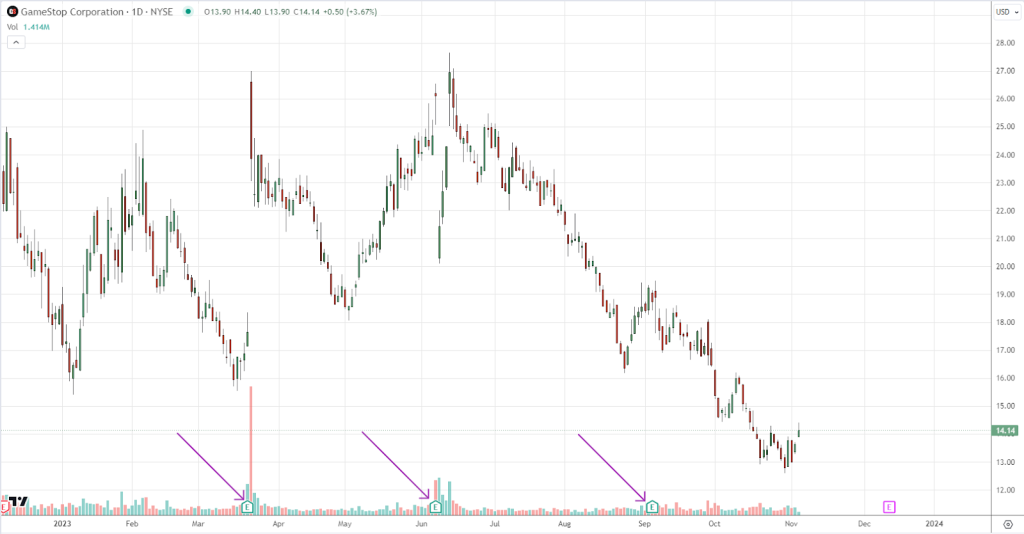 From a technical perspective, the historical support level of $10 serves as the last stronghold for the bulls. A breach of this level could spell trouble for recovery. While challenges loom, cautious optimism prevails as market participants await developments, acknowledging that hope is the last thing to resort to in trading.