Android N Comes to PC; BlueStacks Releases the First Android Gaming Platform Ever to Run Android N
Boasting hefty improvements in speed, graphics, and resource-usage, BlueStacks releases their BlueStacks + N Beta for high-end PCs running their next-generation HyperG graphics system
Palo Alto, California January 19, 2018 – Today, mobile gaming platform BlueStacks released the full-featured Beta version of their flagship BlueStacks App Player, now running Android Nougat (N). As the market leader in Android gaming on PC, BlueStacks continues to innovate by combining cutting-edge technology with mobile and PC gaming. Adding Android N provides gamers with access to the complete library of games available on Google Play – many of which now require Android Lollipop (L) or higher to run.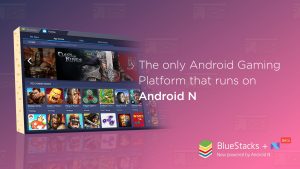 "Our mission is to make mobile games feel native on a player's computer," said Cathy Yang, Director of Product Management at BlueStacks. "Running the game is the least we want to do. In reality, we want players to forget that they are playing a mobile game and instead feel that it is another extension of their PC gaming library."
The HyperG Graphics System, first released in BlueStacks 3, received a major upgrade as well. For the first time ever, HyperG leverages the full power of the Android N graphics library. This means that games will push higher frame rates, look crisper, cleaner, and use less overall computer resources. Yang claims that, "With BlueStacks + N Beta and updated HyperG, we see some high-[spec] games running 25-30% faster with 15-20% improvements in CPU usage." She continued, "The Beta release will be limited to only higher-end PCs that have Intel processors with virtualization-enabled. We plan to monitor performance data and will release a non-Beta version compatible with all PCs – including AMD and Intel processors – shortly thereafter."
With the launch of the Beta, BlueStacks anchors another pillar in their mobile gaming platform by removing one of the biggest roadblocks for many gamers – the ability to play hardcore mobile games that required more modern Android operating systems. Android N is backward-compatible with all legacy games and is capable of running every game currently in the Google Play store. The Beta is currently available for download on theBlueStacks website alongside their latest version of BlueStacks 3.
Based in Silicon Valley with offices in Beijing, Delhi, London, Tokyo, Seoul and Ho Chi Minh City, BlueStacks is funded with 27M USD from Ignition Partners, Radar Partners, Andreessen-Horowitz, Samsung, Redpoint, Qualcomm, Intel, Presidio Ventures (a Sumitomo Corporation Company), Citrix, AMD and Helion Ventures. The 130-person company launched in May, 2011 and the first version of its App Player was released in March, 2012. BlueStacks crossed 250 million users in December of 2017.
Media Contact Details
janneke van swetselaar, BlueStacks
London , United Kingdom
07453288424