Roman Kemp relegated from switching on the Oxford Street Christmas lights to a SUBWAY STORE
Last year he switched on the Oxford Street Christmas lights. But this year's booking was a more low-wattage affair for radio DJ Roman Kemp … as he turned on the lights at a SUBWAY STORE.
The Capital Breakfast show presenter asked "is that it??" after flicking the switch at the Shepherd's Bush store in west London.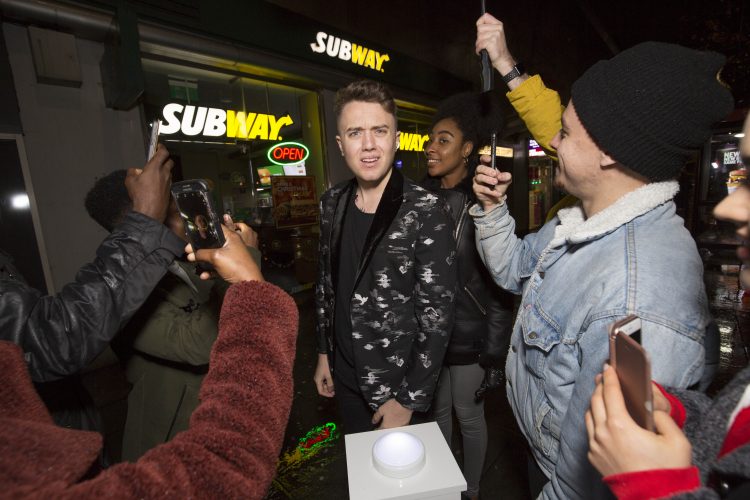 It was a far cry from 2017's Oxford Street festivities, in which he starred with co-presenter Vick Hope and singer Rita Ora.
Subway hired the 25-year-old to do the honours to mark the launch of their new Christmas menu which features a six-inch Christmas Cracker Sub and Signature Loaded Wrap.
[youtube https://www.youtube.com/watch?v=REfLW9hEm-4?enablejsapi=1&autoplay=0&cc_load_policy=0&iv_load_policy=1&loop=0&modestbranding=0&rel=1&showinfo=1&theme=dark&color=red&autohide=2&controls=2&playsinline=0&]
In a video of the ceremony, Kemp is seen arriving by taxi, musing on his previous role, starting Christmas festivities for Londoners.
Colin Hughes, Country Director, UK and Ireland at Subway said: "At this time of year Christmas lights are switched on across the country. Of course we don't want to throw shade on any of these festive displays, but with our own special switch on, the new Christmas menu at Subway is lit."
The six-inch Christmas Cracker Sub features turkey, streaky bacon, cranberry and orange chutney, pork and sage stuffing and gravy.
The Signature Christmas Cracker Loaded Wrap includes the Christmas Cracker ingredients in a new spinach wrap.