Parenting
New children's book helps young children understand COVID-19 lockdown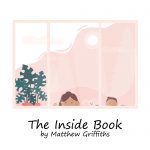 (FOR IMMEDIATE RELEASE)
(Cape Town, SOUTH AFRICA April 28, 2020)
New children's book helps young children understand COVID-19 lockdown
Parents, guardians and educators struggling to find ways to help children understand the importance of staying home during the COVID-19 pandemic now have a colourful resource in the form of the new children's book. The Inside Book was launched in April 2020.
The Inside Book is written and illustrated by Cape Town based creative content producer Matthew Griffiths.

The book appeals to the imagination and sense of play of children who have to remain home during lockdown and serves as a resource for educators and guardians to support children's understanding during this period.

The Inside Book is a freely downloadable digital book and is available in English, Xhosa, Zulu, Afrikaans, Spanish and German.
Written and illustrated by Matthew Griffiths, The Inside Book focuses on playful and imaginative ways to be safe, social distance and enjoy staying home during the lockdown restrictions taking effect around the world due to the COVID-19 pandemic.

The Inside Book tells the story of two siblings with the younger boy struggling to understand why they are stuck inside. The older sister explains that there's a virus outside that's making people ill, it's in the air and people are wearing masks, it also gets on things we touch and we have to wash our hands. They discuss their feelings of loneliness, being sad, but also being bored. They remember all the fun they've had using imaginary play, building cars from boxes, and forts from furniture and sheets. They end by looking forward to a fun yet safe day inside tomorrow. The book also includes a guide on hand washing and 'hiding' coughs and sneezes.
Matthew Griffiths came up with the idea in the first week of South Africa's lockdown, when he realised the abundance of information for adults covering the pandemic but the lack of resources for children, who may be struggling to understand the situation.
Says Griffiths: "As adults we are bombarded with COVID-19 related news and data on an almost hourly basis, but few platforms are serving or helping young children. How are they to understand all these big changes to their lives and routines? This is also a time for solidarity, and I had the desire to do something meaningful with my skills."
The book – aimed primarily at 3 to 8 year olds also raises the impact on their mental wellbeing, encouraging children to express and discuss their feelings of sadness, loneliness and boredom with their parents or guardians.
In order to reach as many children as possible, the digital book if free and has been translated into 5 languages, with more in the pipeline.
For more information contact the Author:
hello@mattcgriffiths.com
+27 72 068 7277
Download the book at www.mattcgriffiths.com