Glazonoid Led Mirror-Felicity Morphed as Mirrors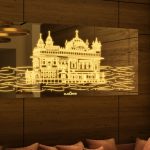 Defying every possible chance of defectiveness, Glazonoid created a masterpiece in form of Automated LED Mirrors. Bundled with all the modern technologies, these Automated LED Mirrors and Smart Led Mirrors are the future in disguise.
Making human's life super easy; Glazonoid mirrors are designed to work on the will of people. New vision of reflection has been given to these LED Mirrors with a feature of lightfulness.
Apart from relevant exaggeration of the very true facts about the Automated LED Mirrors of Glazonoid that they offer Hand Wave Gesture Sensor and Motion Sensor covering the vicinity of 3 meters to light themselves up, what's fascinating is the facility of Bluetooth in that mirrors to make the journey of the users of these mirrors musical. Attached defoggers keep the mirrors fog free always and the feature of being waterproof because of being made with A+ grade IP67 materials and sealants help the users enjoy being fearless about the automation of mirrors.
The real bliss of living in the world of today is in the art of living majestically. Not only these Automated LED Mirrors do present themselves in different shape, size and design but also differ inordinately in terms of their usage in comparison of normal mirrors.
The added glory in the working of Glazonoid is that apart from providing a wide range of designs to its customers to choose from, it also customizes Automated LED Mirrors with the designs of choice of the customers. The profound satisfaction of Glazonoid rests in complete contentment of the users.
About Glazonoid-
Starting with an idea of complete automation of buildings and houses, Glazonoid was established by Ruchit Dutt and Manni Gupta after they both mutually founded their interest in the automation of mere mirrors. With a complete package of advanced technologies, Automated and Customized LED Mirrors are now served by Glazonoid. Headquartered in Delhi, Glazonoid deals with the topnotch names in the field of Construction, Architecture, Interior Designing, Home Décor, Art and Glass and Sanitaryware. The basic idea behind Glazonoid is the morphing of novelty and happiness as mirrors.