Chicago Fire And Iraq U20s National Team Player Amir Aldaraji Is Close To Sign For Nashville SC In MLS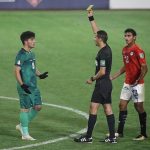 Amir Aldaraji Seventeen Years old which has represented Iraq national team Under 19 in the Asian cup and plays for an MLS Academy for Chicago Fire U20s and Also played for USA U-15 in 2015 for the Nike Competition is close to sign to Nashville Sc new MLS club.
Aldaraji was also being pursued by the likes of Man City and Galatasaray, as well as being linked with a possible move to Rangers. If the move is completed, he is likely to alternate between the under-23s and the first team as continues to acclimatise to English football.
Aldaraji got the advantage of speed, dribbling and Assisting for teammates , as many clubs in the AFC U19 Championship have admired many tournaments. We wish him Best luck and success.