NEW PORTABLE AIR DUCT CLEANING SYSTEM THAT COMES WITH A DUAL MOTOR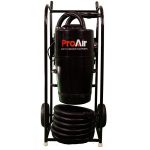 California based leading air duct cleaning equipment seller Pro Air introduced new air duct cleaning machinery at an affordable price.
Pro Air Industries Inc. has created a new dual-motor vacuum that has a high suction power. These vacuums are designed to last, with the Pro Air Dual Motor Vacuum possessing double the power of vacuums currently present in the market. Rated best in the industry, the Pro Air duct cleaning equipment Vac model should be chosen in case there is a need for max power.
Air ducts help facilitate cool or warm air provision in the office or at home and just like any other item, require regular cleaning to eliminate dust and debris from the ductwork. This can be achieved by using professional air duct cleaning equipment such as Pro Air Duct Cleaning Equipment that supports air duct cleaning businesses facilitate effective cleaning; with the wide array of cleaning tools and improved savings; through the affordable prices it offers for the cleaning equipment.
Effective cleaning is achieved via a collection of tools, such as Pro Air's Dual Motor Portable Vacuum System that rivals Truck-Mounted Vacuum machines that are expensive. A maximum cleaning experience is facilitated by the two German Engineered Motors that have been designed to improve power and durability.
Also, Pro Air's air gun is a high powered air gun that aids by pushing the debris into the vacuum. Pro Air Industries Inc. includes a metal airgun in both its Complete Duct cleaning package and Basic Duct cleaning package. The Air Whip is essential to loosen stubborn dirt by aggressively thrashing against the air duct walls. A nozzle is equipped on the tentacles that blast air to push the dislodged debris towards the collection device.
Pacific Air Duct Cleaning Services' CEO, Shannon Bryant, has been quoted saying "We have been using this equipment with great success and currently have 4 complete units. With our success in duct cleaning it is currently overtaking our 30-year carpet & tile cleaning company" thereby showing just how efficient Pro Air Duct Cleaning Equipment is.
Savings are ensured with Pro Air Industries Inc. products through the provision of appropriate air duct cleaning equipment that guarantees the job is done right the first time thereby preventing job repetition that would affect the margin negatively. Also, Pro Air is affordable compared to other truck-mounted dust cleaning systems that may cost as much as $75,000, making it a good fit for small businesses.
Roberto Rameriz, Century Air Duct Cleaning's Owner agrees with its affordability as he claims "More people are worried about their Air Ducts than ever before. Best priced machine I could find for under 5,000".
Additionally, Pro Air Industries Inc provides access to extensive online training to aid in the operation of the Dust Cleaning System with the cost included with the purchase. Finally, instant financing is offered via the company's leasing program.
Pro Air Duct Cleaning system is the best rated Air Duct Cleaning system, located in Mission Viejo, California.