Wall-art has always been around since the early days of human civilization. It is, therefore, little wonder that the practice is still prevalent these days. However, there are wall art options that are quite common, whereas other choices are a bit original. Here is an idea for you – how about portraits of people, photographs, and pictures to create a particular ambiance for your living quarters?
Many people posters are available for you to decorate your walls with – male, female, newborns, elders, family members, historically important individuals, or your next-door-neighbors. You can even go for wall art based on your ethnic group or nation to state your identity for your visitors.
At Artsybucket.com, you can look through hundreds of posters to choose the right one for your interior walls. Let us have a look at the people's collection now.
Audrey Hepburn poster
The poster depicts a black and white image of the famous actress Audrey Hepburn. This one is for the fans of Roman Holiday, Breakfast at Tiffany's, and My Fair Lady. This classic image is an all-time-favorite as the feather hat ensemble is from Breakfast at Tiffany's – a definitive motion picture from the Golden Age of Hollywood.
Savoy child
This one is a classic image of John Lennon and Yoko Ono in a white suit holding a "war is over" poster. Many of us remember the late 60's era and the events that unfolded with wars breaking out worldwide and young blood rising as anti-war activists against corrupt bureaucracy. Some would say the movement can be hailed as a beacon of principled politics, and this classic image rightfully typifies the fervor.
Black fashion poster
This image depicts a fashion model with impressive black make-up. The long and thick mascara embellishes the gorgeous bold make-up. The black fashion poster is ideal for hair salons and spas.
Woman sitting on the beach
This image depicts a woman in a white dress sitting on the beach. Who doesn't want to sit by the shore and watch endless waves crashing and rolling along the sand? The beach is a symbol of endless feelings, and if the peace, serenity, and tranquility of the beach call to you, then this image is just right for you.
Under water ballet dancer poster
Underwater photographs have always been an excellent way for photographers to depict majestic beauty. The underwater ballet dancer in white is an extraordinary image that shows feelings of joy and absolute freedom. Not only is the photograph a technical marvel, but the grace and the poise make it the perfect addition for your wall.
Red apple in robotic hand poster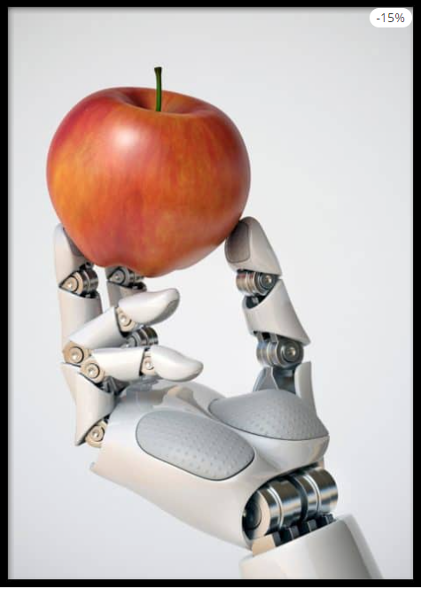 If you are looking for something cool and contemporary, how about the apple's biblical image, but the hand delivering it is that of a robot? You can look at it from a different angle as well – going by the Welsh proverb of an-apple-a-day-keeps-a-doctor-away. Keep it healthy; if you live by this motto, then this poster is for you.
Women with angel wings poster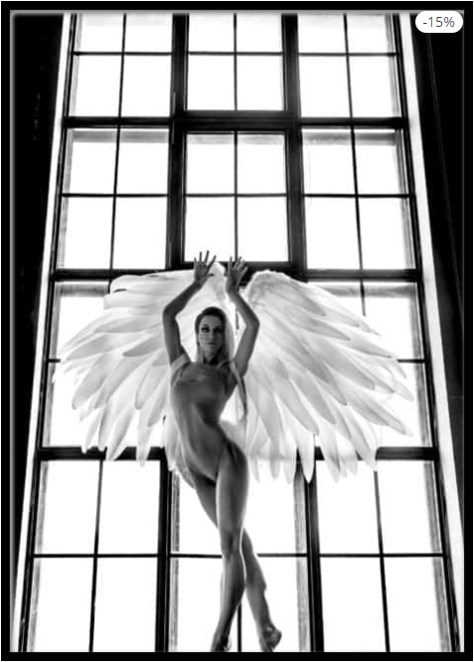 This poster depicts a sexy woman with angel wings holding a beautiful pose in front of a brightly lit studio window. Angels are the symbolism in Christianity for a good person with hope, love, and trust. Many would like to have an angel adorning the walls for "good-luck." If you are looking to surround yourself with beauty and purity, then the woman with angel wings poster might be the one you have been looking for.
Girl on a flower field
This image of a girl in a powder blue dress in a field of blue flowers symbolizes peace and quiet. It is perfect for your bedroom.
Black and white guitar player poster
Everyone loves a guitar player, and guitar player posters are quite common in young kids' rooms. If guitar music sets your world alight, then go for it without a shred of doubt.
Couple at dark poster
This image depicts the feeling and joy of love and contentment. This is perfect for couples living together.
Darth Vader poster
The big-baddy from Star Wars in a razor-sharp business suit? Who wouldn't want that on their dorm wall? On a serious note, the image is quite curious and makes you do a double take everything you are walking past it.
With people posters, you can make the interior of your room look lively. It was about portraits in the royal palaces in the olden times, and now you have modern-day legends, heroes, and fashion photography to beautify your walls. All you need to do is choose the right one and shop – easy!