MultCloud: A Practical Solution for Cloud Drive Management
In this era of information explosion, everyone has large amount of personal data produced by your PCs, your mobile devices, and your cameras. No to mention the astronomical data that a large enterprise would produce and deal with every day. Apart from storing these huge amounts of data in hard disk drive which is very expensive and inconvenient to transfer data, we commonly choose cloud storage services to store data conveniently and securely.
Unlike some years ago that those leading technology firms just stepped into the cloud drive market and generously offered large but free cloud storage space for new user, they have already changed their subscription plans about the cloud storage to tight ones. These business transactions force cloud drive customers to register as many cloud drive accounts as they could to get more free cloud storage space without purchasing.
So how can you manage multiple cloud storage services in an efficient and easy way for completely free? Luckily, there's a great web-based cloud file manager called MultCloud which we have tested for several weeks that may help you to achieve excellent cloud drive management.

Why Choose MultCloud to Manage Cloud Drives?
Good Support for Clouds
As a leading product in cloud management market, MultCloud supports more than 30 major cloud drive services, including Google Drive, Dropbox, OneDrive, Flickr, Amazon S3, Sugarsync, pCloud, Mediafire, FTP servers, WebDAV, etc. And it sets no limit on the number of adding cloud drive to it.
Simple to Use
You don't have to download or install anything but can enjoy MultCloud's great functions directly in browser with good stability. You can even use the Chrome extension of MultCloud without logging in if you use browser usually.
Enter Every Cloud with Ease
Once you add all your cloud drives to MultCloud, you can easily enter your different cloud accounts in the home interface. The home interface of MultCloud will also show the used storage and total storage of each cloud account.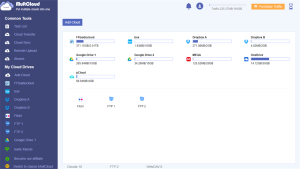 How to Manage Cloud Drives in MultCloud
Manage Cloud Drives by "Cloud Transfer"
As the most unique feature in MultCloud, Cloud Transfer allows you to backup, move, migrate, or transfer data and files from cloud to cloud in a single interface without downloading and uploading.
For example, if you want to move files from one Google Drive to another, all you have to do is add one of your Google Drive accounts or the files and folders of this account to the source, then add another Google Drive account or other clouds which you want to transfer files to as the destination. After clicking "Transfer Now", the files will be successfully transferred to another cloud account.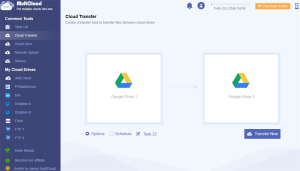 Before starting the Cloud Transfer task, MultCloud allows you to set some other settings which to transfer files between clouds. You can let MultCloud to send an email notification to you when the transfer task is done. What's more, you can set daily, weekly, or monthly scheduled cloud file transfer task to transfer files from one cloud to another automatically and periodically.
Manage Cloud Drives by "Cloud Sync"
Unlike the Cloud Transfer feature which only allows you to transfer files unidirectionally, Cloud Sync allows you to sync files between clouds in one-way or two-way depends on the sync mode you choose. MultCloud offers 9 multifunctional sync modes for you to choose. Each will sync files with clouds in different ways.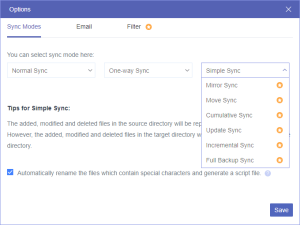 As a free user of MultCloud, you can use Real Time Sync, Two-way Sync, and Simple Sync in One-way Sync to sync your clouds. And if you upgrade your MultCloud account to higher level, you are able to enjoy the last 6 wonderful sync modes, such as Update Sync, Move Sync, Cumulative Sync, Mirror Sync, Incremental Sync, and Full Backup Sync.
Safest Protection to Cloud Account
MultCloud applies two major security protections to protect both your cloud drives added to it and the data during transfer.
To protect your cloud accounts in MultCloud, MultCloud uses OAuth authorization system to access your cloud drives without getting information about the username and password of your cloud account. What's more, this standard framework is supported by most cloud drive providers like Google Drive and OneDrive.
To protect your data from being tampered, cracked, or intercepted during file and cloud transfer, MultCloud also puts 256-bit AES Encryption for SSL into use.