E-Commerce
How to Write Effective Product Descriptions for Your Dropshipping Store

Introduction
In the grand scheme of conversion rate optimization, product description seems to be a small part of the website for many e-commerce and dropshipping stores, so many brands just brush it aside. But for dropshippers that get it right, writing an attractive and effective product description is a great way to spread brand personality where most people don't expect it.
What Is Product Description
A product description is a marketing copy that illustrates and explains the benefits of a product. In other words, it provides all the information and details about your products on your e-commerce site.
These product details can be one sentence, a short paragraph, or a bullet point list. They can be serious, funny, or quirky. They can be located next to or below the product title and product image. The product descriptions should be fast to read and focus on selling points to lure the consumers to add the products to the shopping cart.
Benefits of Writing Effective Product Descriptions
There is no doubt that product description is an important weapon for the success of e-commerce stores.
Build Trust with Shoppers
What actually happens when shoppers read your product description, look at a product picture, and are completely satisfied? They come to believe that the product is the best. People make buying decisions based on trust. They will make a purchase when they trust the brand and product description. To this extent, product descriptions must not be deceptive.
Professional Online Store
Everyone wants to do business with great and professional businesses. If you want to become a best seller for your product, then you must have better and creative product descriptions. When shoppers click on your online store link and log on to your website, they want to see that you know what you're doing.
Enhance Competitiveness
If you are selling the same products that other retailers/wholesalers are selling online, you better have the best product description. You need great graphics and compelling descriptions to make your product stand out from the crowd.
4 Critical Ways to Write Product Descriptions
It is important that your product description includes honest and transparent information.
Know Your Target Audience
The first thing to write a product description is to get to know your target audience. You want to be able to define the features that potential consumers will be most interested in. This starts with understanding your buyer persona, which is a segmentation of the characteristics of the potential customer.
Focus on Features & Benefits
One of the most common marketing tips is to focus on benefits rather than features when describing the products you sell. The person who made this suggestion made a good point.
It's really more effective to tell shoppers how certain features of the product will benefit them, rather than just give them a long list of features or functions. But that doesn't mean you should completely ignore functionality when describing a product. After all, your customers still need to know what the product does.
Make It Easy to Scan
People have short attention spans and only read about some of the content on the page. Therefore, your product description needs to capture that coveted content in an effective way.
You can achieve this by making your descriptions really easy to go through. The buyer is able to find exactly what he or she is looking for and won't waste time sifting through other information.
Leverage on Social Proof
You probably already use social proof such as reviews and ratings on your e-commerce sites. But have you considered using these reviews to make your product description more attractive?
Look through all your positive and negative reviews, and use them to directly address the fears and unexpected benefits of product descriptions.
Dropship with DSers – Take Your Dropshipping Business to Next Level
Using a dropshipping tool can help you analyze the health of your dropshipping store and ease the process of order fulfillment.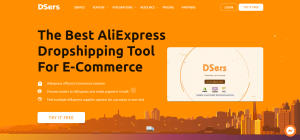 Through DSers dropshipping tool, you can improve the speed of customer care because DSers integrate all the AliExpress dropshipping orders to the dashboard. From this dashboard, you can extract data in minutes and help your customers.
Some amazing features of DSers dropshipping tool are:
Whether you are working with Shopify, WooCommerce, Wix, or all of them, you can integrate multiple platforms with DSers.
DSers has an intelligent seller optimization feature that helps you find the seller most optimum for your purchase. Through AI capabilities, the tool finds a seller offering low pricing and better quality.
You can place all those pending orders on DSers at once. Just a few clicks and you are good to go.
You can create a rule for pricing on your store for one or multiple categories. Based on this rule, your products are marked up automatically as you publish them.
Final Word
Buyers are more likely to visit your dropshipping store and buy the products when their expectations and requirements are met. Keep this in mind as you use the above tips to write more compelling, transformable product descriptions.
Think, design and write your product description for the potential target market. Then optimize them for search, and there's nothing stopping you from attracting, persuading, and turning more visitors into your customers.