PosiGen CEO Thomas Neyhart Talks Getting More Out of Solar Installation
Solar panels generate electricity using energy from the sun, which is free. However, solar panels and the technology and systems that power the entire process are not. According to PosiGen CEO Thomas Neyhart, there are several ways you can extract more value from your home solar system. Here we talk about four of them.
Just as a home is an investment, solar panels and modules are also investments. They may have a substantial upfront cost at the time of installation, but they can pay off over the long run and help you save on your electrical bill – not to mention the environment – by following a few simple steps.
These four steps from PosiGen CEO Thomas Neyhart can help homeowners evaluate whether a given solar system will work for them. These factors will ultimately determine the ROI of the installation and can make it easier to arrive at an installation decision.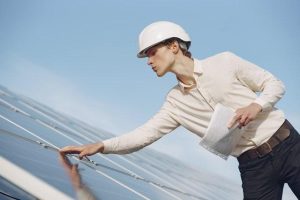 Degradation
Your investment is only good for its usable lifetime. The durability of a given solar system is a key factor to consider before going forward with an installation. Most solar companies and their installation packages provide warranties (which we discuss below) and other benefits for 10, 20, 0r even 25 years. While such a long timeframe may seem attractive at first, it is all too easy to overlook degradation when choosing a system.
Degradation refers to how quickly a system – your rooftop solar panels – lose their ability to produce energy. Because of where they are installed, rooftop panels are exposed to a wide variety of environmental conditions, from rain, snow, and hail to high and low temperatures. These environmental changes can cause the panels to expand and contract. This can place a significant amount of stress on the cells inside.
Commodity-grade solar cells often crack and break with this pressure. This causes them to produce less electricity over time. According to PosiGen CEO Thomas Neyhart, PosiGen's solar panels use A-grade materials and are specifically manufactured to meet or exceed the power generation expectations of the company's customers. This helps limit the rate at which natural degradation of the components within the panels occurs and also helps to lower your overall maintenance and servicing costs.
Guarantees and Warranties
Not all warranties are the same, and not all guarantees cover what you may expect them to cover. Protect your investment in solar panels by ensuring that your entire system is fully covered. You must also consider eventualities such as if the company you choose to work with goes out of business. If you spend several thousand dollars on a system but the company goes out of a business before your warranty is over, the warranty will automatically become void. In such cases, who will cover your losses should your system require repairs or ceases to function?
For full confidence in your investment, choose a company with the brand name, reputation, and satisfied customers reviews that demonstrate long-term success and a commitment to delivering value to customers. PosiGen CEO Thomas Neyhart founded his company in the aftermath of Hurricane Katrina in 2005 and the company currently operates in five states. PosiGen has completed roughly 14,000 installations nationwide and is a recognized player in the solar energy space.
Investment Tax Credits
The federal government provides a solar investment tax credit (ITC) that can be used by homeowners who want to adopt renewable energy such as solar. It allows homeowners to receive tax credits based on the cost of their home solar system. The ITC was extended earlier this year until the end of 2022 – that too with an increase in the credit from 22% to 26%. With this higher credit, 2021 is the perfect year to install a solar system in your home.
Panel Efficiency
Panel efficiency is another important determinant of the value your solar system will create. Consider two systems – one that is half the price but half as efficient as another that is twice as expensive but twice as efficient. Both of these systems are essentially the same from the perspective of the cost per unit of electricity generated. However, the less efficient system will require twice as many panels to generate the same amount of electricity as the more efficient system. If you have a smaller roof, it makes sense to use a high-efficiency system so that you can generate the power you need within the space you have.
Final Thoughts
The cost of a solar installation tends to be the first thing on the minds of potential customers before deciding on a service provider for their new home installation. However, costs are just one deciding factor of many. According to PosiGen CEO Thomas Neyhart, homeowners should take time to fully understand their needs and identify the factors that will impact the efficiency and ROI of their preferred install.
PosiGen works directly with homeowners and does not have credit requirements for installing a system. The company also provides home assessments so that users can understand what kinds of efficiency improvements would work best for their homes. With the right solar installation, users can enjoy lower energy bills, cleaner homes, and a lower carbon footprint. By keeping the four points above in mind, customers can also maximize the long-term value of their system, helping them manage costs for years to come.