Mega Yacht Sold in Sandbox Virtual World for $650,000 Becomes Most Expensive NFT – HUH Token Ready For Launch
A digital mega yacht NFT has been sold for a whopping $650,000 in the Sandbox world. This virtual luxury ship, which is a part of the Metaverse, is called the "Metaflower Super Mega Yacht." It features two helipads, hot tubs, and a DJ booth, among other opulent amenities. Meanwhile, HUH Token has almost sold out its presale allocation ahead of its release on December 6.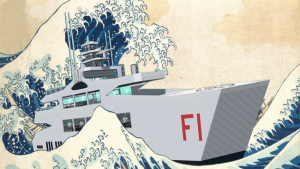 The Metaflower yacht has now become the most expensive non-fungible token (NFT) ever sold in the Sandbox — a decentralised virtual world built on the Ethereum blockchain that enables players to collect digital collectibles, create their own games, and monetise their experiences.
The Metaverse is a shared and consistent three-dimensional virtual universe.
The concept of Metaverse is gaining traction in the gaming and cryptocurrency industries, news of this acquisition quickly spread on social media.
According to the images, this yacht is three-story tall and painted white. This NFT was paid in 149 Ether tokens.
Republic Realm, a developer of metaverses, released the pricey digital asset. It was created specifically for The Sandbox as part of a luxury NFT series. Private islands, speed boats, and jet skis are also included in this series.
This is not the first time a metaverse property has generated a significant amount of revenue through sales.
Earlier this month, a plot of land in Decentraland was sold for $2.43 million, which is also a decentralised, three-dimensional virtual reality universe built on the Ethereum blockchain. Individuals can purchase land, estates, and wearables for their virtual avatars in order to personalise their experience of existing in an alternate reality. All purchasable items are NFTs.
Another plot of digital land was recently purchased in the virtual gaming world of Axie Infinity for $2.3 million.
Bloomberg estimates the metaverse market opportunity will reach $800 billion by 2024.
Following Facebook's rebranding to "Meta" earlier this year, additional tech giants such as Microsoft, Nvidia Omniverse, and Roblox Metaverse are embracing the Metaverse.
HUH Token
HUH Token is gearing up for its initial coin offering (ICO) on PancakeSwap and Uniswap on Monday, December 6.
The new crypto has ambitions on being a transparent and open blockchain. Members of the community are having a significant impact through social media and Telegram.
HUH Token is a "Utimeme" which aims on combining the incredible potential of social cultivation with the functionality of NFT platforms and the scalability of a smart contract in order to create a truly revolutionary product.
This week, the HUH Token white paper will be released, which will aid in the establishment of the brand's objectives and functions. The presale for HUH Token will conclude in a few days, and the project has already received an incredible number of deposits, which are on the verge of being entirely sold out.
Additionally, HUH Token features an innovative, intelligent chain-based recommendation system, in addition to a sizable social following. Using the code provided at the time of purchase, the purchaser of HUH Token can recommend an unlimited number of others who do not already own HUH Token to acquire it. This referral programme compensates the referrer with 10% of the new HUH Token holder's first purchase. This 10% is paid in either Binance Coin (BNB) or Ethereum (ETH), depending on the exchange used for the transaction.
This is critical because it enables coin holders to generate passive income while also increasing the stability of their wallets by diversifying their holdings across multiple cryptocurrencies, which is necessary for growth. HUH Token's value increases over time in the wallet, which means that the more tokens you keep, the more tokens you receive.
HUH Token has been granted an astounding $1 million in liquidity, which will be locked in for at least two years, ensuring the token's cryptocurrency market's stability and security.
Follow HUH Token on their Socials before they Launch:
Telegram: https://t.me/HUHTOKEN
Website: https://huh.social
Twitter: https://twitter.com/HuhToken
Instagram: https://www.instagram.com/huhToken/